Regular price
$ 5.99
Sale price
$ 4.99
Unit price
per
Sale
Coming Soon
Description:

This is the chocolate variant of the destructive Apocalypse Scorpion pepper, so you already know how hot these devils can get! With a beautiful brown hue, these peppers look like they taste amazing - and they most definitely do - but it's the heat that's the focus of these peppers that make you feel as if the world is coming to an end!

These 4 ft. pepper plants produce plenty of these pepper pods that are slightly larger than the standard strain. Maturing to its dark brown color, these peppers have the same shape and feel as other Scorpion peppers, with a shriveled and bumpy texture along with a Scorpion tail!

The Apocalypse Scorpion Chocolate Pepper has a slightly sweeter and smokier flavor than the OG strain, but it still packs the same amount of earth-shattering heat with estimated heat levels soaring beyond 1,400,000 SHUs - that's on par, if not hotter, than the Carolina Reaper! Dry these peppers up into seasoning and use it sparingly to add a dash of intense flavorful heat to your meals!

Species:

Capsicum Chinense

Heat Level

: Estimated 1,400,000+ SHUs

Type:

Super

Hot

Flavor: Sweet, Smoky
Germination Rate: Estimated 93-98%

Origin

:

Italy

Pod Size: 2-3"
Plant Height: 4 ft.
Days

to Harvest

:

90-120

Days




Shop more of our Super Hot Pepper Seeds and look for some of the hottest peppers out there in our World's Hottest Pepper Seed Collection!
Specifications:

Heat Level:

Plant size: 4 ft.
Pod size: 2-3"
Origin: Italy
Species: Chinense
SHU: 1,400,000+
Click here for all of our tips and videos to grow your peppers!
Click here for plant care instructions
View full details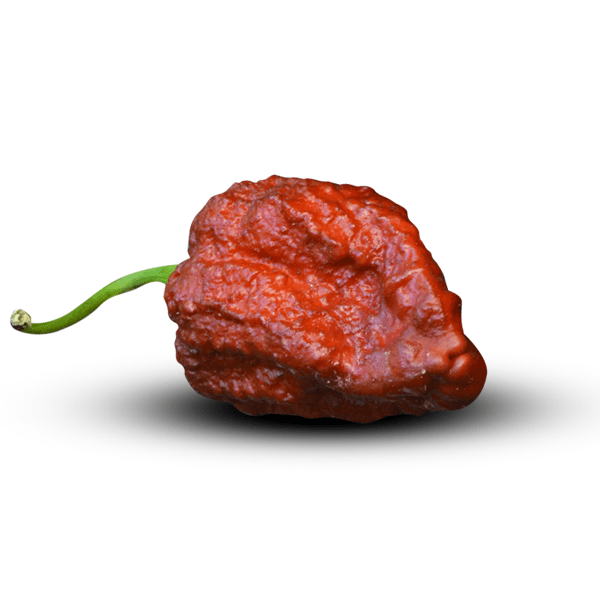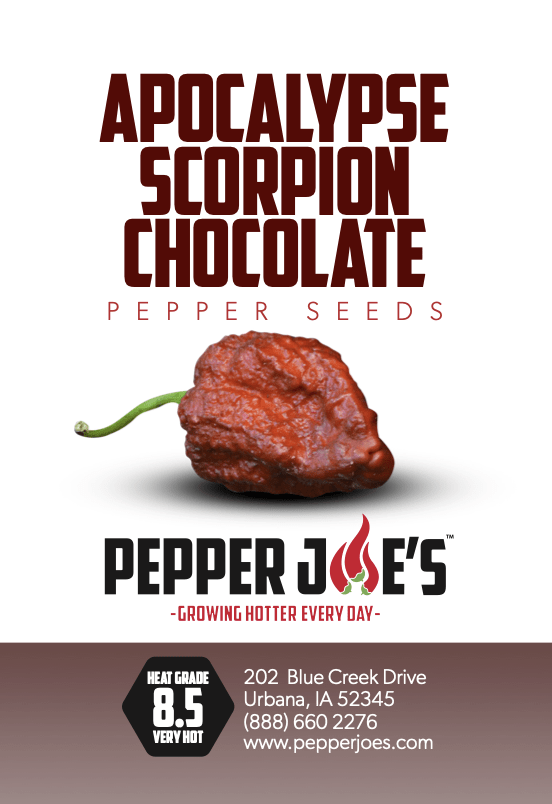 RJ Joe
Sprouts, all 3 of them, are 4 ins. tall with strong growth and new leaves. Still hoping for some more sprouts to come up.
Best peppers this side of the galaxy!
Too early to plant here in MI, but am looking forward to growing them out. Thanks for your fantastically HOT company.
Beauty Plant
Very Impressed with this plant, tonnes of peppers!! Gonna make a jelly and dry some for powder. Maybe get brave enough to make some wings!!
Love Pepper Joes, your seeds are primo!!