Regular price
$ 0.00
Sale price
$ 19.99
Unit price
per
Sale
Sold Out For Season
Description:

Now you can grow these tiny star-like peppers with our Brazilian Starfish Pepper Seedlings! Plant these in your garden this growing season, and enjoy the view of these 4 ft. tall pepper plants with amazing production of these rare and exotic peppers. These Brazilian-native peppers look like a smushed version of their relative, the Atomic Starfish, growing lobes in the shape of a star and ripening to a subdued red color. The heat on this pepper is slightly hotter than a Jalapeno and can get just as hot as a Cayenne, but the fruity and floral flavors are what pepper lovers enjoy the most. Try this out the next time you make homemade salsa or sauce!

Seedling Size: 4-6"
Species: Capsicum Baccatum
Heat Level: 5,000-30,000 SHUs
Type: Medium Hot
Origin: Brazil

 


These Brazilian Starfish pepper seedlings were carefully grown from seed in our greenhouse and are guaranteed to arrive alive and healthy. Promptly follow the instructions included in your plant box and enjoy watching these plants grow!

SHIPPING NOTE: Live plant orders will be shipped within 2 weeks after ordering, weather permitting. If you would like your plants to be shipped on a certain day, please indicate that in your order notes upon checkout.


We cannot ship live plants to Texas and New Jersey due to the Department of Agriculture forbidding invasive species to come into their state by mail.

INVENTORY NOTE: We plant in waves, so if a variety you want is out of stock, additional inventory will be available over the coming weeks . Click "notify when available" on any plant product page to be the first to know when back in stock.

Search for other Rare Pepper Plants and check out other unique varieties listed in our Live Pepper Plant Collection!

Grow our Brazilian Starfish Pepper Seeds instead! Our selection of Pepper Seeds includes many options where you can shop by heat level or shop by variety!
Specifications:

Heat Level:

Plant size: 4-6 Inches
Origin: Brazil
Species: Baccatum
SHU: 5,000-30,000
Shipping Notice

Please allow up to 2 weeks to process live plant orders before shipping. If you would like any adjustments to your ship date, please indicate your needs in order notes upon checkout.
Click here for all of our tips and videos to grow your peppers!
Click here for plant care instructions
View full details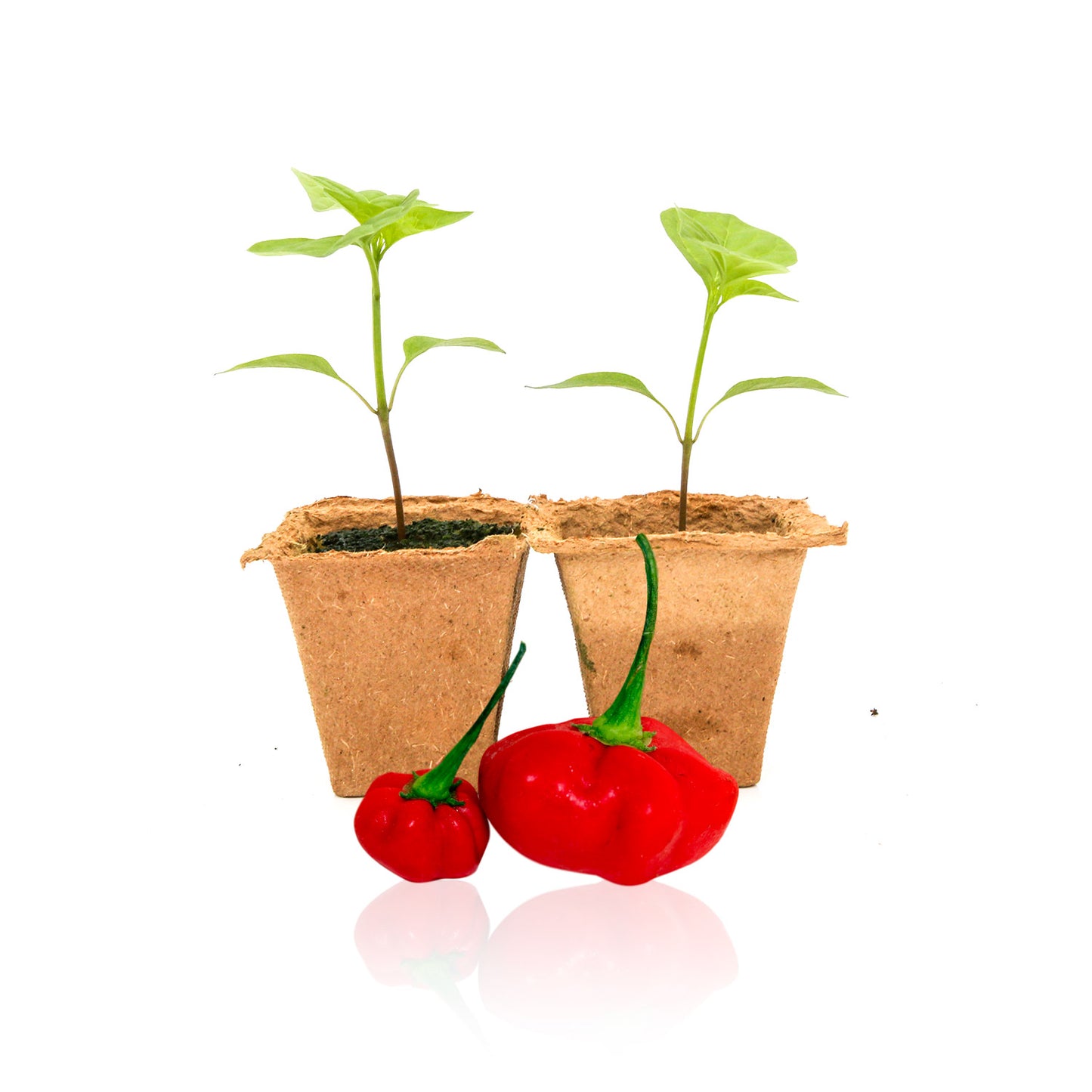 Disappointing
I've grown some nice plants from pepper joe seedlings but these were planted 8 weeks ago and are barely flowering. Product seems hit or miss/inconsistent. Typically I get one decent healthy plant and one that is near death
Could be better
They have many products that specify that they will take a little longer to deliver, so I specifically ordered items that didn't have this warning. However, my package was over a month late, causing me to plant out of season. The good news is the plants ROCK and are doing very well, but I'm afraid I won't get the yield I hoped for because of how late I was forced to plant them. Review #2 coming in the future. Stay tuned
Thank you for taking the time to provide us with feedback. Unfortunately, due to weather delays in April, seedlings were shipping 2-3 weeks after an order was placed. We are caught back up now but this did effect a lot of our seedling season. If you have any questions or wish to discuss this further, please email us at customerservice@pepperjoe.com.
Don't buy
All my plants from Joe's failed to grow. Every single one was hardened off correctly but none of them could grow roots outside the rock wool they came in.
Thank you for taking the time to provide us with a review. We are sorry to hear that these did not grow for you. Our customer service team would be happy to look into this and provide resolution. Please send any pictures of your plants you have as well as your order number to us at customerservice@pepperjoe.com.