SKU: ButchTTrinidadScorpion
Regular price
$ 7.99
Sale price
$ 7.99
Unit price
per
Sale
Coming Soon
Description:

Here it is! We're thrilled to offer you the previously "Hottest Pepper on the Planet" record holder, the Butch T Trinidad Scorpion pepper seeds. It became world-famous when it broke all records in the Guinness Book of World Records back in 2011. The Scorpion Butch pepper is a very exclusive pepper and is very hard to find, but we love growing rare peppers! The chili is a Trinidad Scorpion strain, which we all have come to know as one of the hottest peppers in the world.

The Butch T Trinidad Scorpion pepper plant will grow to 3 ft. tall and produce bountiful crops. Although it's a finicky germinator, with some tender loving care, it will grow very well. Pods will typically grow to 2" long and have a scorpion-like shape, including the stinger. Butch T Scorpions mature from green to red and can have either shiny or wrinkly skin.

The Trinidad Scorpion Butch T pepper is HOT and will burn your mouth off, but once you get past the heat, you'll find it tasty with its sweet, fruity flavors that are similar to the Trinidad Moruga or Carolina Reaper.

Species: Capsicum Chinense
Heat Level

: 1,463,700 SHUs

Type

: Super Hot

Flavor: Sweet, Fruity
Origin

: USA

Pod Size: 2"
Plant Height: 3 ft.
Days to Harvest

: 90+ Days

Love Scorpion peppers? Check out the Scorpion pepper seeds! Or check out more of our Super Hot Pepper Seeds!
Specifications:

Heat Level:

Plant size: 3 ft.
Pod size: 2"
Origin: USA
Species: Chinense
SHU: 1,463,700
Click here for all of our tips and videos to grow your peppers!
Click here for plant care instructions
View full details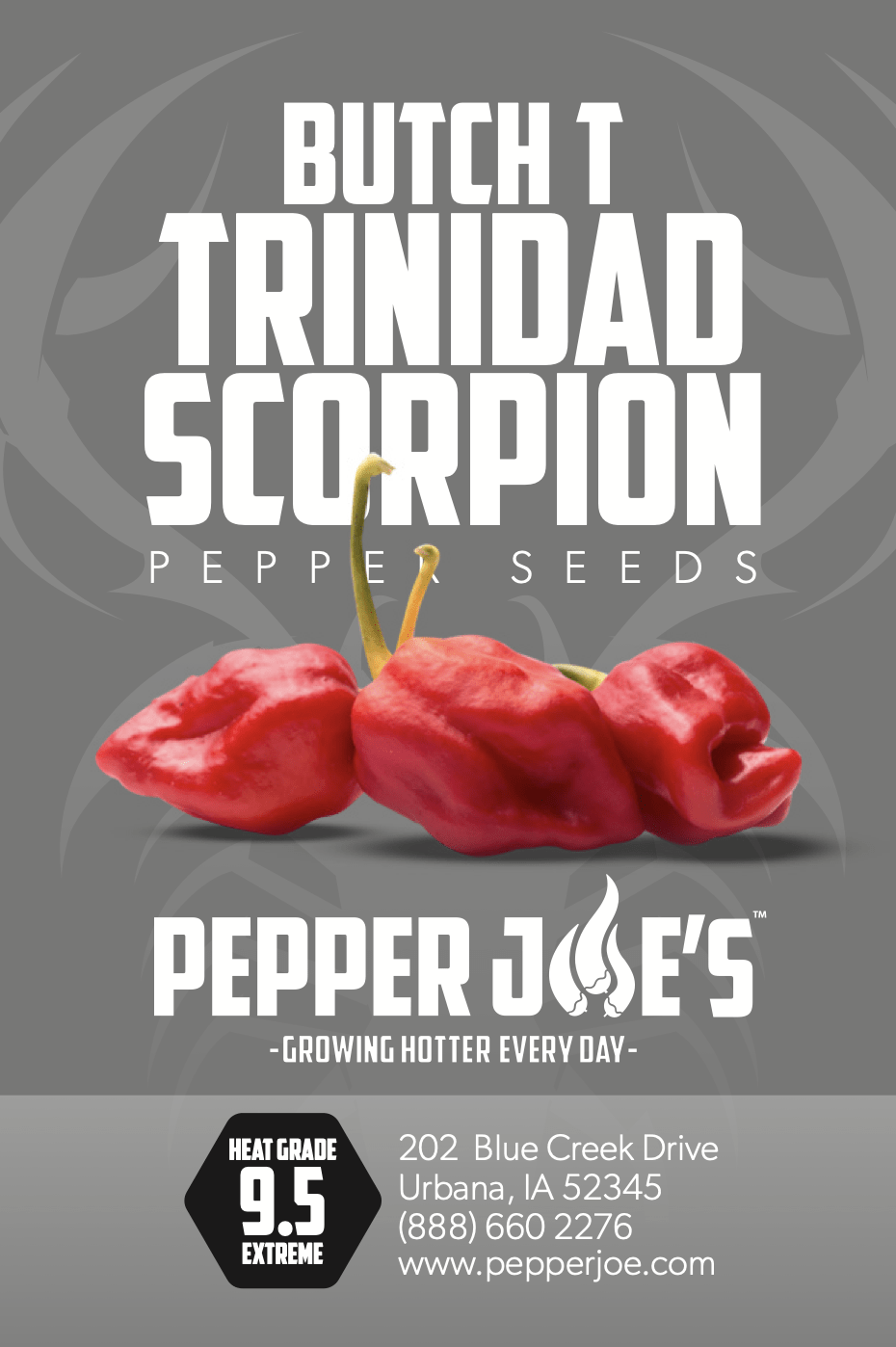 I have not receive my order as of now.the only review I can write is no review because I am still waiting for my order.
Butch "T" Trinidad Scorpion Seeds
Butch T Scorpion Heat!
I've grown the Butch T for several years in a row now. Seeds germinated nicely given the right temp. Plants grew beautifully. When the fruits set and begin to change color, they really stand out in your garden. Then of course, there's the heat! These are the hottest peppers that I've ever grown. Just awesome!