Regular price
$ 0.00
Sale price
$ 19.99
Unit price
per
Sale
Sold Out For Season
Description:

Kraken Scorpion Pepper Seedlings give you pods that have the signature look of the Ghost Pepper (Bhut Jolokia) and the incredible chocolate hue and Scorpion stinger of the Chocolate Trinidad Scorpion. These super hot pepper plants shoot up over 4 ft. tall and produce plenty of these delectable 3-4" long pods. The smoky and earthy flavors combined with the burn from the Ghost Pepper give you the perfect blend that flavorful super hots have. Be warned: Kraken Scorpions have quite the piercing heat – like getting stung in the tongue by a scorpion! Grow these super hot Kraken Scorpion Pepper Plants…if you dare!

Seedling Size: 4-6 Inches
Species: Capsicum Chinense
Heat Level: 1,200,000+ SHUs
Type: Super Hot
Origin: USA

These Kraken Scorpion pepper seedlings were carefully grown from seed in our greenhouse and are guaranteed to arrive alive and healthy. Promptly follow the instructions included in your plant box and enjoy watching these plants grow!

SHIPPING NOTE: Live plant orders will be shipped within 2 weeks after ordering, weather permitting. If you would like your plants to be shipped on a certain day, please indicate that in your order notes upon checkout.


We cannot ship live plants to Texas and New Jersey due to the Department of Agriculture forbidding invasive species to come into their state by mail.

INVENTORY NOTE: We plant in waves, so if a variety you want is out of stock, additional inventory will be available over the coming weeks . Click "notify when available" on any plant product page to be the first to know when back in stock.



We have many different pepper plant varieties for you to choose from, including Scorpion Pepper Plants as well as Ghost Pepper Plants.

Prefer growing from seed? We have Kraken Scorpion Pepper Seeds as well as a plethora of other Super Hot Pepper Seeds for you to choose from!

GROW TIP: Plants adjust to small, gradual changes in their environment better than sudden shifts, which is what the hardening-off process is all about. Just as you get burned when you bare your untanned skin to the sun, leaves of plants started indoors will develop pale, sunburned patches if they are suddenly exposed to too much sun. The story has a happier ending when you introduce seedlings to bright light and sheltered breezes gradually, over a period of one to three weeks. Read more information on how to harden off and transplant pepper plants in 6 steps
Specifications:

Heat Level:

Plant size: 4-6 Inches
Origin: USA
Species: Chinense
SHU: 1,200,000+
Shipping Notice

Please allow up to 2 weeks to process live plant orders before shipping. If you would like any adjustments to your ship date, please indicate your needs in order notes upon checkout.
Click here for all of our tips and videos to grow your peppers!
Click here for plant care instructions
View full details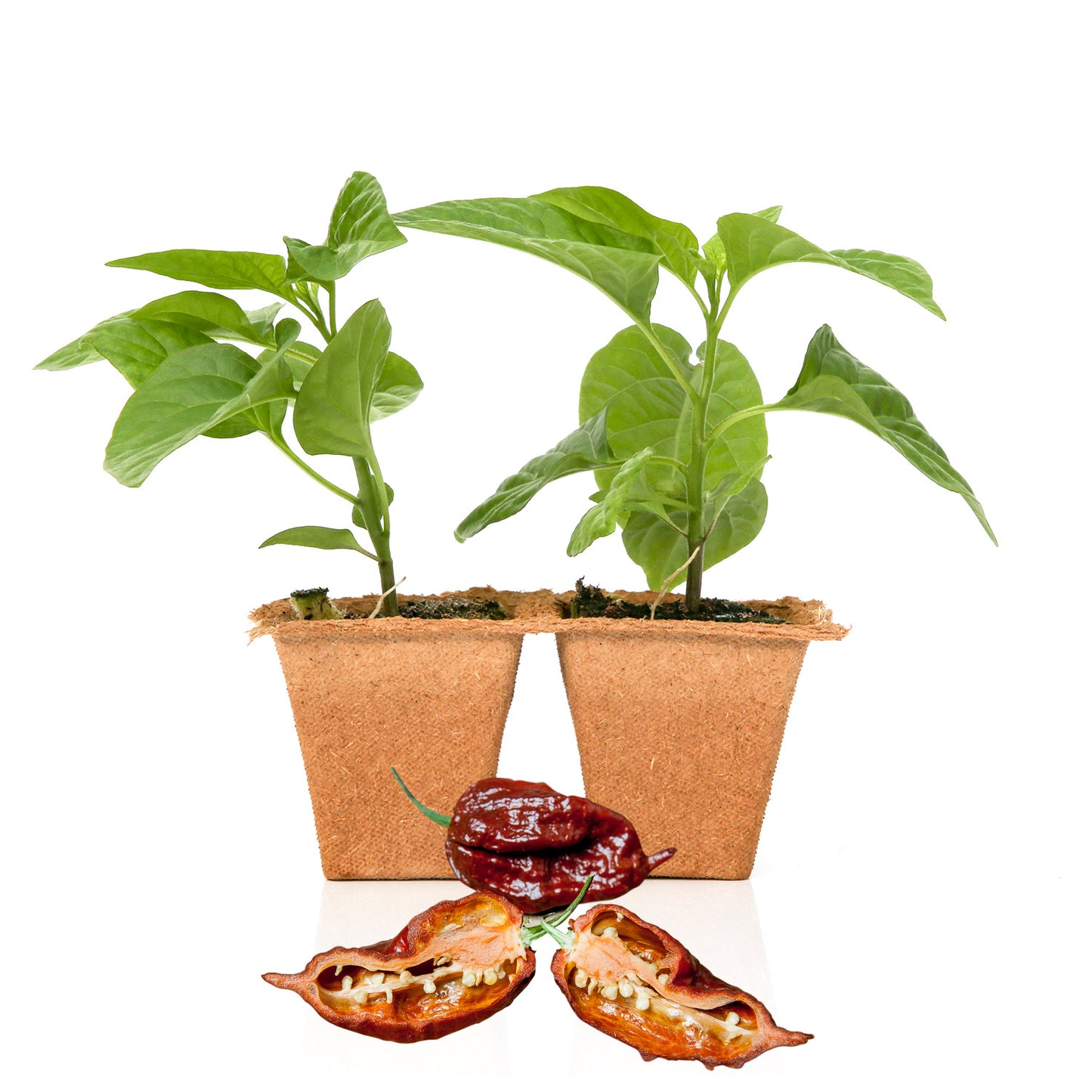 Strong plants
The plants started out looking pretty weak, but some love and care have brought them to a healthy stand. Can't wait to harvest!
Kraken Scorpion
They never grew past seedlings. They were well taken care of. We followed the instructions to acclimate them to our climate. Just never grew
Thank you for leaving a review and we are sorry to hear that these did not grow for you. Our customer service team would be happy to look into this issue. Please email any pictures of your plants and your order number to customerservice@pepperjoe.com.
HORRIBLE Plants for $10
I had 60% germination on the seeds i ordered from you this year and that never happens, my refund was a gift card so i bought plants of varieties that mine didn't start, they arrived leggy, young, and barely worth 3$. Severally disappointed. I doctored them back to health for a week alone and then they finally stood straight. You should heavily consider pricing adjustments for varieties that are clearly not up to that $10 par. Your Instagram is loaded but you clearly don't show the poor seedlings and are selective on treatment. Never again
Thank you for taking the time to provide us with feedback. We ask customers that are not satisfied with the condition of their plants when they arrive to send us pictures within 48 hours so we can provide a resolution immediately. We do apologize for any inconvenience this has caused.