Regular price
$ 5.99
Sale price
$ 4.99
Unit price
per
Sale
Coming Soon
Description:

The Orange Long-Tailed Scorpion is a super hot pepper known by few and tried by few. Developed by famous pepper grower Butch Taylor of the incredibly hot Butch "T" Trinidad Scorpion pepper, this variety has a piercing heat that you will never forget once you take a bite out of it!

These pepper plants will grow up to 4 ft. tall and produce high yields of these scorching-hot peppers. The unique, fluorescent-orange colors of these pepper pods are what draw many people to planting this variety, but you'll notice when you look up close the peppers have wrinkly, gnarly skin with pointed scorpion tails that would easily scare some people away!

The scariest part of these Orange Long-Tailed Scorpion peppers is the enticing fruity flavors and citrusy aromas. They suck you into trying to take a bite out of these peppers, but you'll learn real fast not to do that, as the super hot heat pierces through your tongue and singes the back of your throat, leaving a lasting burn that you'll never forget. This is definitely for the super hot pepper lovers out there! Don't miss out on growing this rare and exotic pepper!

Species: Capsicum Chinense
Heat Level

:

1,200,000+ SHUs
Type

: Super Hot

Flavor: Fruity, Citrusy
Origin

: USA

Pod Size: 1-2"

Plant Height: 4 ft.
Days to Harvest

: 90+ Days

Want to grow your very own super hot peppers? Grab some of our Super Hot Pepper Seeds today, and if you want a jump start on your growing season, try our Super Hot Pepper Plants!
Specifications:

Heat Level:

Plant size: 4 ft.
Pod size: 1-2"
Origin: USA
Species: Chinense
SHU: 1,200,000+
Click here for all of our tips and videos to grow your peppers!
Click here for plant care instructions
View full details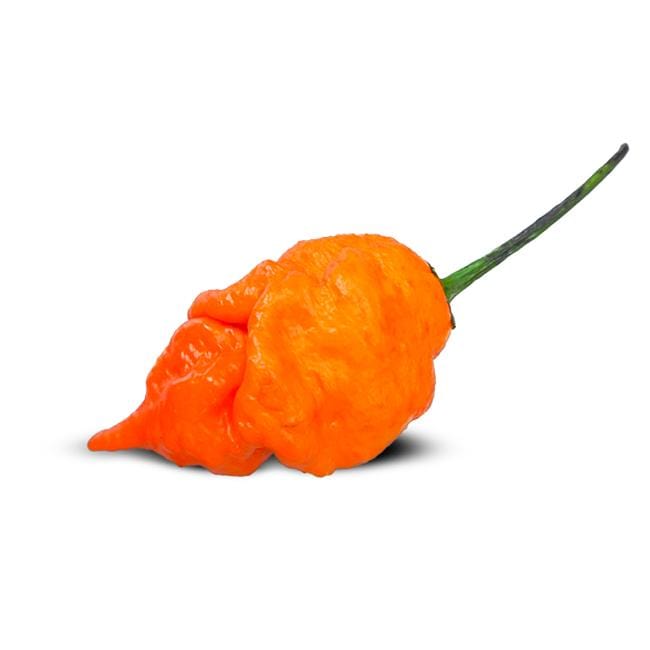 Not good.
It took more than 10 days fo you to get my seeds in the mail. So 2 stars out of 5.
Seeds aren't true
Got the orange long tail scorpion seeds, none of the plants are even close to advertised and none of the peppers are hot. I mean ZERO heat, pickled jalapeños are hotter this. Pretty disappointed I wasted the growing season on these.
GREAT PEPPERS!
About 90% of the seeds are growing!