Regular price
$ 5.99
Sale price
$ 4.99
Unit price
per
Sale
Coming Soon
Description:

Spice up your variety of super hot peppers with the Yellow Devil's Tongue! A member of the Habanero family, this pepper variant is pretty hard to find and has done well in our own garden tests. Yellow Devil's Tongue peppers are a great choice to really switch things up this growing season!

These pepper plants will stretch up to 4 ft. tall and produce prolific yields of pepper pods that look suspiciously like Fatalii peppers. Growing anywhere between 2-4" long, you'll notice the pendant-shaped peppers have shiny and wrinkly skin, maturing from green to a bright yellow when they're ready for picking.

The Yellow Devil's Tongue pepper is the perfect pepper to round our collection of Super Hots. Their flavors and heat are amazing to use for relishes, salsas, sauces, and pepper powder as it has a similar heat to the Habanero but the Devil's Tongue chili is sweeter and fruitier. Not only is this pepper HOT but it has a hint of lemon and citrus flavor as well. We made a killer pepper relish with it - let us know how you use it!

Species: Capsicum Chinense
Heat Level

: 125,000-325,000 SHUs

Type

: Hot

Flavor: Sweet, Fruity, Citrusy
Origin

: USA

Pod Size: 2-4"
Plant Height: 4 ft.
Days to Harvest

: 90+ Days

Check out other Rare & Exotic Pepper Seeds to grow in your garden!
Specifications:

Heat Level:

Plant size: 4 ft.
Pod size: 2-4"
Origin: USA
Species: Chinense
SHU: 125,000-325,000
Click here for all of our tips and videos to grow your peppers!
Click here for plant care instructions
View full details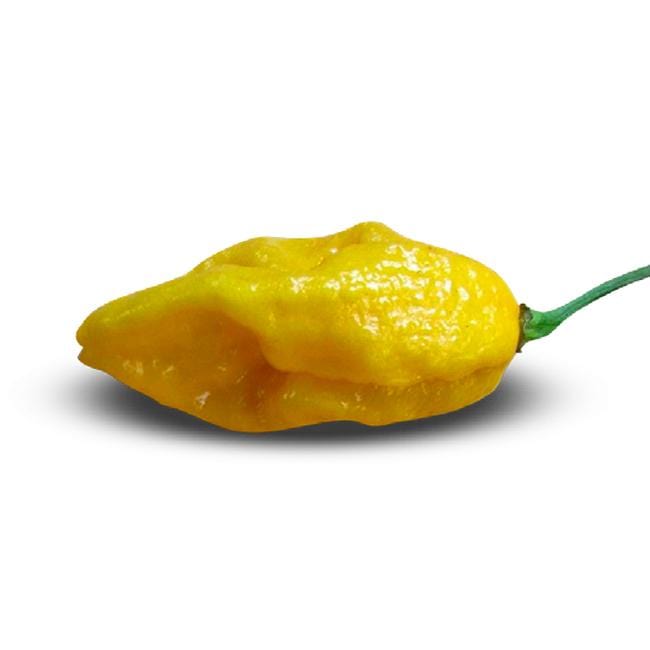 Yellow tongue seeds
Planted 5 and got 5. My luck with the White seven pot seeds was not so good.
Yellow devils tongue
My yellow devils tongue sprouted 3 1/2 weeks ago but isnt growing its about 1 inch tall and that it so far. Am i doing something wrong or is it the seed? Im germinating more so see if the same thing happens.
Poor Germination
I've ordered seeds from other suppliers and Joe's Peppers seeds have the lowest germination rate of all I've ordered!
Hello, we are happy to help! Please reach out to our customer service team if you are unhappy and we can help make some suggestions to give the seeds the best rate at germination. Thank you!