Regular price
$ 3.99
Sale price
$ 3.99
Unit price
per
Sale
Coming Soon
Description:

Seeking a variety of peppers that you can grow all at once from a seed pack? With the Hot and Happy Mix Pepper Seeds, you can grow a blend of peppers in all colors, shapes, and heat!

The Hot and Happy Mix Peppers will make your garden beautiful with their endless amount of colors. This is perfect for any hot pepper lover who is feeling adventurous as this assortment includes: Habaneros, Jalapenos, Serranos, Anaheim peppers, Cayenne peppers, and you can bet there are more pepper varieties in this pack. You can have an unlimited amount of peppers to use for many culinary uses, and it is especially a great way to sample many pepper types ranging from mild to super hot.

Get your hands on the Hot and Happy Mix Pepper and find out what other varieties you can grow in the comfort of your garden or greenhouse!

Species: Variety of peppers
Heat Level: Varies in heat
Type: Mild to Super-Hot
Origin: Unknown
Days to Harvest: 60+ Days

Check out our other Pepper Seed Bundles and be sure to browse through more varieties within our expansive Pepper Seed Collection!
Specifications:

Heat Level:

Origin: Unknown
Click here for all of our tips and videos to grow your peppers!
Click here for plant care instructions
View full details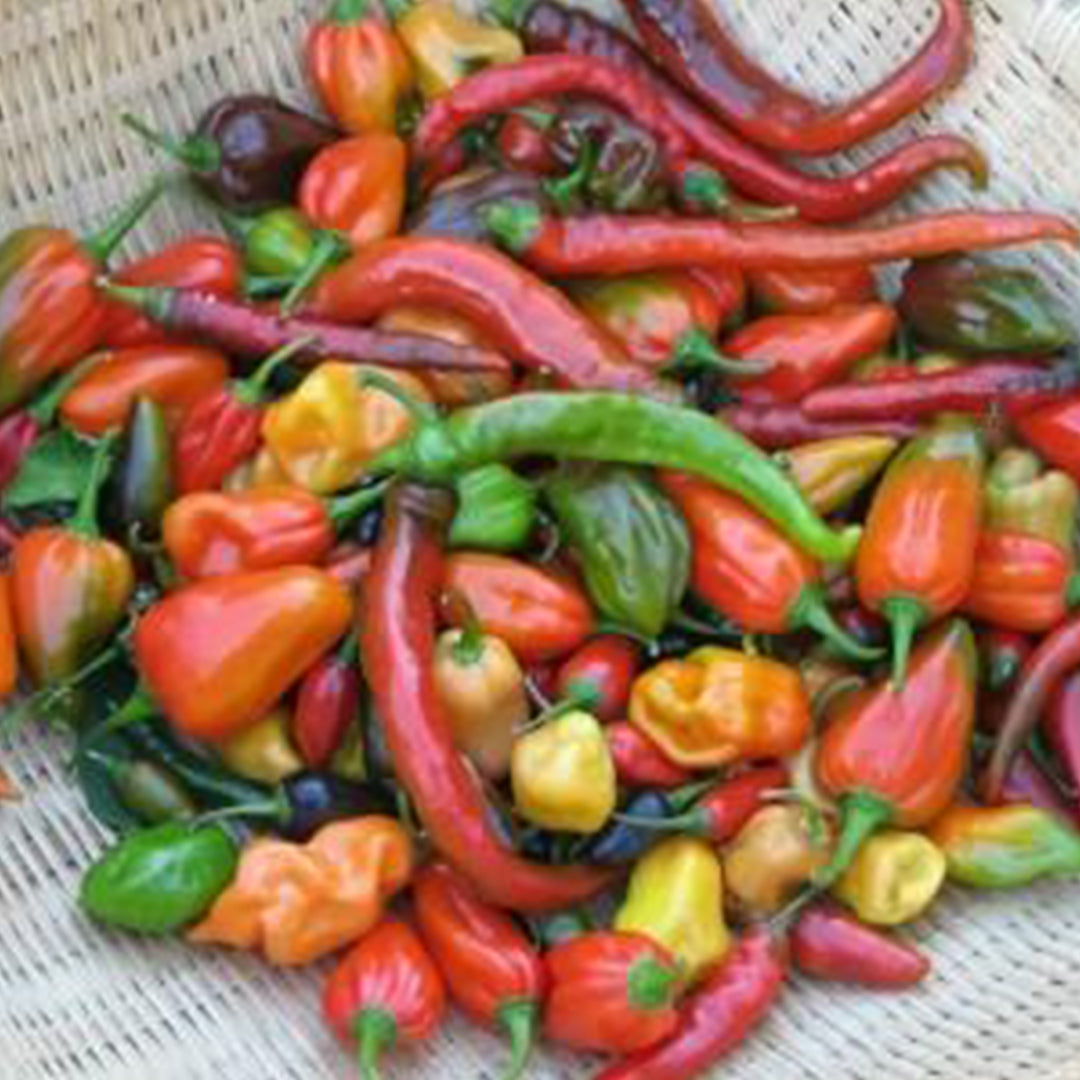 Hot n happy mix
13 of 14 seeds germinated! Nothing is fruiting yet, but all are growing nicely.
I guess I'm preparing for next year.
The seeds arrived in good time, however I over bought this year so the Hot and Happy Mix will have to wait until next year. I can only compare to the other seeds I've bought to make an educated guess and will have to revisit next year. Based upon all the seeds I've planted from Pepper Joe's, these will likely start well. From there I'm still in the learning phase being only in my 2nd year growing peppers and last year I made a lot of mistakes. I've had good success from the seeds I've planted this year minus the Aji Fantasy as far as germination. I'm not sure where I messed up but my Tabasco seeds had issues as well as did my first round of Alma Paprika peppers. From there, I lost some starts, and have some issues going on now, but again, still learning so I only have high hopes with these seeds next year. I look forward to trying many others next year as well!
Only one seed didn't germinate!
My seedlings are still small yet but I was impressed with the germination rate, almost every seed came up and developed into a strong seedling. Excited to see what peppers I actually get!