Regular price
$ 4.99
Sale price
$ 4.99
Unit price
per
Sale
Coming Soon
Description:

Have you opened your lunchbox and you just wish it was full of fresh peppers? The Lunchbox Mix is a mix of perfect little peppers for appetizers, snacks, gameday appetizers, and more!

The Lunchbox Mix pepper plants are productive, tall, strong plants that can hold up well in a wide variety of growing conditions. They are also disease resistant to Tobacco Mosaic Virus and PVY tolerant, which allow the plants to be easily maintained and grow for a longer period. The Lunchbox Mix is a mix of all three colors so you can have many different options! The pack will come in equal amounts of red, yellow, and orange colored peppers. They will grow to 3" beautiful, mini-sized peppers that are conical-shaped and have a crisp texture.

These peppers have a sweeter, fruitier taste than regular bell peppers, and will maintain their freshness when refrigerated for a long time. They are great for a variety of culinary uses such as sautéing for stir-fry, stuffing them with cheese or dips, grilling them on skewers, and as fresh snack treats. We love these peppers because they are great for a quick, healthy snack!

Species: Capsicum Annuum
Heat Level: 0 SHUs
Type: Sweet
Flavor: Sweet, Fruity
Origin: America
Pod Size: 3"

Days to Harvest: 55+ Days

Enjoy growing other sweet-tasting peppers with our Sweet Pepper Seeds and Sweet Pepper Plants!
Specifications:

Heat Level:

Pod size: 3"
Origin: USA
Species: Annuum
SHU: 0
Click here for all of our tips and videos to grow your peppers!
Click here for plant care instructions
View full details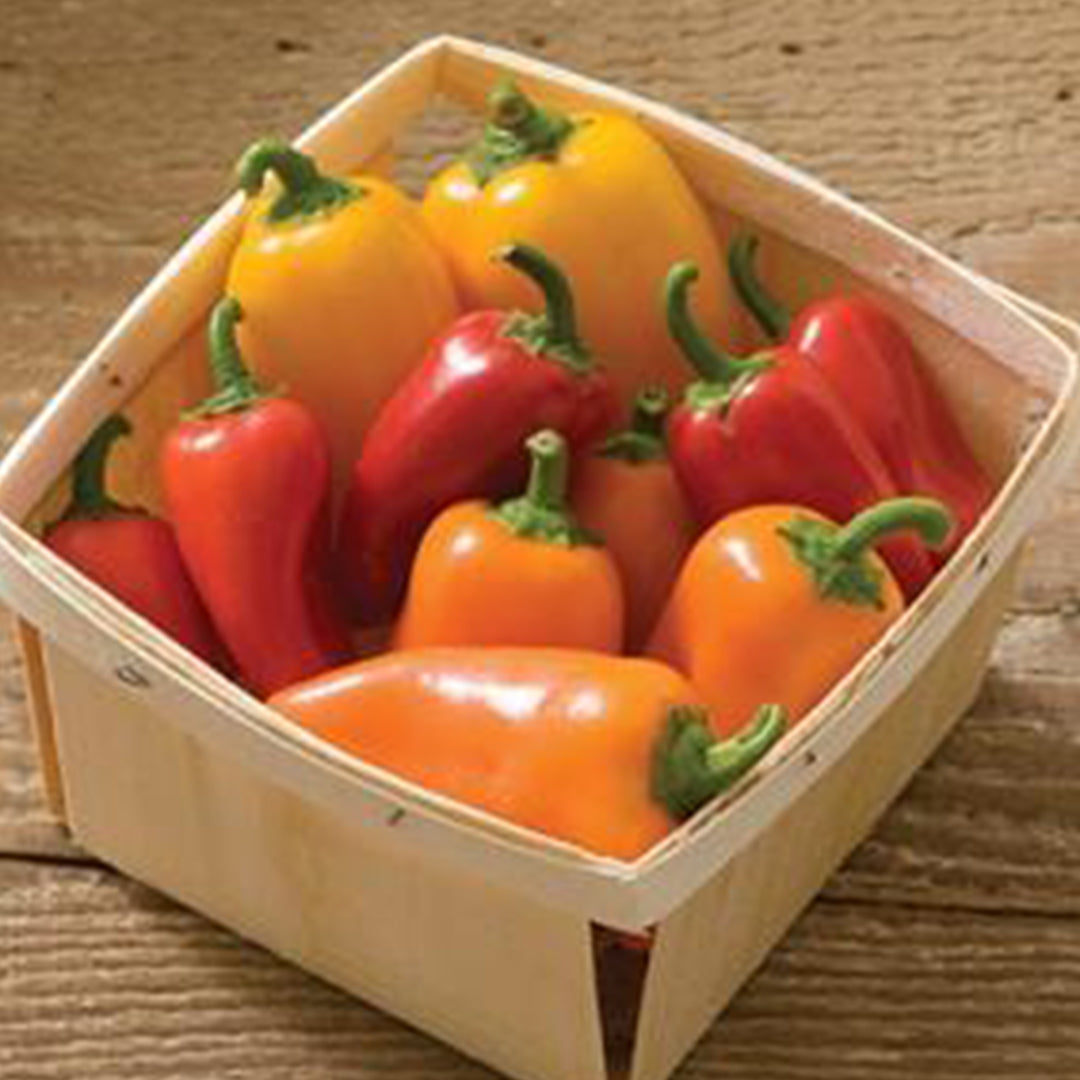 Came up fast
The Lunchbox pepper seeds I got were shipped quickly, and they came up fast and grew well. I put the plants in the garden a week ago and can't wait to taste the peppers this summer!
Great germination.
So far so good. Seed has gone from greenhouse to garden and all look very healthy and happy. Thank you for the great product.
100% germination!
100% germination! So far so good!