Regular price
$ 2.99
Sale price
$ 1.99
Unit price
per
Sale
Coming Soon
Description:

Mamma Mia! These are fabulous, sweet-tasting peppers to have in your garden! Say hello to the AAS winner Mama Mia Rosso F1 Pepper, a hybrid in its first generation and a fantastic Italian pepper that has everything you're looking for!

The Mama Mia compact pepper plant will grow to about 2 ft. tall that are great for containers or gardens of any size. These are large pods that have beautiful bright red skin and conical shapes with tapered ends. Ripening from green to a dark red color, the mighty peppers will grow to 7-9" long. The plant boasts incredible yields and is a great disease-resistant, early-maturing plant to have in your garden!

Along with that, Mama Mia's are thick-walled with sweet flavors, and you may notice some citrusy tones. This is a fantastic Italian roasting or frying pepper, but can also be eaten fresh.

Species: Capsicum Annuum
Heat Level: 0
Type: Sweet
Flavor: Sweet, Citrusy
Origin: USA
Pod Size: 7-9"
Plant Height: 2 ft.

Days to Harvest: 70+ Days

Put some sweetness in your garden with our Sweet Pepper Seeds and Sweet Pepper Plants today!
Specifications:

Heat Level:

Plant size: 2 ft.
Pod size: 7-9"
Origin: USA
Species: Annuum
SHU: 0
Click here for all of our tips and videos to grow your peppers!
Click here for plant care instructions
View full details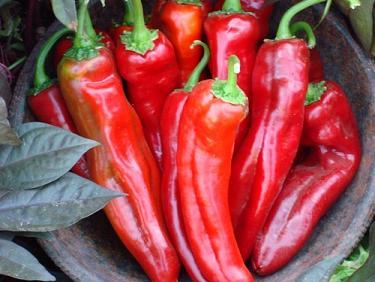 WOW!!
Purchased 5 varieties, planted according to instructions and after 6 weeks have only 2 of 50 seeds germinate and one died yesterday. I have grown peppers for 25 years or more and have never had this type of failure!
seeds? what seeds?
Ordered these and others on Dec. 15, 11 days ago. Haven't arrived. Per tracking they went from Iowa to Louisiana to Florida and then to Arizona which I hope is their final destination as the delivery address is here. We'll see. With USPS anything is possible. Hope the seeds haven't been crushed by all the handling.
So sorry to hear this! Please keep us updated on when they arrive. If they don't show up please call us immediately so we can get a replacement sent out. (888) 660-2276