SKU: MiniChocolateSeedPack
Regular price
$ 3.99
Sale price
$ 3.99
Unit price
per
Sale
Coming Soon
Description:

Miniature Chocolate Bell Peppers are small in size but pack a big, sweet flavor. These heirloom peppers originated from Ohio and are perfect for home gardeners, as they can grow in small spaces and offer a wide variety of culinary uses.

These pepper plants stretch up to around 2-1/2 ft. tall. You'll definitely get the most bang for your buck with these seeds, as they produce over 24 peppers per plant! These bell peppers will grow to be 1-2" in size, have thick walls, and change colors from green to nice, shiny chocolate when mature and ready for picking.

These make a special addition to any vegetable tray and are great for stuffing, stir fry, kebabs, omelets, or as a delicious salad topping. These peppers are also a perfect, healthy snack all on their own – packed with vitamins A and C and powerful antioxidants.

Species: Capsicum Annuum
Heat Level: 0 SHUs
Type: Sweet
Flavor: Sweet
Origin: USA
Pod Size: 1-2"
Plant Height: 2-2.5 ft.
Days to Harvest: 80 days

Browse through more of our Sweet Pepper Seeds and Sweet Pepper Plants today!
Specifications:

Heat Level:

Plant size: 2-2.5 ft.
Pod size: 1-2"
Origin: USA
Species: Annuum
SHU: 0
Click here for all of our tips and videos to grow your peppers!
Click here for plant care instructions
View full details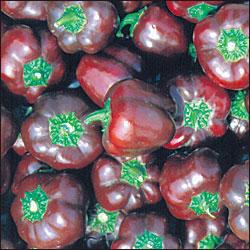 great seeds
These seeds took longer than normal (maybe 3-4 weeks) to start growing.. but are doing great.
Not to spicy
Order was great on time and labeled correctly but only got 4 seeds in my me pack some seeds never sprouted
Low germination rate
Was unable to germinate any of the seeds. Hopefully they are not all duds.