Regular price
$ 4.99
Sale price
$ 3.99
Unit price
per
Sale
Coming Soon
Description:

A relative to the Habanero pepper, this heirloom chili pepper known as the Mushroom Red Cap is a fast-maturing hot pepper that has a nice aroma and grows into a unique mushroom shape, hence its name.

Red Mushroom pepper plants are compact and grow about 2-3 ft. tall in your garden or container. The fruits grow to about the size of a golf ball, or 2-3" in size, and form into its mushroom shape with nice, shiny, smooth skin. Some have described the weird shape as similar to a patty pan, so it's sometimes referred to as a Squash Pepper. These peppers ripen from green to red when they are ready to be picked.

The fruity and spicy flavors of the Mushroom Red Cap pepper make it great for garnishes, pickling, or drying - in fact, the thin skin of these peppers makes them great for a spicy pepper powder!

Species:

Capsicum Annuum

Heat Level

:

30,000-50,000 SHUs

Type

:

Medium

Hot

Flavor: Fruity, Spicy

Origin

:

USA

Pod Size: 2-3"

Plant Height: 2 ft.

Days to Harvest

:

90 days

Try our other Habanero Pepper Seeds as well as our other Hot Pepper Seeds!
Specifications:

Heat Level:

Plant size: 3 ft.
Pod size: 2-3"
Origin: USA
Species: Annuum
SHU: 30,000-50,000
Click here for all of our tips and videos to grow your peppers!
Click here for plant care instructions
View full details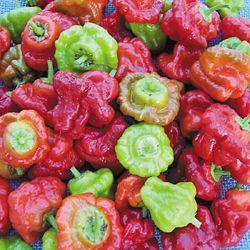 Worked for me
I ordered a ten pack of seeds awhile back and honestly didn't think anything would come from it. I had one seedling grow and is now at about 2 feet and producing several peppers all over the plant. Its been one of my healthiest and strongest plants so far!
Awesome! Keep up the good work!
To the reviewer below
Most people who know anything about peppers, know that scotch bonnets are between the 100,000-250,000 scoville range. That is all...
I dont get it
Isnt this just a scotch bonnet? I feel like pepper joes is making things up. I've gotten the wrong seeds from them in the past and this one is just confusing