Regular price
$ 2.99
Sale price
$ 1.99
Unit price
per
Sale
Coming Soon
Description:

This tasty Yellow Bell Pepper is a classic variety that is often seen in grocery store shelves. But now, you can grow many more of your own peppers in your garden with our Yellow Bell Pepper Seeds!

Plant these seeds and watch them blossom into pepper plants that range from 2-4 ft. in length. These are very productive plants that yield many sweet peppers for you to use. The Yellow Bell grows up to 4" long and has a blocky shape with smooth, shiny skin. You'll see 3-4 lobes develop on these bright yellow fruits that ripen from green to their bold yellow hue at maturity.

These are great to cook in your kitchen! With zero heat and wonderfully sweet flavors, there are so many ways to utilize these peppers in any food. Enjoy these peppers raw and with other fresh foods like salads, sandwiches, and even desserts! Try stuffing these plump pods and use them for dips, cooking, roasting, or frying! Add this pepper to your growing list so you can store many bell peppers without having to run to the store to grab some!

Species: Capsicum Annuum
Heat Level: 0 SHUs
Type: Sweet
Flavor: Sweet
Origin: USA
Pod Size: 4"
Plant Height: 2-4 ft.
Days to Harvest: 60+ Days

Add more Bell Pepper Seeds to your growing list and make sure to browse through our Sweet Pepper Seedlings for a head start on your growing season!
Specifications:

Heat Level:

Plant size: 2-4 ft.
Pod size: 4"
Origin: USA
Species: Annuum
SHU: 0
Click here for all of our tips and videos to grow your peppers!
Click here for plant care instructions
View full details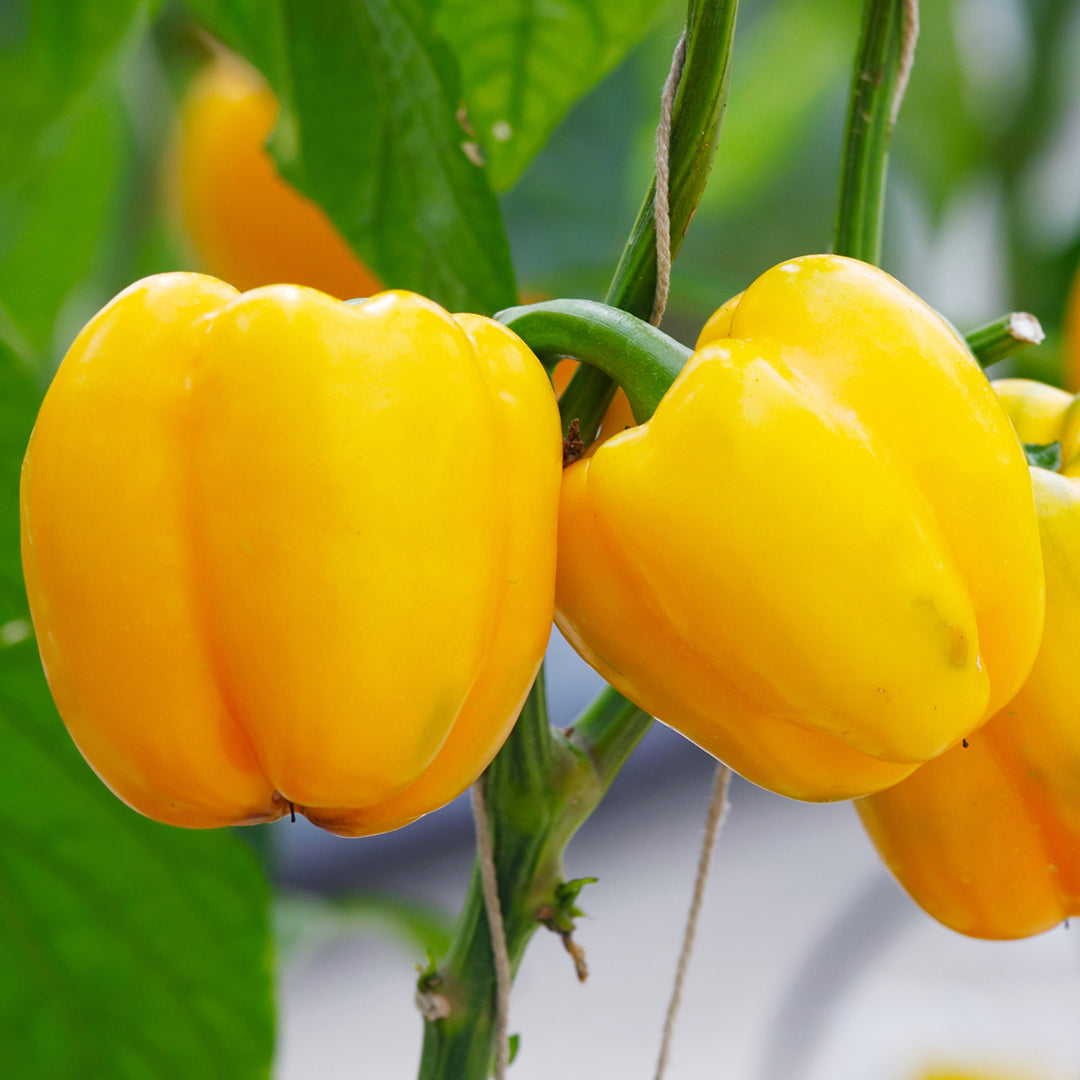 Yellow Bell Pepper
I got about 90% sprouts on the yellow bell pepper plants, but once they started growing they withered and died. Out of 10 seeds I have one sickly plant that might make it. For context, I have over 200 tomato plants and about 50 pepper plants of different varieties, all thriving.
Thank you for taking the time to provide us a with a review. We are sorry to hear about this issue. Our customer service team would be happy to take a look at this and provide resolution. Please contact us by emailing customerservice@pepperjoe.com.
No germination
None of the yellow bell pepper seeds germinated.