Regular price
$ 6.99
Sale price
$ 5.99
Unit price
per
Sale
Coming Soon
Description:

One of the world's hottest peppers, the Yellow Ghost Pepper - AKA the Yellow Bhut Jolokia - is a beautiful variety that comes with an amazing flavor and crazy-hot nuclear heat that you'll need to prepare yourself for! A mutant of the original Ghost Pepper, this variety is guaranteed to light up your garden and your next meal!

Grow these peppers on 4 ft. tall pepper plants that produce incredible yields of these slender-looking peppers. The Yellow Ghost chiles look wrinkly and pointy, changing colors from green to bright yellow as they mature. Expect these pods to grow between 3-4" long and fill up your pepper plant as they come in.

This super hot pepper has heat levels between 855,000-1,000,000 SHUs - that's about 125 times hotter than a Jalapeno pepper! If you can handle the heat, you'll be able to enjoy delectable fruity flavors that come with every bite you take. Yellow Bhut chili peppers make for an amazing hot sauce and will also be good fresh and added to many meals. Grow these next to your other ornamental pepper plants for a nice display of colorful varieties!

Species: Capsicum Chinense
Heat Level

: 855,000–1,000,000 SHUs

Type

: Super Hot

Flavor: Fruity
Origin

: USA

Pod Size: 3-4"

Plant Height:

4 ft.

Days to Harvest

: 90+ Days

Grow other Ghost varieties in our collection of Ghost Pepper Seeds and Ghost Pepper Plants!

We also carry spicy Ghost Pepper Snacks & Spices to tide you over until your peppers arrive!
Specifications:

Heat Level:

Plant size: 4 ft.
Pod size: 3-4"
Origin: USA
Species: Chinense
SHU: 855,000-1,000,000
Click here for all of our tips and videos to grow your peppers!
Click here for plant care instructions
View full details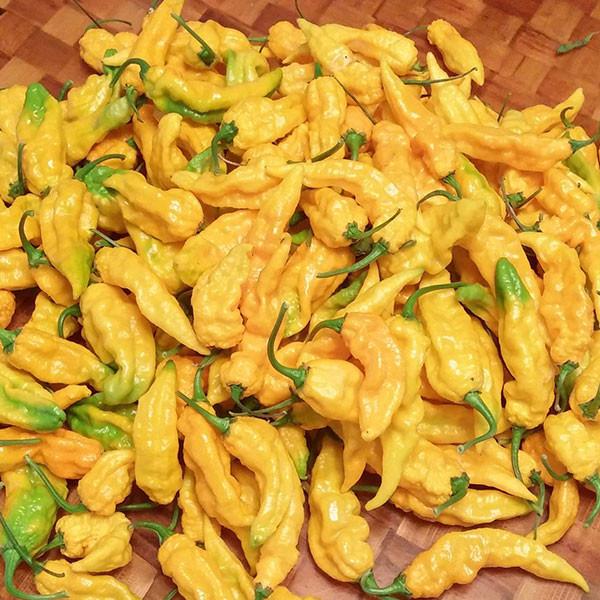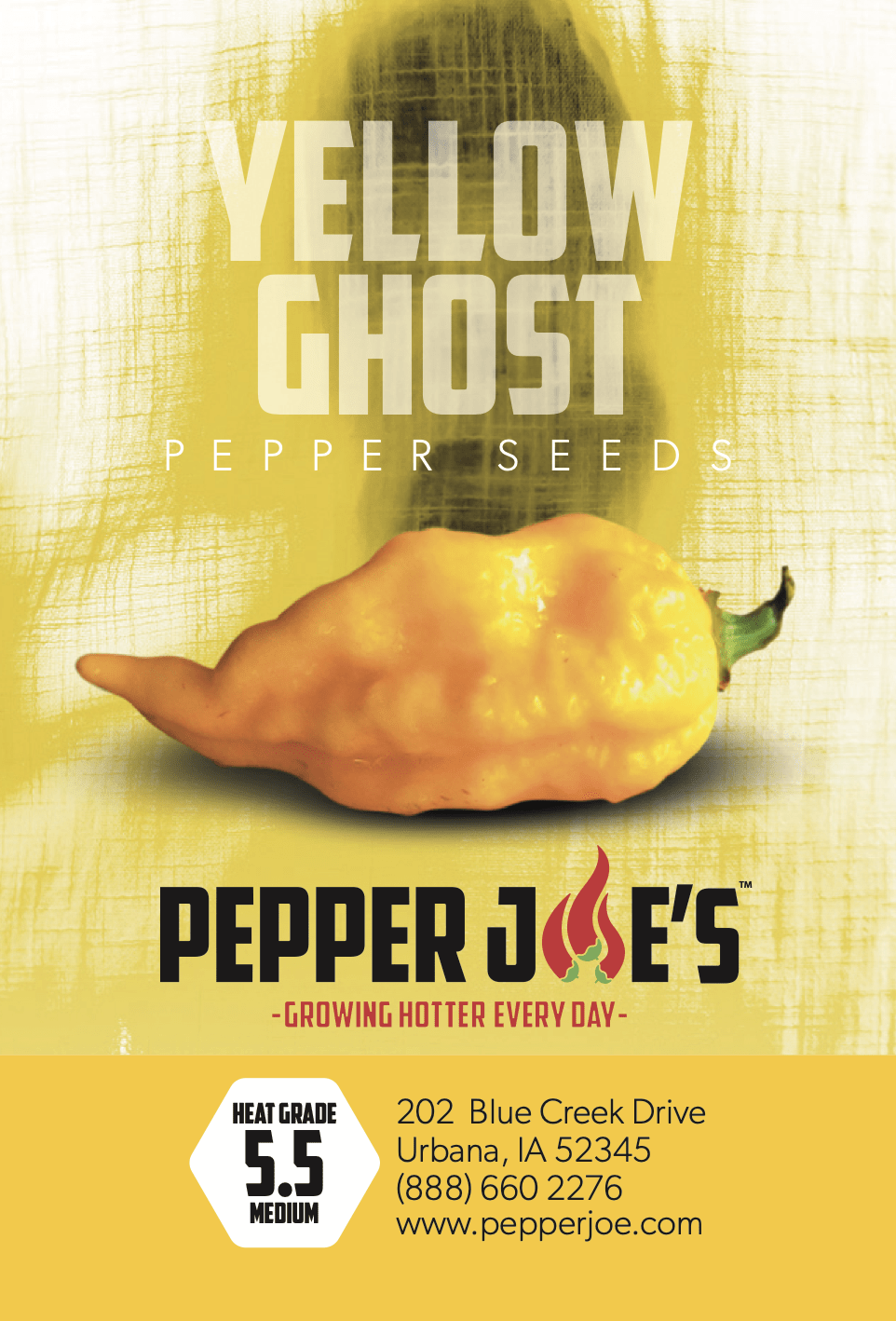 Great yellow Ghosts!!!!!
Great pepper seeds, came right up, looking for lots of fruits just like last year. Makes great hot sauces.
Red and Yellow Ghost, and Fatali
We grow 6,000 to 10,000 hot pepper plants (several varieties) every year on our small farm in Vermont, zone 5a. I purchased 100 count packs of Red Ghost, Yellow Ghost and Fatalli seeds for this year and started them in a small greenhouse with heat mats in early March. Germination was near or at 100 percent and they are some of the nicest plants we have grown here. They'll be transplanted in a few weeks, I'm looking forward to seeing what the yields will be this fall. 5 stars from a professional pepper grower in a cold climate.
Definitely pepper seeds!
As you may guess from the title, I haven't started the seeds yet. Bought them for next spring inadvance. But customer service, presentation, ease of purchase and quick shipping times has been awesome. Not to mention the five mystery super-hot seeds included is a nice touch.
I've grown yellow ghost a couple years ago and absolutely love how productive these plants are, so have very high hopes fir these seeds as well. I'll certainly share a follow up review once I get to planting these seeds!