Regular price
$ 5.99
Sale price
$ 4.99
Unit price
per
Sale
Coming Soon
Description:

The Red Ghost Pepper, AKA the Bhut Jolokia chili, is an heirloom variety coming from India that was at one point the hottest pepper in the world! The hot Ghost Pepper chili took the crown in 2007, and held the record for 4 years!

This is the hottest commercially grown pepper in the world! Our Ghost pepper seeds have been field-tested for years and are sheer perfection. Grow these plants in your garden and watch the stretch up to 4 ft. tall, with some growing even taller! These 3" pods even look menacing - with a wrinkly texture and conical shape, these pepper mature from a sweet and innocent green to a fiery hot red.

Most ghost peppers run around the 900,000 SHU (Scoville Heat Unit) mark, but they have been recorded at over 1,000,000 SHUs! As one of the spiciet peppers in the world, the Indian Army once weaponized these to make chili hand grenades (what?!). The fruity and berry-like flavors from the Ghost make these impeccable additions to hot sauce and salsa, as well as a great chili powder when dried. We only recommend eating this pepper for brave, steel-gutted pepper heads - just ask our team members! Grab a packet of Ghost pepper seeds today!

Species: Capsicum Chinense
Heat Level

: 855,000–1,041,427 Scoville Heat Units

Type

: Super Hot

Flavor: Fruity, Berry
Origin

: India



Pod Size: 2-3"

Plant Height: 4 ft.
Days to Harvest

: 150+ Days

Try other Ghost Pepper Varieties and enjoy the same stinging heat! Explore our other Super Hot Pepper Seeds that you can grow in your own garden.
Specifications:

Heat Level:

Plant size: 4 ft.
Pod size: 2-3"
Origin: India
Species: Chinense
SHU: 855,000-1,041,427
Click here for all of our tips and videos to grow your peppers!
Click here for plant care instructions
View full details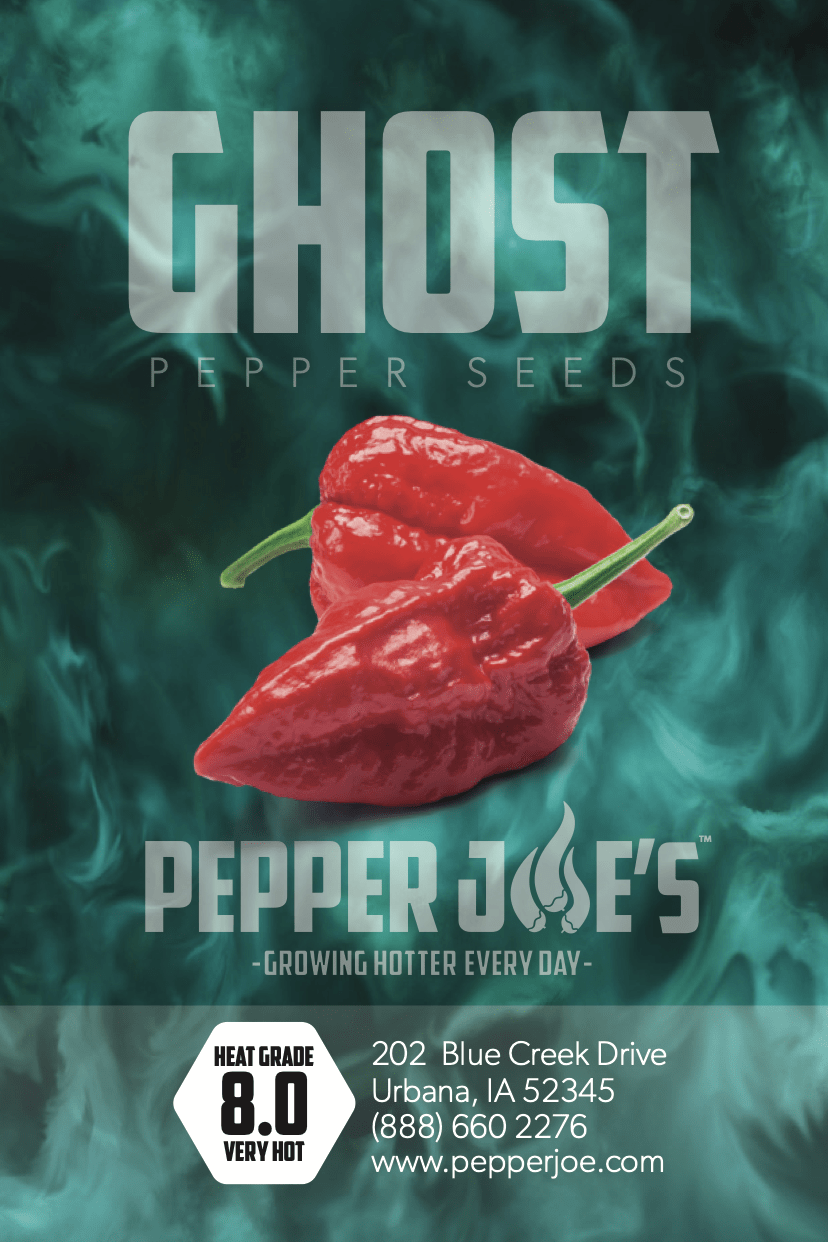 Ghost Pepper Seeds - Bhut Jolokia Pepper Seeds
Ghost Pepper Seeds - Bhut Jolokia Pepper Seeds
All good
Everything I get from pepper Joe's is always good