Regular price
$ 5.99
Sale price
$ 4.99
Unit price
per
Sale
Coming Soon
Description:

A beautiful-looking strain from Peru, Aji Ayuyo peppers look like tiny jewels sprouting off the plant's bright green foliage. Another Aji pepper variety, they taste just as amazing as they look, and are used for their mildly sweet flavors in both fresh and cooked foods.

Aji Ayuyo plants can grow in containers up to 2 ft. tall, but they can reach higher than 4 ft. if planted directly into the ground. These bushy pepper plants grow many vines, so providing the right support is crucial for peppers to bloom. Fruits will grow up to 2" long and look like elongated jellybeans with nice, smooth skin. Watch as Aji Ayuyo peppers change many colors through their maturity progression: starting green, then deep purple, to creamy purple, then to an iridescent orange, and finally to bright red.

With a wine grape flavor – very juicy, sweet, and fruity – and a mild heat level, this pepper adds a certain tanginess to your food. Add some fruity flavor to fresh salsa and sauce. The medium-thick walls of Aji Ayuyo peppers make them great for drying into seasoning used for soups and stews.

Species: Capsicum Baccatum
Heat Level: 1,000-2,000 SHUs
Type: Mild
Flavor: Sweet, Tangy
Origin: Peru
Pod Size: 1-2"
Plant Height: 2-4+ ft.
Days to Harvest: 70-100 Days

Enjoy the mild side of peppers by browsing through more of our Mild Pepper Seeds!

We offer an extensive Pepper Seed Collection with wide different varieties to choose from, as well as Pepper Growing Supplies to jumpstart your garden!
Specifications:

Heat Level:

Plant size: 2-4+ ft.
Pod size: 1-2"
Origin: Peru
Species: Baccatum
SHU: 1,000-2,000
Click here for all of our tips and videos to grow your peppers!
Click here for plant care instructions
View full details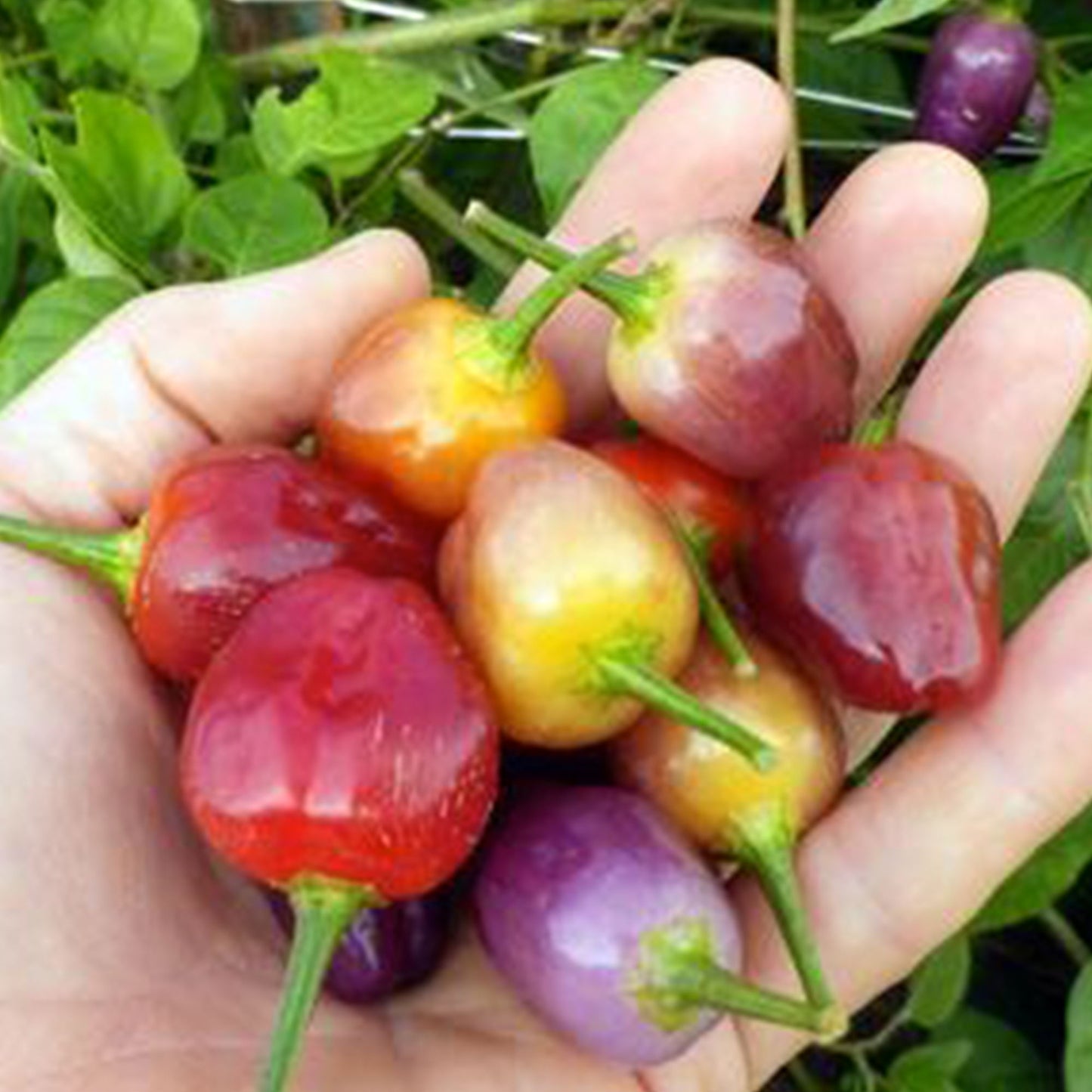 Aji ayuyo
The seeds very easy sprouts