Regular price
$ 4.99
Sale price
$ 4.99
Unit price
per
Sale
Coming Soon
Description:

Bubblegum Peppers may be one of the coolest 7 Pot varieties! Also known as the Bleeding Bubblegum or BBG7, this pepper gets is named after its "bleeding stem," or the color of the pepper bleeding over into the stem. This is crossed between a red Moruga Scorpion and Trinidad Yellow 7 Pot, so you'll expect to have some serious pepper heat!

These pepper plants will grow up to be about 3 ft. tall and produce plenty of these bright red pepper pods. Bubblegum peppers are tiny, 2" pods with shiny smooth skin and bright red, an almost pinkish color that looks like the 1-cent Bubblegum from back in the day. This beautiful color bleeds over into the stem, due to the oversized calyx of the pepper turning colors when the peppers are left on the plant for too long. This is still being bred out for stability, so expect to have a little variation in your plants. But doesn't that make it all the more fun to grow?

This pepper may look like bubblegum, but would you believe it if it smelled or even tasted like it too? That's what you can expect with this pepper, along with fruity, citrusy, and floral tones. Just like its 7 Pot counterparts, it has exceptional heat, so be prepared to set your mouth on fire! Use the Bubblegum pepper for cooking or drying into fruity pepper powder or pepper flakes.


Species: Capsicum Chinense
Heat Level

: 800,000-1,000,000 SHUs

Type

: Super Hot

Flavor: asdf
Origin

: United Kingdom

Pod Size: 2"
Plant Height: 3 ft.
Days to Harvest

: 90+ Days

Grab other varieties in our collection of Super Hot Pepper Seeds and Super Hot Pepper Plants!
Specifications:

Heat Level:

Plant size: 3 ft.
Pod size: 2"
Origin: United Kingdom
Species: Chinense
SHU: 800,000-1,000,000
Click here for all of our tips and videos to grow your peppers!
Click here for plant care instructions
View full details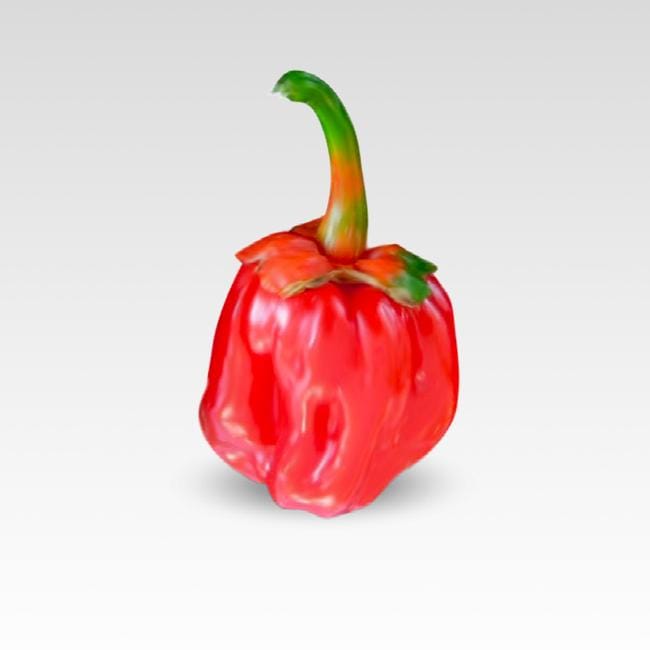 Quick to Germinate
Received these as freebies. After 8 days I already have some sprouting. Was incredibly surprised at that! Looking forward to see how the rest of the ones I planted do. I'll still be excited if only one germinates. Can't complain with that considering they were free seeds.
Ferocious heat, fantastic taste. Will satisfy the most fervent pepperhead.
I almost did not plant these because a) they were freebies with my order and b) the name 'bubblegum' did not instill any expectations of a superhot pepper. Germination rate was high, but took about 3 weeks. In total it was about 6 months from seed to harvest here in zone 10b South Florida. The bushes have stout stems,good lateral growth and deep green healty leaves. I did do the recommended topping, ample fertilizing and added Epsom salts and calcium. I also did a foliar spray of organic fertlizer every couple weeks.
Fruit is deep crimson, crinkled and shows occasional scorpion-like tails. Today I picked a single pod to try. Slicing into it released an intense pungent aroma that had to be the harbinger of intense heat. I cautiously put a quarter-size piece into a pot of dhal, that normally would have 2-3 complete store-bought habaneros with the intent of adding more if needed. If anything I should have put a dime-sized piece only!

This is probably the hottest pepper I have ever had. And I was raised in Trinidad within walking distance from a habanero plantation. The heat is totally searingly hot and carries a most wonderful pungent yetc omplex and fragrant taste that is quite addicting. I will certainly grow these next season, unless I can coax the plants into being perennials. I have four bushes of these that will soon reap dozens of pods. I have no idea how I can eat my way through these, but I intend to have fun trying.
Highly, highly, highly recommended!!