Regular price
$ 7.99
Sale price
$ 5.99
Unit price
per
Sale
Coming Soon
Description:

The Caramel Trinidad Scorpion Moruga pepper was declared the hottest chili pepper in the world in 2012, and there's no surprise why! A rare variety of the Trinidad Scorpion Moruga (former world record holder at 1.2 million SHUs), this super hot pepper has a burn that will stick around with you for a few days!

This pepper plant is fairly prolific and can grow to 4 feet tall. Producing wonderfully gigantic, super hot 3" pods, this variant starts out green and takes forever to ripen to caramel - but man, is it worth it!

The Trinidad Moruga Caramel has a sweeter, fruity taste before the blistering heat kicks you in the throat. With heat levels surpassing 1,200,000 SHUs, this is a super-hot pepper you must try! Use it as a dried chili powder, or make for a fiery pepper hot sauce!

Species: Capsicum Chinense
Heat Level

: 1,200,000+ SHUs

Type

: Super Hot

Flavor: Fruity, Sweet
Germination Rate: Estimated 95-100%
Origin

: Trinidad & Tobago

Pod Size: 2-3"
Plant Height: 4 ft.
Days to Harvest

: 90+ Days

You can't go wrong with Super Hot Pepper Seeds, right? Try your hand out at growing different varieties like Scorpion Pepper Seeds and Moruga Pepper Seeds!
Specifications:

Heat Level:

Plant size: 4 ft.
Pod size: 2-3"
Origin: Trinidad & Tobago
Species: Chinense
SHU: 1,200,000+
Click here for all of our tips and videos to grow your peppers!
Click here for plant care instructions
View full details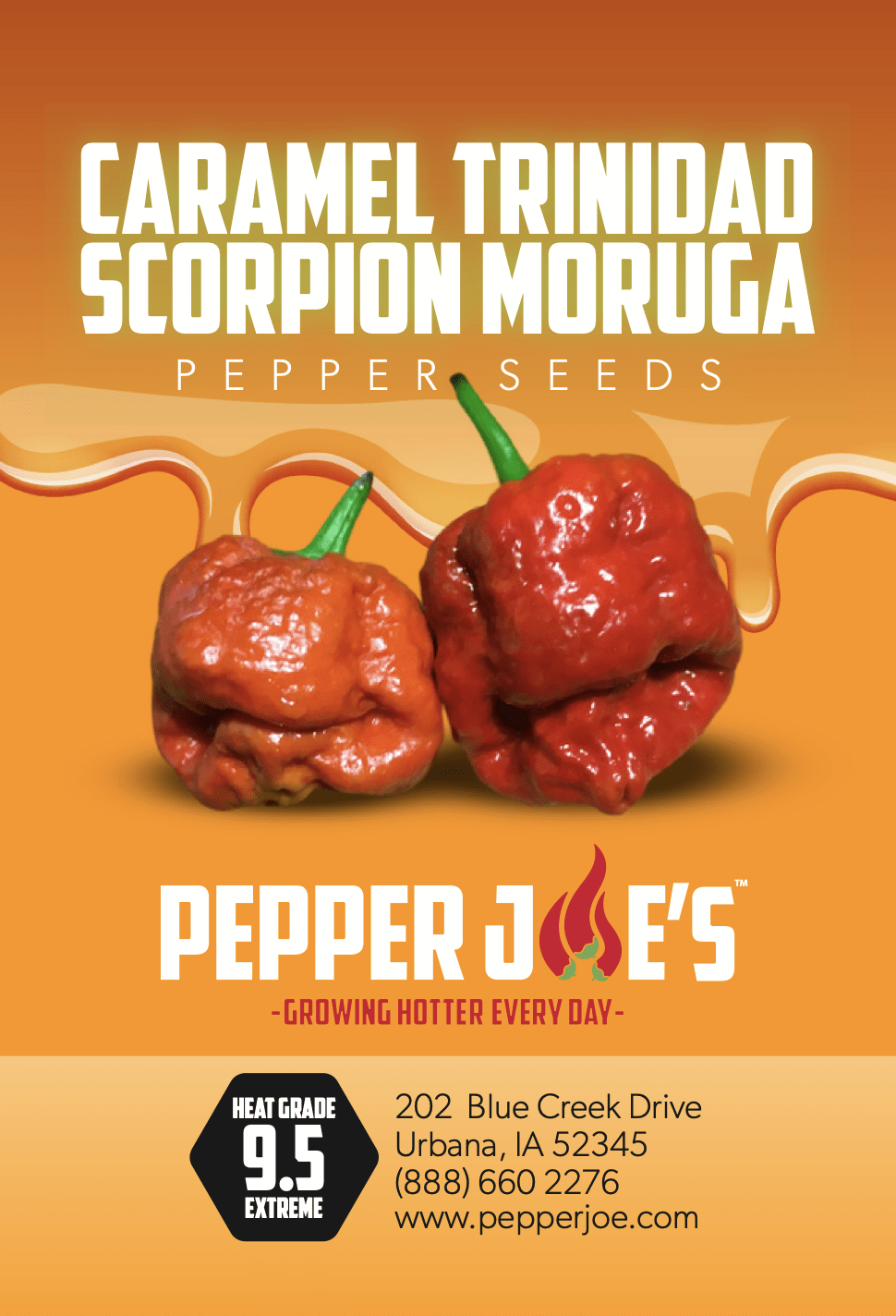 Superior genetics
I bought my seed packet a bit before November of 2022. I wanted to start early, so I started in November. Fast forward to now, July 2023, these pepper plants are freaking huge. Reaching 6 ft tall, and branching out 3 ft. The pods are also huge. They take a long time to mature, but it is worth it. I'm keeping one to overwinter to sell future pods/seeds. I wish I could upload pictures!
This thing looks like a hemorrhoid
Delivered fast
Got them packed well and fast delivery.