Regular price
$ 3.99
Sale price
$ 2.99
Unit price
per
Sale
Coming Soon
Description:

Also known as the Pasilla Bajio Chilaca, Pasilla pepper, or Chile Negro, this flavorful pepper originates from Mexico. Chilica translates to "old" or "gray hair," and Pasilla translates to "little raisin" in Spanish. Besides the aforementioned names, the Chilaca Mexican pepper goes by many other names as well.

This pepper plant reaches 3 ft. tall and grows plenty of these 8-10" long pods. Peppers will have a curved, flattened, conical shape and waxy, wrinkly skin. This pepper can be harvested at multiple stages of maturity and can surprise your taste buds at its different stages. When young, it has a mild, tangy, floral flavor with heat similar to the Poblano pepper. When it matures, the flavor is a much more earthy, sweeter flavor with raisin-like undertones and subtle, mild heat. If growing this pepper, it will ripen from dark green to a dark brown-black color when mature.

When in its dried format, the chili is called Pasilla chile which is more recognized than when it's fresh. You can use these dried Pasilla chiles for grilling, roasting, baking, or to be eaten fresh and added into hot sauces!

Species: Capsicum Annuum
Heat Level: 1,000-2,500 SHUs
Type: Mild
Flavor: Tangy, Floral
Origin: Mexico
Pod Size: 8-10"
Plant Height: 3 ft.
Days to Harvest: 85+ Days

View our Mild Pepper Seeds and check out more options from our expansive Pepper Seed Collection!

Need help getting started? We have the right Growing Supplies to help get you off on the right foot with your pepper seeds!
Specifications:

Heat Level:

Plant size: 3 ft.
Pod size: 8-10"
Origin: Mexico
Species: Annuum
SHU: 1,000-2,500
Click here for all of our tips and videos to grow your peppers!
Click here for plant care instructions
View full details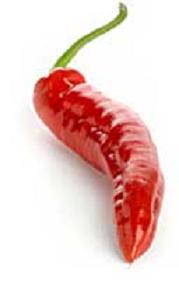 Chilaca Mexican (Negro) Pepper Seeds
I haven't planted yet… check in again in August
I haven't planted them yet, but soon!