SKU: Seeds-Chinese5Color10
Regular price
Sale price
$ 3.99
Unit price
per
Sale
Coming Soon
Description:

With its many hues, the Chinese 5 Color is a real show stopper that brings in shades of purple and cream in the garden. "5-color" is in the name, so it's no surprise how they transition to 5 different colors!

The Chinese 5 Color Pepper Plant grows over 4 feet tall and produces over 100 peppers per plant on average. Compact and easy to grow, these peppers are small, conical, and ornamental that grow to about an inch in length and mature like a rainbow in five colors and gain in heat as they change color, turning from cream, purple, yellow, orange, and finally red.

You'll notice a sweet yet bitter flavor with an earthy aftertaste when you bite into the Chinese 5 Color pepper. These are great to eat raw and cooked such as boiling, stir-frying, and roasting. You can even make salsa, dips, and hot sauces!

Species

: Capsicum Annuum

Heat Level

:

5,000

-50,000 SHUs

Type

: Hot

Flavor: Sweet, Bitter, Earthy

Origin

: China

Pod Size: 1"
Plant Height: 4 ft.

Days to Harvest

: 85+ Days

Want more beautiful peppers to light up your garden? Check out our Ornamental Pepper Seeds today, and be sure to browse through our ever-growing Pepper Seed Collection for more varieties!
Specifications:

Heat Level:

Plant size: 4 ft.
Pod size: 1"
Origin: China
Species: Annuum
SHU: 5,000-50,000
Click here for all of our tips and videos to grow your peppers!
Click here for plant care instructions
View full details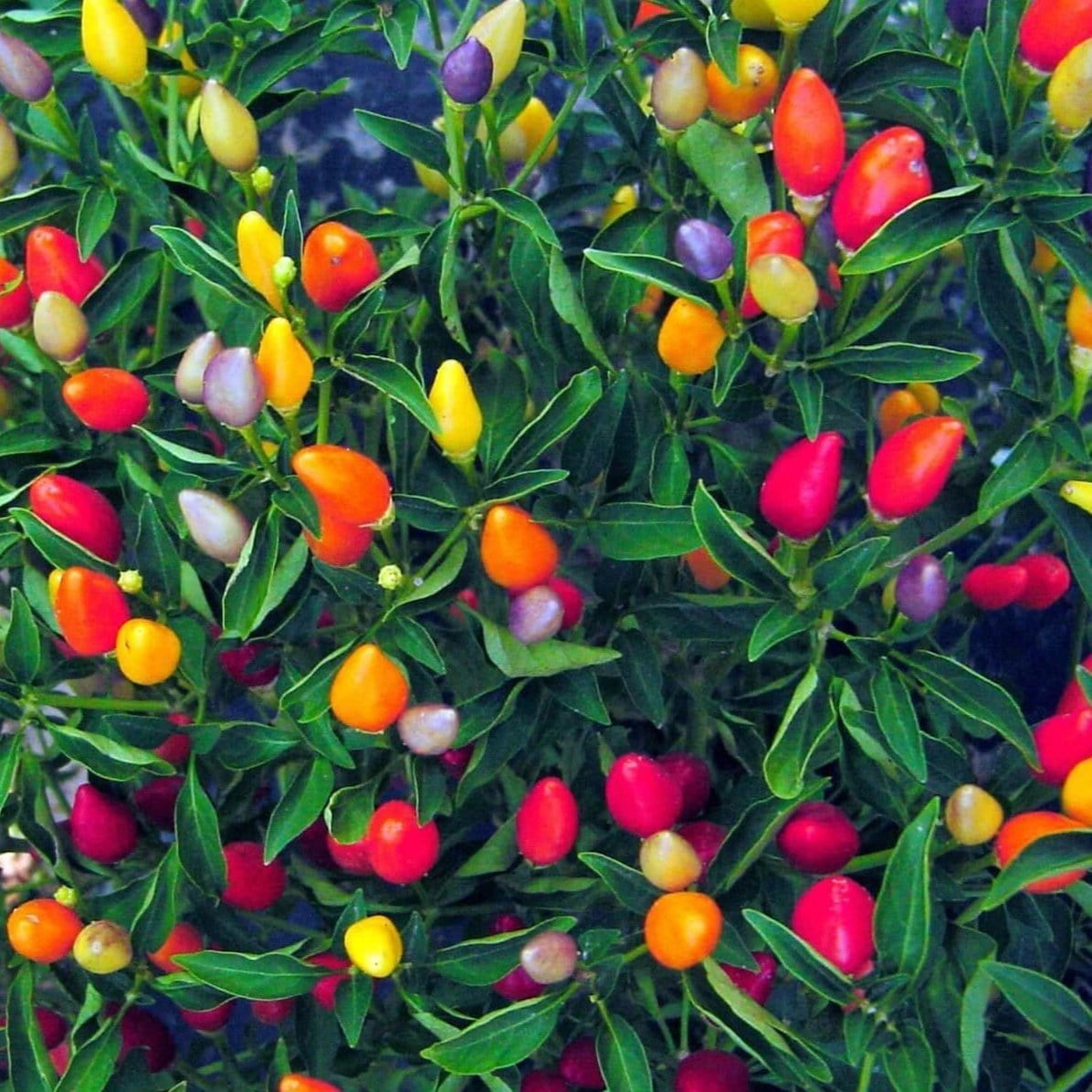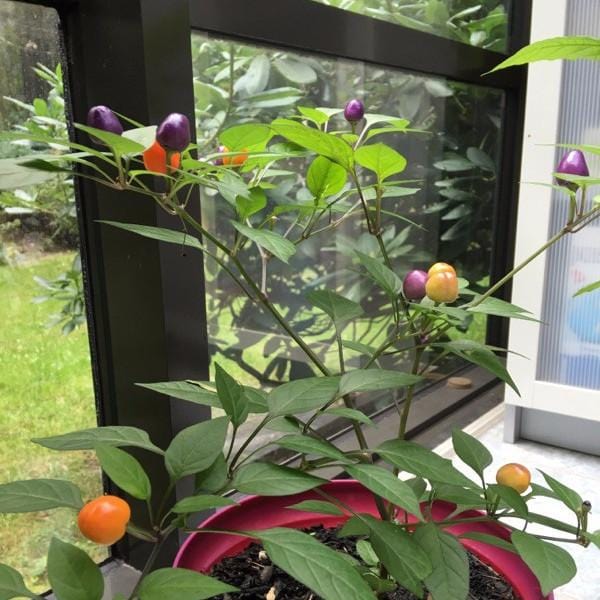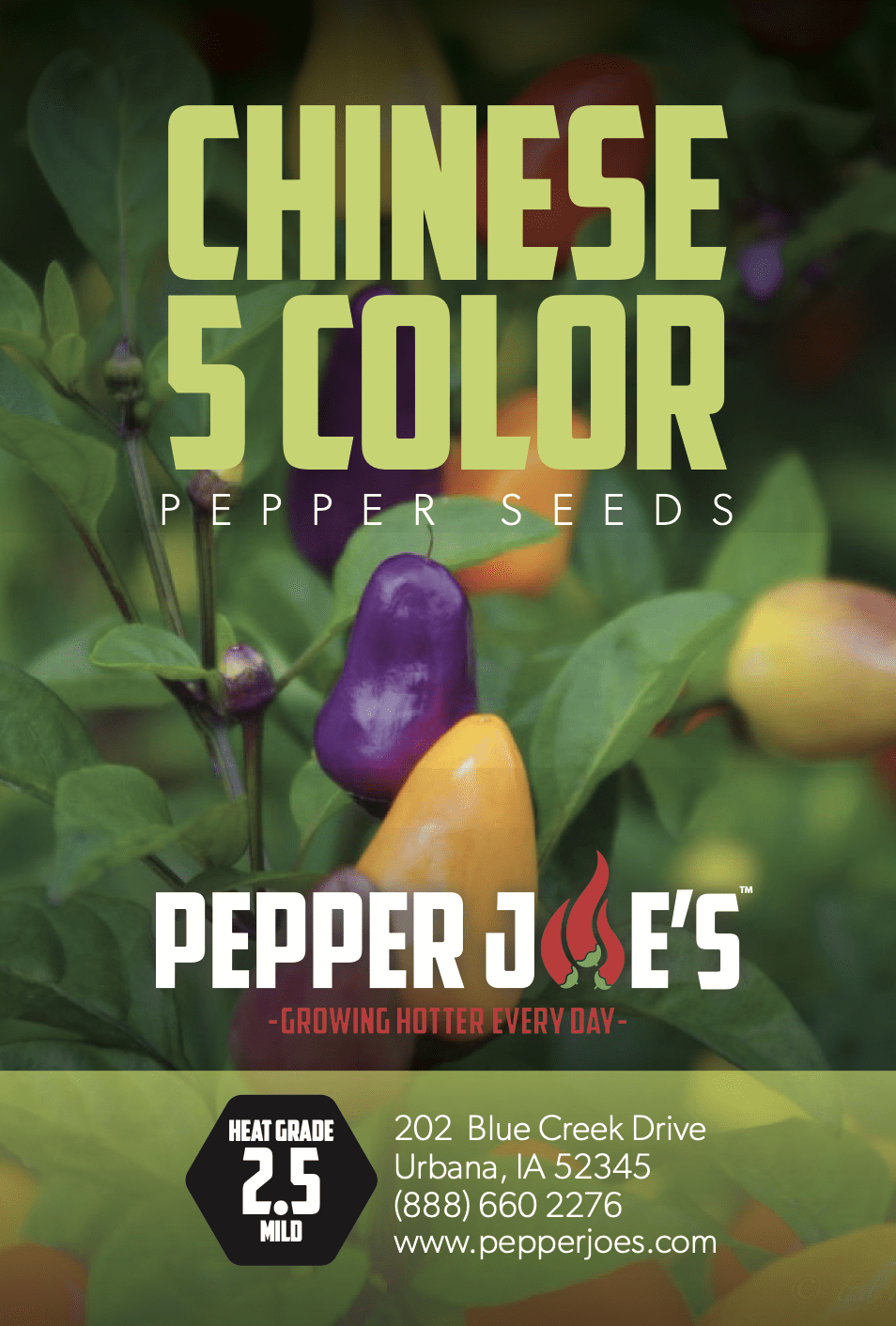 So far so good.
No fruit yet but still growing.
Growing well
Got them under a grow light in a tent, gonna transplant them outside in a week. So far so good!
Every seed germinated, pretty plant so far!
I only did three seeds, wanting one to go. All three germinated and the plants have some purplish leaves. I guess I'll have to have a couple badass ornamental peppers randomly in my landscape…