Regular price
$ 6.99
Sale price
$ 5.99
Unit price
per
Sale
Coming Soon
Description:

The Chocolate Ghost Pepper is believed to be a variant of the Red Bhut Jolokia (Ghost Pepper) that stemmed from crossing with a 7 Pot Douglah. That lineage creates this fabulous pepper which can actually have pods HOTTER than the Ghost Pepper, with a taste all of its own. Although the Chocolate Ghost chili has never officially been tested for Scoville Heat Units, most estimates are in the 800,000 to 1,001,304 range. This is a fun Chile to grow and add to your collection.

The Chocolate Ghost pepper plant will grow to about 4 feet tall, producing 3" long pods that ripen from green to their dark brown color at maturity. Wrinkly and pointy, this is a gnarly pepper not to be messed with! The Chocolate Bhut Jolokia is one of the most unique Super Hot Peppers to grow in your garden with its colors and flavors. Wrinkly and pointy, this is a gnarly pepper not to be messed with!

Their flavors are uniquely unforgettable as their rich dark color seems to add sweeter undertones with the smoky flavor you always get from a Ghost. Like most brown peppers, its taste is sweeter than the Red Daddy pepper. Use this for BBQ sauces, hot sauces, powder, and marinades.

Species: Capsicum Chinense
Heat Level

: 800,000–1,001,304+ SHUs

Type

: Super Hot

Flavor: Sweet, Smoky
Origin

: Bangladesh

Pod Size: 3"
Plant Height: 4 ft.
Days to Harvest

: 150+ Days

Try some of our other Ghost Pepper Seed varieties and be sure to browse through our Ghost Pepper Spices & Snacks for that addicting Bhut Jolokia taste!
Specifications:

Heat Level:

Plant size: 4 ft.
Pod size: 3"
Origin: Bangladesh
Species: Chinense
SHU: 800,000-1,001,304+
Click here for all of our tips and videos to grow your peppers!
Click here for plant care instructions
View full details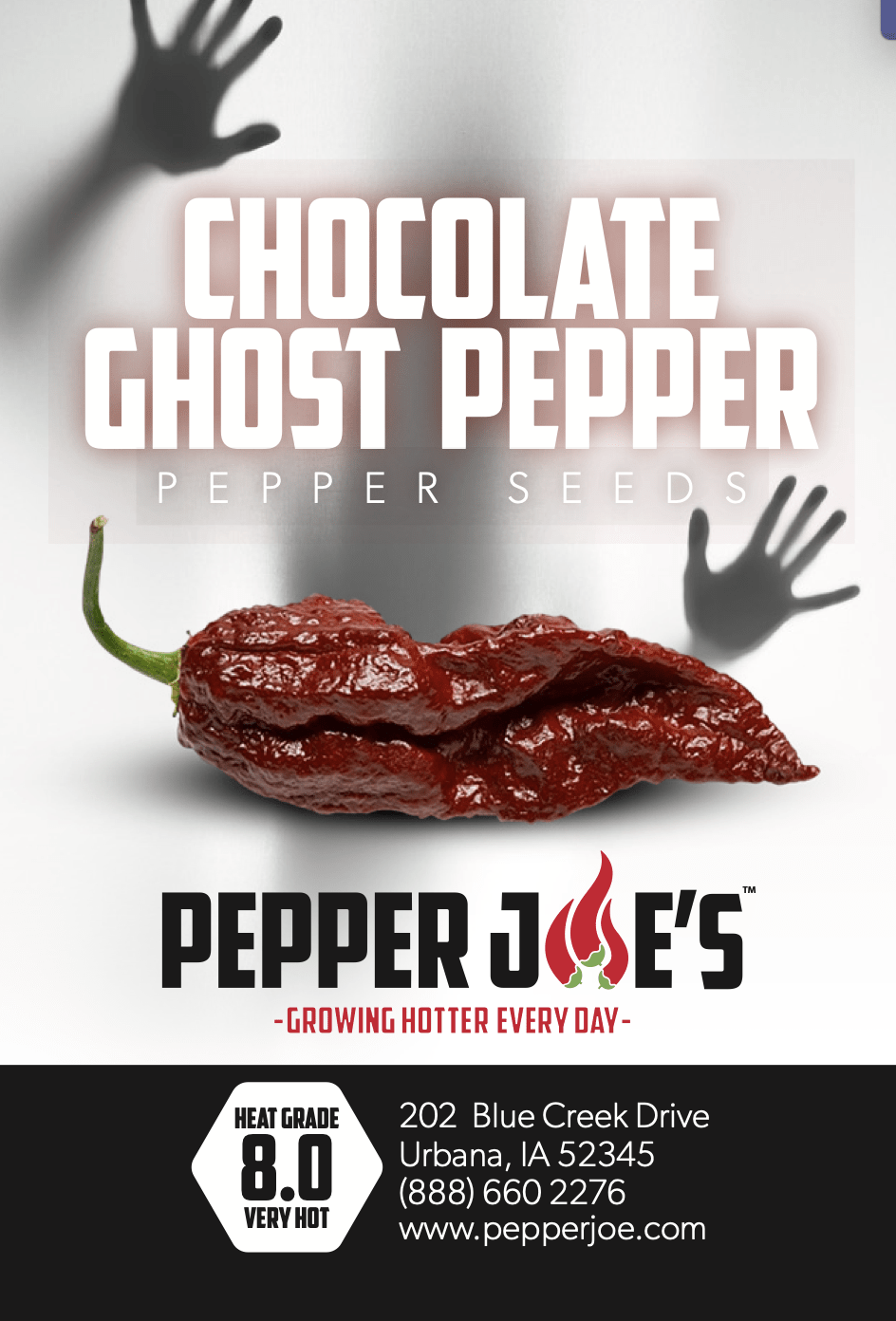 Very good seed quality easy to germinate and fun to grow
Best product and AMAZING customer service!!!
I've been a loyal customer of pepper Joe's for over 6 years! Best customer service and growth rate of all previous seeds purchased! Really looking forward to my large chocolate selection this year...thanks PJ! Five star products