Regular price
$ 3.99
Sale price
$ 3.99
Unit price
per
Sale
Coming Soon
Description:

Also known as the Czechoslovakian black pepper, this is a unique, beautiful, black-red colored pepper that packs amazing, surprising heat when it is ripe. This is an exceptional pepper plant that you must grow for landscaping or show off your garden to friends and family.

The plant will grow 2-3 feet tall and produces 2 ½" pods that are deep, rich purple-black colors with shiny skin and a plum shape just bigger than a Jalapeno. The Czech Black will ripen from purple/glossy black to a ruby red color when fully matured. As it matures, the heat is significantly different. During its purple/black stage, its heat and taste will be similar to a Jalapeno, but it is much hotter when it fully matures to its red color.

The Black Czech is a beautiful pepper plant that fits both categories of ornamental and edible. You'll end up with juicy, flavorful, conical peppers that smell aromatic and sweet. This is perfect to make salsa or sauce! You won't be disappointed with this one-of-a-kind pepper plant.

Species: Capsicum Annuum
Heat Level: 2,500-5,000 SHUs
Type: Mild
Flavor: Juicy, Sweet
Origin: Czech Republic
Pod Size: 2.5"
Plant Height: 2-3 ft.
Days to Harvest: 80+ Days

Check out more of our Mild Pepper Seed options to add to your growing garden!
Specifications:

Heat Level:

Plant size: 2-3 ft.
Pod size: 2.5"
Origin: Czech Republic
Species: Annuum
SHU: 2,500-5,000
Click here for all of our tips and videos to grow your peppers!
Click here for plant care instructions
View full details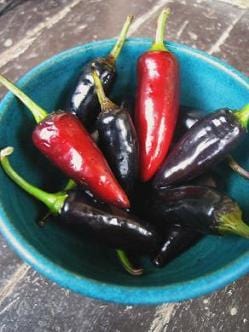 Success
My first time to plant this variety. So far so good. I only germinated 2 seeds because I only want one plant. Both seeds germinated successfully. I germinated in wet paper towel in ziplock. I transplanted to soil when I saw the tail, and kept the plant indoor until the temp was consistent around 55+ degrees in the evenings. I gave the other plant to a friend. Both plants now have fruits. Excited for the harvest.
Pretty good so far
Thick stems and good height.
They didn't germinate.
Bummer. I think I need to try germinating them under a grow lamp instead of directly showing in my garden.
Thank you for taking the time to provide us with feedback. We are sorry to hear that these seeds did not germinate. Our customer service team would be happy to take a look at this and provide resolution. Please contact us by emailing customerservice@pepperjoe.com.