Regular price
$ 2.99
Sale price
$ 1.99
Unit price
per
Sale
Coming Soon
Description:

The Diamond Ivory pepper is an unusual, attractive, sweet pepper that's truly a diamond in the rough! This pepper has many hidden exceptional characteristics as it's a gorgeous ivory-white colored bell pepper with a thick-flesh and a mouth-watering rich flavor.

The prolific Diamond Ivory pepper plant is a sturdy plant that will grow to around 2 feet tall. These are blocky, large peppers with an incredibly sweet, juicy crunch. The pepper will remain translucent ivory for quite a while before maturing to a pale yellow, to finally a scarlet-red color.

You can use this pepper for many culinary uses! With a coloration never seen before, you can sauté these peppers for a wonderfully cooked meal or accent these peppers in salads, sandwiches, sauces, and many more dishes. Be the first in your block to grow this American-bread beauty today!

Species: Capsicum Annuum
Heat Level: 0 SHUs
Type: Sweet
Flavor: Sweet
Origin: USA
Pod Size: 4"
Plant Height: 2 ft.
Days to Harvest: 60+ Days

Want more sweetness to your garden? Get our Sweet & Bell Pepper Seeds today!
Specifications:

Heat Level:

Plant size: 2 ft.
Pod size: 4"
Origin: USA
Species: Annuum
SHU: 0
Click here for all of our tips and videos to grow your peppers!
Click here for plant care instructions
View full details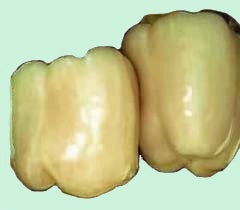 Pretty bell pepper
Germination was good. Pleased with results. Waiting to transplant out and get my first peppers.
I only got two viable seedlings from the seeds I ordered. Terrible germination and the ones that sprouted only two were healthy and strong
Hello, hot peppers can be tricky to grow. Here is the process we follow and see 95% success rate across the board. They are very particular to soil temp requiring 80-85*. I hope this helps! Please give our customer service team a call at 888-660-2276 for additional questions.
https://pepperjoe.com/pages/gardening-tips-starting-peppers-from-seed