Regular price
$ 3.99
Sale price
$ 3.99
Unit price
per
Sale
Coming Soon
Description:

You may think it's strange to have a tomato turn white, but this heirloom has been around in America since the 1860s! Yep, this tasty variety will have you gobsmacked by just how flavorful it really is!

The White Beefsteak Tomato plant is a productive plant that grows to 3-5 feet tall, but it is important that you support the plant due to the weight (1-2 pounds) of the pods. One of the positives of this plant is they grow to be quite leafy and the dense foliage protects the skin from getting sun-scorched. Other than that, the plant is not fragile, and they mature earlier than other white tomatoes. They will ripen to white-yellow skin and are actually known to be the largest and tastiest of the white tomato varieties.

Don't miss out on growing these sweet, juicy, delicious fruits! These White Beefsteak tomatoes grow to be large pods with thick, meaty textures with smooth skin, and they can weigh up to 2 pounds! The White Beefsteak Tomato's flavor is citrusy with tones of apple, pineapple, melon, and guava, with low acid. They maintain good texture and flavor, and you will love this tomato for its color and taste! This great white heirloom tomato is great for sandwiches, salads, and a yummy tomato sauce. Try making a white sauce with this!

This is an indeterminate tomato variety.

Species: Solanum Lycopersicum
Flavor: Sweet
Origin: USA
Size:
Weight: 16-32 oz.
Plant Height: 3-5 ft.
Days to Harvest: 85+ Days

Check out other delicious Tomato Seeds to grow in your garden! We also carry a great selection of Companion Seeds to keep your other plants in tip-top shape!
Specifications:

Plant size: 3-5 ft.
Origin: USA
Click here for all of our tips and videos to grow your peppers!
Click here for plant care instructions
View full details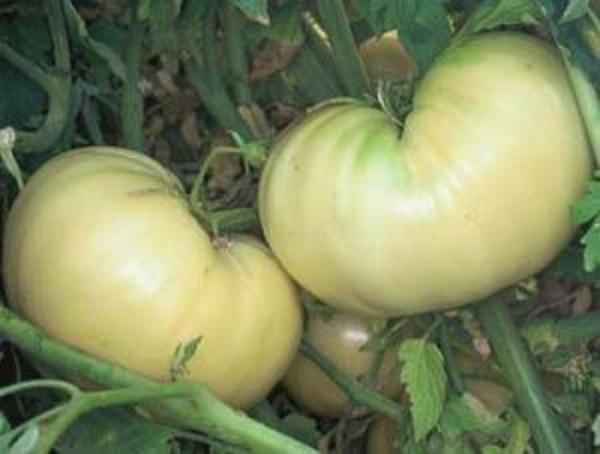 First time grower
These took right off germinating 2 in paper towel method. Transplanted well in the dirt and used some root shield. Now about a foot tall getting first flower pods and Transplanted from small cups to black pots with tomato cages fertilizing once a week. Trying not to over water them or let them dry out is tricky in this back and forth weather. Aphids went after one of the new seedlings I had going and almost took it down but a little pinch to the pests and some soapy water spray and the tomato is fighting back out of it so. Hope to get some good stuff this year and hoping my peppers do just as good, seedlings on the peppers keep turning white and staying small but I think it's been too cold because my pepperonchini is doing good. Transplanting into the ground pretty soon just gotta keep watching for the pests. I'm learning as I grow I just hope I don't mess it up now 😝
Bad seeds
Out of the 10 that I bought, only 3 germinated. 1 died immediately. 1 was riddled with disease and the other still growing.
Hello, hot peppers can be tricky to grow. Here is the process we follow and see 95% success rate across the board. They are very particular to soil temp requiring 80-85*. I hope this helps! Please give our customer service team a call at 888-660-2276 for additional questions.
https://pepperjoe.com/pages/gardening-tips-starting-peppers-from-seed
don't know yet
I only gave a 2 star review because I don't know much about the plants or tomatoes yet. Some of them came up and they just have 4 leaves. That's all I can say. I'll be transplanting them on Sunday.