SKU: Seeds-HotPortugal-10
Regular price
Sale price
$ 4.99
Unit price
per
Sale
Coming Soon
Description:

Hot Portugal peppers have slowly made a comeback for both small gardeners and commercial growers alike. With its dependable and high-yielding growth, along with its appetizing flavors and moderate heat, no wonder why people love to grow them!

These plants may only grow up to 2 ft. tall, but they do hold sturdy. Hot Portugal peppers grow and mature earlier than others and can reach lengths of 6-7" long. These conical pods start off as a wrinkly dark green, but then ripen to a glossy, vivid red as if it was pumped back to life! Hot Portugal plants boast heavy yields of these peppers, so use as many as you'd like and store the rest away for later – no worries, they will last for a while!

The flavor is sweet like the Jimmy Nardello pepper, but its heat is what makes it different. The name "Hot Portugal" comes from its variable heat levels which can reach as high as 30,000 SHUs, or as hot as a Cayenne pepper! Use them for cooking, roasting, drying, and for sauce. If you can tolerate the heat, then you won't regret adding these flavorful peppers to your food!

Species: Capsicum Annuum
Heat Level: 5,000-30,000 SHUs
Type: Mild to Medium Hot
Flavor: Sweet, Spicy
Origin: Portugal
Pod Size: 6"
Plant Height: 2 ft.
Days to Harvest: 65-75 Days

Get the right amount of heat for your peppers with our Medium Hot Pepper Seeds and Medium Hot Pepper Plants!
Specifications:

Heat Level:

Plant size: 2 ft.
Pod size: 6"
Origin: Portugal
Species: Annuum
SHU: 5,000-30,000
Click here for all of our tips and videos to grow your peppers!
Click here for plant care instructions
View full details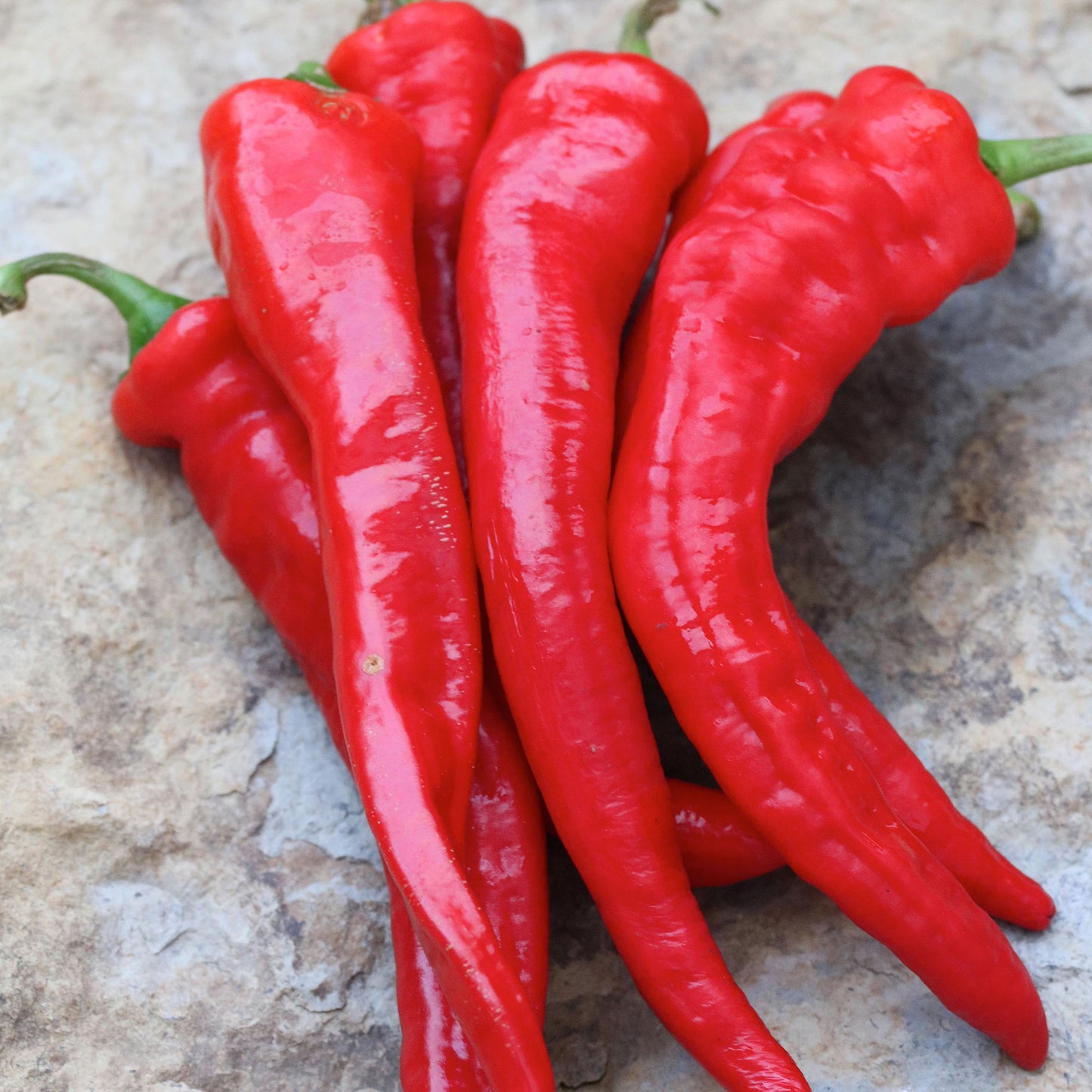 Hot Portugal Pepper Seeds
Experimental
First time growing these. High sprouting percentage and plants looking good.
Amazing so far!
I started germination 2/1/23 and all of the hot Portugal seeds germinated. They are also growing fast and strong. Can't wait to transplant in May!