Regular price
$ 3.99
Sale price
$ 2.99
Unit price
per
Sale
Coming Soon
Description:

Looking for a juicy sweet pepper to grow in a cooler climate? Lipstick peppers are rumored to be named for their elongated shapes and vibrant red color which looks like the appearance of the famous cosmetic item. Favored for their thick flesh and sweet flavor, these peppers are great to use as a culinary ingredient! The Lipstick pepper is a variety of Pimento pepper, which is a non-spicy cultivar that is known to have one of the lowest Scoville ratings of any pepper.

The Lipstick pepper plant was developed as a cold-tolerant variety for cold regions, and they're dependable and extremely heavy producers. The peppers will grow to 4 inches long with a crisp, crunchy flesh and smooth, taut, shiny skin. Ripening from green to bright red, they will form cone-shaped or heart-shaped pods with tapered ends. With peppers maturing to just 70 days, they will be ready to harvest early, especially in areas with cooler summers. The Lipstick pepper is an excellent pepper to grow for those who live in shorter warm seasons, and to cook in the kitchen!

The red heirloom is a favorite for gardeners and foodies because of its extra-sweet, fruity flavors and aromatic smells of earthy, vegetal scents when sliced open. They are excellent to eat raw, and for cooked applications like roasting, frying, and baking. Lipstick peppers are great for stuffed peppers, sauces, salsas, relishes, and salads, but we recommend you roast them to compliment aged cheese, potatoes, tomatoes, beans, and a variety of meat like beef, lamb, goat, pork, and shellfish.

Species: Capsicum Annuum
Heat Level: 0 SHUs
Type: Sweet
Flavor: Sweet
Origin: Central and South America
Pod Size: 4"

Plant Height: 3 ft.
Days to Harvest: 60+ Days

Expand your list of pepper seeds to grow in your garden with our Sweet Pepper Seeds and Sweet Pepper Plants!
Specifications:

Heat Level:

Plant size: 3 ft.
Pod size: 4"
Origin: Central/S. America
Species: Annuum
SHU: 0
Click here for all of our tips and videos to grow your peppers!
Click here for plant care instructions
View full details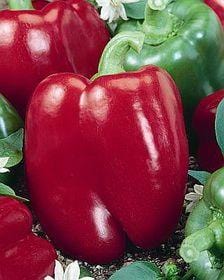 Great customer help
A great pepper for northern gardeners, but very hard to find.
The people at Pepper Joe's went above and beyond helping with the delivery!
Lipstick Pepper Seeds
Thank you for the prompt delivery and also the free gift of other peppers. I will be planting them in the spring so can let you know then what kind of a crop I get!