Regular price
$ 4.99
Sale price
$ 3.99
Unit price
per
Sale
Coming Soon
Description:

Straight out of Central and South America comes this unique and flavorful hot pepper. The Manzano Orange Pepper is sweet but with a nice kick! Manzano means apple in Spanish and when you see them you'll understand why.

The chili plant itself resembles an apple tree and produces 1-2" peppers that, wait for it…look and even kinda feel like apples. If protected from frost, the Manzano Plant can grow up to ten to fifteen feet long. This orange variety of the Manzano Pepper ripens from green to a warm orange, has furry leaves, and black (yes, black!) seeds. The Manzano Pepper Plant is resistant to low temperatures, adapting well to 45-60 degrees Fahrenheit and performs well in partial shade.

These beauties are sweet, tangy, and oh-so juicy but with some heat that builds slowly. You can do just about anything with these amazing hot peppers – stuff 'em, make a sauce or paste, or just snack on them raw. Whatever you do, we know you're going to love them!

Species

: Capsicum Pubescens

Heat Level

:

12,000-50,000

SHUs

Type

: Medium

Hot

Flavor: Sweet, Tangy, Juicy

Origin

: Central/S. America

Pod Size: 1-2"

Days to Harvest

: 9

0+

Days

Try growing some of our other Medium Hot Pepper Seed varieties in your garden!
Specifications:

Heat Level:

Pod size: 1-2"
Origin: Mexico
Species: Pubescens
SHU: 12,000-50,000
Click here for all of our tips and videos to grow your peppers!
Click here for plant care instructions
View full details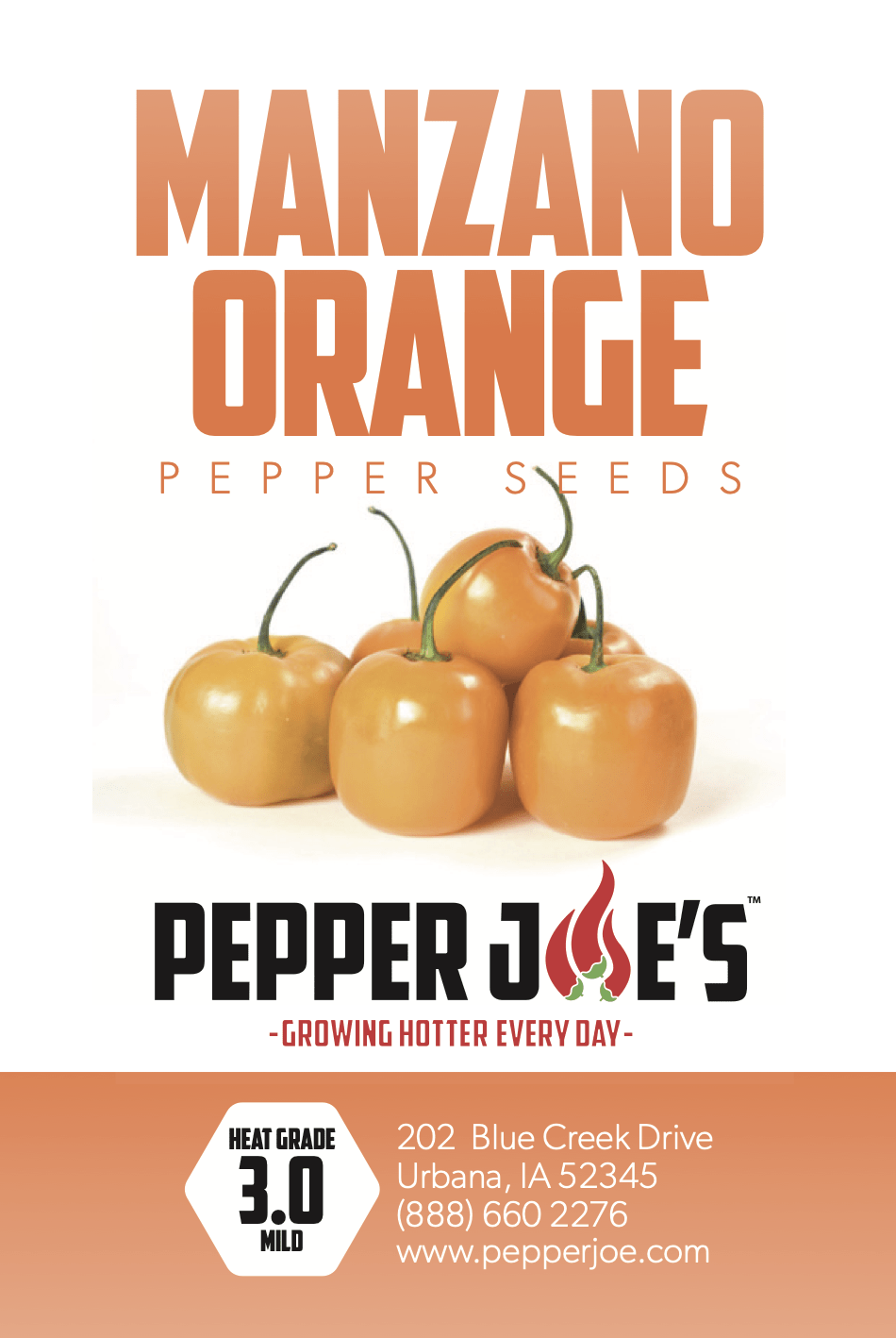 They did well, my cat failed us
We bought 60 seeds of the Monzano peppers, 20 in each color. We had a succes rate around 65% as a first time grower in getting germination of these difficult variety of pepper to grow and they where looking good. I left the top off one night and my cat decided there where good before they made peppers so now I only have about 20 of my original 60, mostly reds. The yellow seems the hardest to start but it's requirements are different than the red and orange. The whole reason I'm trying to get these going is because I bought a house that had a yellow and they are amazing peppers for spice and flavor! They are truly as flavorful as a bell pepper but have the spice to put down jalapeños without even trying. This is an amazing salsa pepper! Oh, my supper hot mix is still doing good! 4/5 living it up, can't wait to find out what they are!
Extra seeds were a nice touch
The extra seeds were a nice touch gave me five seeds for free of the super hot mix.