Regular price
$ 4.99
Sale price
$ 3.99
Unit price
per
Sale
Coming Soon
Description:

You will not be disappointed growing the Marconi Giant pepper because it's an incredible versatile pepper that was awarded the All-American Selections recognition in 2001 for its adaptability, earliness, yield, and impressive flavors! To give you a short summary, the Marconi pepper is a sure winner in the garden and the kitchen.

This compact pepper plant grows up to 2-1/2 ft. tall and is resistant to Tobacco Mosaic Virus (TMV) and Potato Y virus. This means the plants will be able to live longer for an improved yield. In fact, these plants will keep producing peppers until frost if you continue to keep harvesting them. As an improved Italian variety, it's one of the biggest Italian-type sweet peppers (as it hints in the name) and grows to 8 inches long. The Marconi pepper has a long body with a slight lobed end, ripening from green to a bold red.

One cannot forget about the flavors! It tastes sweet with a hint of smokiness and the Giant Marconi pepper is great in all kinds of cooked dishes. We recommend grilling or roasting them because their flavors will enhance. Try eating them raw, grilled, roasted, fried, or in salads and salsas.

Species: Capsicum Annuum
Heat Level: 0 SHUs
Type: Sweet
Flavor: Sweet
Origin: USA
Pod Size: 8"
Plant Height: 2.5 ft.
Days to Harvest: 70+ Days

Grow more sweet-tasting peppers with our Sweet Pepper Seeds and Sweet Pepper Plants today!
Specifications:

Heat Level:

Plant size: 2.5 ft.
Pod size: 8"
Origin: USA
Species: Annuum
SHU: 0
Click here for all of our tips and videos to grow your peppers!
Click here for plant care instructions
View full details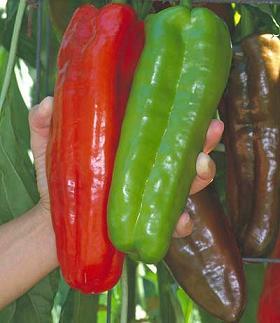 Huge and productive
I started these over winter in a humidity dome with grow lights and a heating pad. The peppers aren't as wide as bell peppers, but i got more peppers out of this plant, and they're just as good for stuffing. I live in zone 8a and the only problem I've had (while growing in full sun) are black spots show up on a pepper every now and then. I'm pretty sure it's from a combination of the sun and humidity, but it'll ruin the whole pepper. If you see it, just toss the pepper in the trash. Next year I'll put this variety in a little more shade, but it's prolific for a large pepper.
Giant Marconi Pepper
Very healthy starter plants from seed.