Regular price
$ 3.99
Sale price
$ 2.99
Unit price
per
Sale
Coming Soon
Description:

The Mosco Chile Pepper is a delicious meaty Annuum variety developed in Pueblo, Colorado over a number of years using selective breeding, and is now considered the official pepper of the state of Colorado! This is a larger version of the Mirasol chile that you won't regret growing.

These pepper plants grow up to around 2-1/2 feet tall, growing much faster in high elevation and short/dry climates. You'll see these pods grow up to 5-8" long with thick walls and smooth skin, ripening from a green to a bright red color at maturity.

Mosco Chiles have a nice medium heat with a unique sweet flavor that makes for one amazing red chile sauce. These thick-walled peppers make it easy to roast, grill, or even dry into a nice mild chili powder.

Species: Capsicum Annuum
Heat Level: 5,000-10,000 SHUs
Type: Mild

Flavor:

Sweet

Origin: USA

Pod Size:

5-8"

Plant Height:

2.5 ft.

Days to Harvest: 75 Days

Want more seed ideas? See our selection of Mild Pepper Seeds, unique selection of Jalapeno Pepper Seeds, and save with our exclusive Pepper Seed Bundle deals.
Specifications:

Heat Level:

Plant size: 2.5 ft.
Pod size: 5-8"
Origin: USA
Species: Annuum
SHU: 5,000-10,000
Click here for all of our tips and videos to grow your peppers!
Click here for plant care instructions
View full details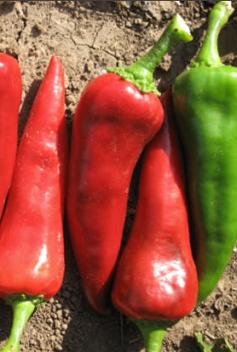 Poor germination
I ordered a few packets of seeds from pepper joes and some from other online and retail stores. I knew each packet only contained 10 seeds but they had horrible germination rates compared to the other seeds I've planted. Only 2 or 3 seeds per packet came up.
Hello, hot peppers can be tricky to grow. Here is the process we follow and see 95% success rate across the board. They are very particular to soil temp requiring 80-85* and can take up to 6 weeks to germinate. I hope this helps! Please give our customer service team a call at 888-660-2276 for additional questions.
https://pepperjoe.com/pages/gardening-tips-starting-peppers-from-seed