Regular price
$ 7.99
Sale price
$ 5.99
Unit price
per
Sale
Coming Soon
Description:

The Mustard Bhut Jolokia is one of the latest variants of the popular classic Bhut Jolokia (red Ghost pepper). This new Ghost variant doesn't mess around when it comes to heat, many believe it to be even hotter than a standard Ghost.

Grow these pepper plants in your garden and watch them stretch to 4 ft. tall. Pods will grow between 2-3" long and look incredibly gnarly with rough, bumpy skin that looks like it's bubbling with heat. Mustard Bhut Jolokias ripen from green to mustard yellow color when they reach maturity.

The Mustard Bhut Jolokia has a similar fruity taste to other mustard varieties and grows on big plants. If you're a fan of Ghost peppers you definitely need to try this beautiful Mustard Ghost chili.


Species: Capsicum Chinense
Heat Level: 800,000-1,000,000 SHUs

Type: Super Hot
Flavor: Fruity
Origin: Bangladesh
Pod Size: 2-3"
Plant Size: 3-4 ft
Days to Harvest: 120+ Days

Enjoy more Ghost Pepper Seeds and Ghost Pepper Plants for your garden, as well as Ghost Pepper Snacks & Spices for yourself!
Specifications:

Heat Level:

Plant size: 3-4 ft.
Pod size: 2-3"
Origin: Bangladesh
Species: Chinense
SHU: 800,000-1,000,000
Click here for all of our tips and videos to grow your peppers!
Click here for plant care instructions
View full details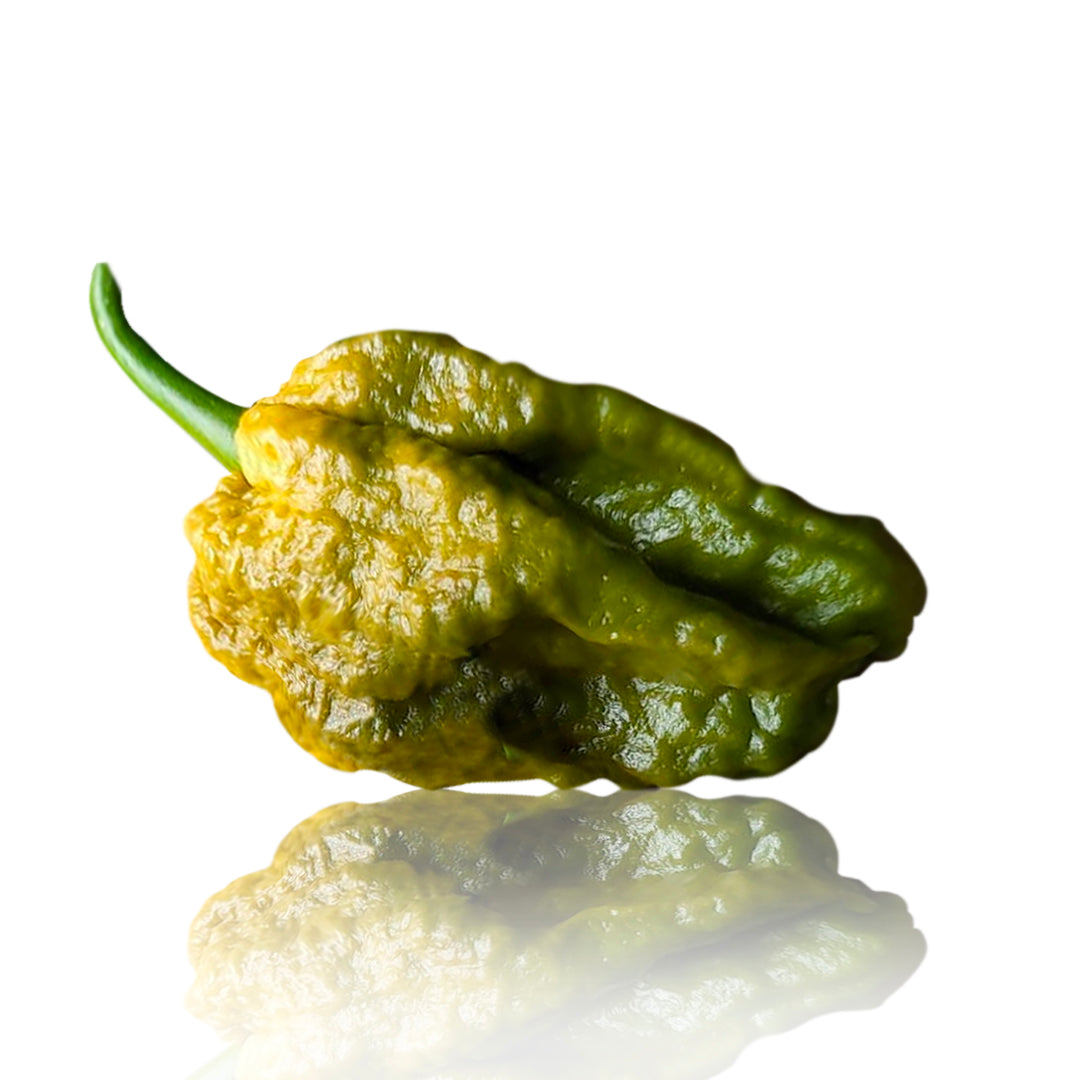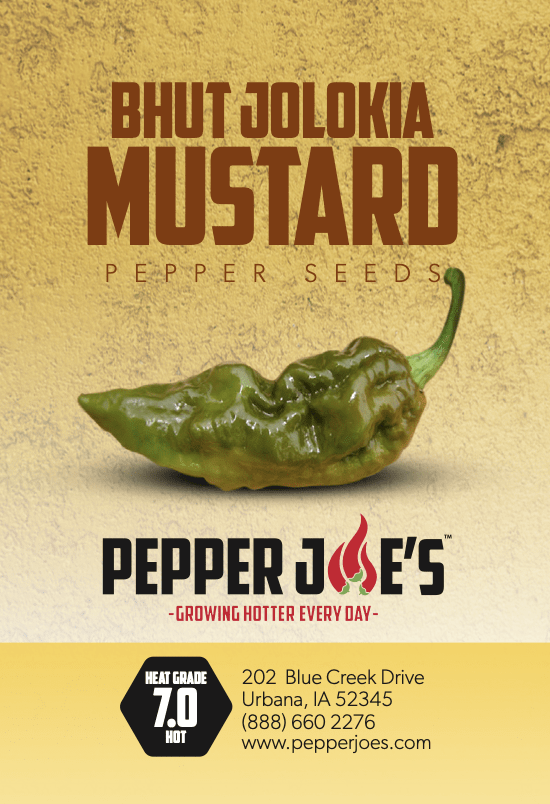 Love Pepper Joe's
Out of 10 seeds only one came up but I'm happy with that one I can't wait till it Has fruit I start my seeds out in a greenhouse box but thank you for the extra seeds Out of those 10 seeds five of them came up so I'm happy Joe
Excellent products and services
Consistently, Pepper Joe offers a wide selection of products. They are prompt in shipping out the product. The shipments are always received with zero error.
The company provides great support for all levels. They have a quick turnaround in communication.
The email advertisements are always with valid purpose and are not overwhelming.
Pepper seeds
They're germinating really slow. They have taken WEEKS , for me to see any plants come up. 7 after about a month. Now i think i see 3 or 4 more. Out of ALL of those seeds. I have them in a flower pot in a shaded area. But at least some seeds are germinating. Thank you.