Regular price
$ 4.99
Sale price
$ 3.99
Unit price
per
Sale
Coming Soon
Description:

An eye-candy ornamental pepper plant that has tasty edible peppers, and it's a 2015 AAS winner? That's pretty sweet. While most ornamentals are edible and some mildly flavorful, the Pretty n Sweet pepper has taken things to a whole new level! We've heard that the AAS judges were so impressed with this pepper that they proposed calling this plant an "ornamendible." You just have to decide if you want to admire it or eat it!

Pretty 'n' Sweet peppers grow on compact, bushy 18" tall plants that look gorgeous in gardens, patios, balconies, and greenhouses. This is a prolific plant with early-maturing sweet peppers and continuous harvests. These pods are small, plump, multi-colored fruits that look very tempting to eat. Ripening from green, yellow, orange, red, to finally purple, you can harvest these peppers at any stage. These are quite amazing plants for home gardeners as the plants will stand up well to heat and humidity, are easy to grow, and are resistant to Tobacco Mosaic Virus.

Although the Pretty n Sweet pepper is quite flavorful, it is the thick walls that make the pepper taste great. You can enjoy making this for a variety of culinary uses! Pick up your packet of seeds today!

Species: Capsicum Annuum
Heat Level: 0 SHUs
Type: Sweet
Flavor: Sweet
Origin: USA
Pod Size: 1-2"
Plant Height: 1.5 ft.
Days to Harvest: 60+ Days

Try growing other Sweet Pepper Seeds in your garden! We also offer Sweet Pepper Plants for those who want a head start in growing peppers.
Specifications:

Heat Level:

Plant size: 1.5 ft.
Pod size: 1-2"
Origin: USA
Species: Annuum
SHU: 0
Click here for all of our tips and videos to grow your peppers!
Click here for plant care instructions
View full details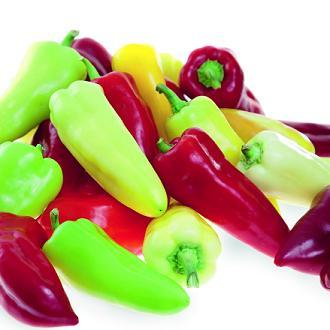 Nice little pepper. Will propably grow again.
Small plant wit small attractive peppers. Mine seem to go straight from a white/green to red, but looks very niceon the plant. They are just about bite sized, so, enough for one adult to have one bite. I haven't tasted them yet, tomorrow!
super sweet and great yield!
I only grew a couple of these plants last season and will be growing many more this year. These peppers are one of my favorite for cooking with and creating new dishes. they have great flavor and remind me of mini sweetened bell peppers. I was very happy with these seeds and would recommend the pretty and sweet to anyone wanting to try out a new nothing but sweet type of strain.
Pepper seeds
I ordered the box of chocolates for my son. He really likes the amount and assortment of seeds he received.