Regular price
$ 3.99
Sale price
$ 3.99
Unit price
per
Sale
Coming Soon
Description:

As in the words of the band Red Hot Chili Peppers, "I like pleasure spiked with pain." We're that crazy to love eating hot peppers that burns our tongues and throats, but we can't imagine life without hot peppers!

The Red Hot Chili Peppers are small, red peppers that are thin-walled and conical shaped. The pepper plant will grow 18 inches tall and produces large yields of 5 inches long peppers. These peppers have amazing taste and will add zest and flavor to your dishes! The Red Hot Chili pepper may also put fire in your tongue and perhaps a tear in your eye, but we promise the flavors are worth it. Ripening from green to red with medium heat, these peppers are excellent for use in sauces, or to eat it dried or pickled!

Species: Capsicum Annuum

Heat Level: 25,000-40,000 SHUs

Type: Medium

Origin: Unknown

Days to Harvest: 80+ Days

# of Seeds per Packet: 10+ Pepper Seeds
Specifications:

Heat Level:

Plant size: 1.5 ft.
Pod size: 5"
Origin: USA
Species: Annuum
SHU: 25,000-40,000
Click here for all of our tips and videos to grow your peppers!
Click here for plant care instructions
View full details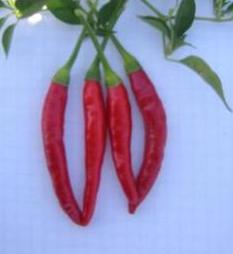 So far so good
They are the fastest growing, healthiest plants out of all the seeds I ordered. They haven't produced fruit yet but doing well.
I just planted them but they sprouted fast and shipping was ahead of schedule.
:(
Zero% germination rate, other varieties sprouted so not sure what happened with these guys. Conditions were good.
Hello, hot peppers can be tricky to germinate. Here is the process we follow and see 95% success rate across the board. They are very particular to soil temp requiring 80-85* and can take up to 6 weeks to germinate. I hope this helps! Let us know what other questions you may have!
https://pepperjoe.com/pages/gardening-tips-starting-peppers-from-seed