Regular price
$ 4.99
Sale price
$ 3.99
Unit price
per
Sale
Coming Soon
Description:

Rooster Spur peppers were known for their elusiveness back in the 1970s when then-President Jimmy Carter tried seeking out these peppers after being gifted with this pepper-infused summer sausage. Today, Rooster Spur peppers are grown worldwide and take on many different names – in Japan, for example, they go by the name Takanotsume peppers, or "hawk claw" peppers.

These pepper plants will rise to 2 ft. in height, bearing many of these 2" long fruits. The Rooster Spur gets its namesake from its shape. Small, slim, and curved just like Thai peppers, they look just like the spurs roosters use to fend off their enemies. Peppers will mature from green to dark red.

While these plants are used ornamentally, Rooster Spur peppers are very much edible. Just like their talons, however, these peppers pack a lot of piercing heat for the size that they are! Their thin walls work great for drying into chili powder – try this out instead of Cayenne or Tabasco peppers!

Species: Capsicum Annuum
Heat Level: 30,000-50,000 SHUs
Type: Medium Hot to Hot
Flavor: Spicy
Origin: USA
Pod Size: 2"
Plant Height: 2 ft.
Days to Harvest: 95 Days

View our Heirloom Pepper Seed collection and find more varieties you can grow in your garden!

View more of our Pepper Seeds and get the Growing Supplies you need for your pepper plants to blossom!
Specifications:

Heat Level:

Plant size: 2 ft.
Pod size: 2"
Origin: USA
Species: Annuum
SHU: 30,000-50,000
Click here for all of our tips and videos to grow your peppers!
Click here for plant care instructions
View full details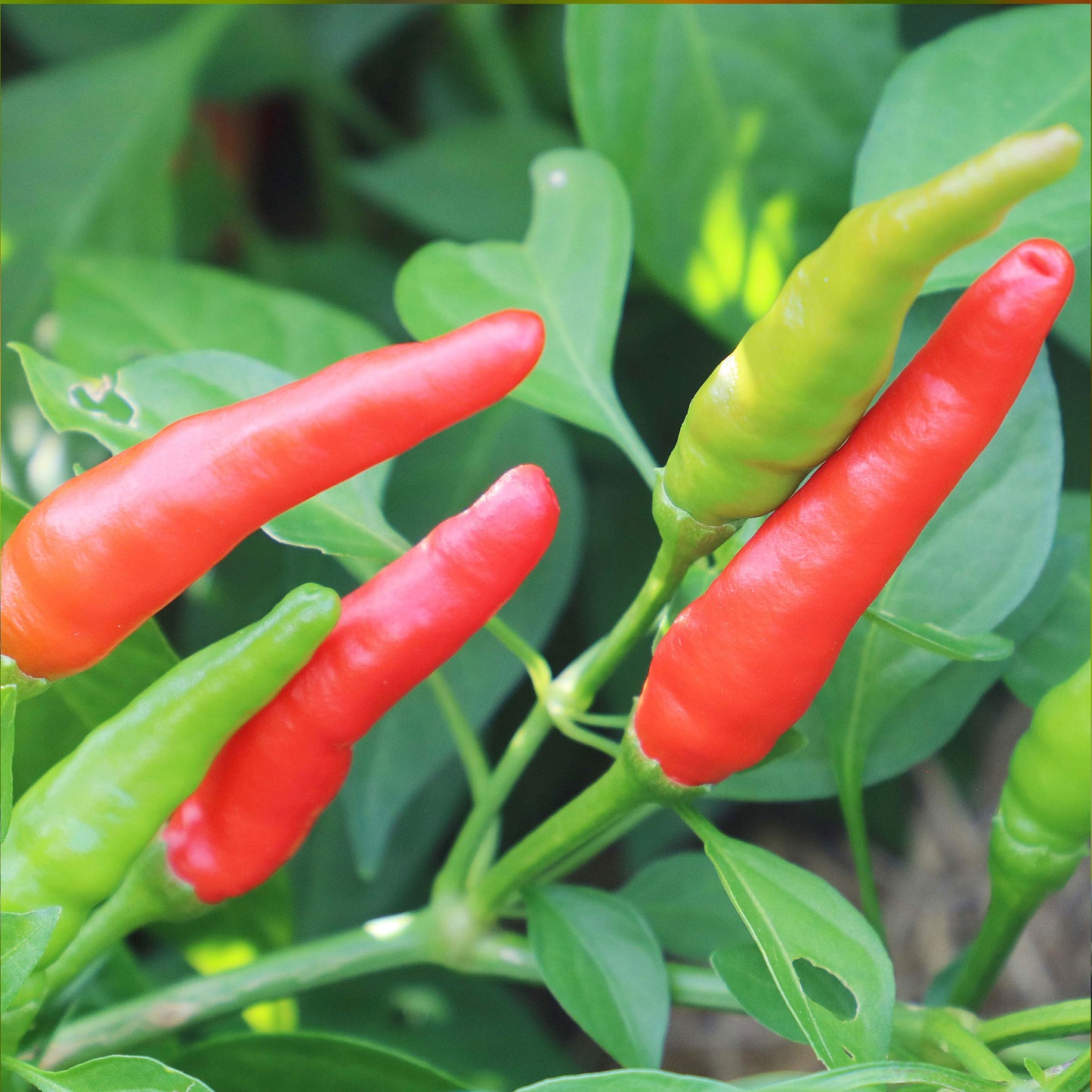 Peppers
Planted several weeks ago about ninety percent of the seeds sprouted and are about two inches tall.
Rooster Spur Pepper Seeds
Rooster Spur Seeds
I started my Rooster Spur Seeds right after receiving them in February it's now April 21st and I have not planted them in my garden yet even though the days here in East Alabama are in the 70s-80s the nights are still in the low 50s-mid 40s, but I have been harden them off, I ordered 50 seeds about 45 came up and are about 6'' high now, my Mom use to plant Rooster Spur every year for pepper sauce and she would save the seeds they all originated from seeds she got from her grandmother back in the 1940s when she and my Dad married, I could not find the seeds or plants any where locally then I came across PEPPER JOES thank you for offering these heirloom seeds that meant so much to our family.