Regular price
$ 3.99
Sale price
$ 2.99
Unit price
per
Sale
Coming Soon
Description:

If you love the taste of Jalapenos but can't take the heat, the Tam Jalapeno is the one for you! With a heat level of 1,000-1,500 SHUs, this is milder than the typical Jalapeno which averages around 3,000-5,000 SHUs. The Tam Jalapeno was developed by Texas A&M where it's designed to have the Jalapeno flavor without the heat, so you can enjoy it and not worry about it burning your tongue!

The Tam Jalapeno pepper plant will grow to 2-3 feet tall and will produce 3" long green peppers with shiny and smooth skin. It will ripen when it turns to a dark green color but will turn red if left on the plant for too long. You will not be disappointed growing these pepper plants because they are productive, disease-resistant, and grow high yields of peppers! The plants are sensitive to cold, so make sure they receive full sun.

These are delicious to add to salads and are good for pickling, cooking, preserving, and seasoning. It can also be stuffed with a variety of fillings, cooked with stir-fry and chilis, made for jellies, or used as a taco/pizza topping!

Species

: Capsicum Annuum

Heat Level

: 1,000-1,500 SHUs

Type

: Mild

Flavor: Spicy

Origin

: USA

Pod Size: 3-6"
Plant Height: 2-3 ft.

Days to Harvest

: 90+ Days

Grow other Mild Pepper Seeds and Mild Pepper Plants in your garden for more amazing flavors and low-grade heat.

We also offer amazing Jalapeno Snacks & Spices for you to try!
Specifications:

Heat Level:

Plant size: 2-3 ft.
Pod size: 3-6"
Origin: USA
Species: Annuum
SHU: 1,000-1,500
Click here for all of our tips and videos to grow your peppers!
Click here for plant care instructions
View full details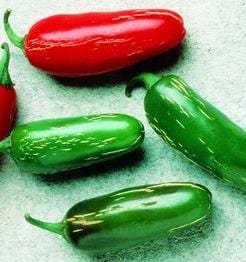 100% germination!
Grew fast and coming in strong! 100% germination! Absolutely love Pepper joes ! We make tons of sauces and pickled pepper relishes.
Tam is just right
Planted seeds and got several nice plants. Peppers are abundant and healthy. Have not tried yet but am making jelly and pickled. Will replace hotter version of pickled Jalapeño. On that note I did grow the orange Jalapeño and for some reason prefer flavor and tolerate heat in cooking. Froze cleaned orange peppers and used all last winter. Think Tam will fit in nicely in cooking. Planted them a little early and here in Michigan this year we got some variable cold spells early. Plants did better than sweet peppers - though all survived. Pleased - will plant again.
Tam Jalapeno Pepper Seeds