Regular price
$ 4.99
Sale price
$ 3.99
Unit price
per
Sale
Coming Soon
Description:

The Yellow Rocoto Pepper, also known as the Yellow Manzano Pepper, is commonly translated as the "apple chile".

Mature Yellow Rocoto Pepper plants are very strong and sturdy – these plants are resistant to cool temperatures and take on a tree-like structure with age. This pepper is shaped like a small 2" yellow apple and features a thick pod flesh - think a smaller and spicier version of a yellow bell pepper.

The Yellow Manzano Pepper plant blooms vibrant blue flowers with hairy leaves and turns from green to yellow when mature, featuring unique black seeds.

If you keep them away from frost, these plants can live up to 15 years and be up to four meters tall. The fresh and juicy flavor of this pepper paired with its medium heat level make it so versatile for cooking. It is great in salsas and hot sauces, for pickling, and we have even seen people stuff these hot little peppers!

Yellow not your color? Check out our Red Rocoto and Orange Rocoto Pepper seeds.

Fun Fact: This is a pepper with many names. Referred to as Rocoto in Peru, Manzano in Mexico, and Locoto in Bolivia. To us, it doesn't matter what you call it - just grow it.

Species

: Capsicum Pubescens

Heat Level

: 30,000–50,000 SHUs

Type

: Medium

Hot

Flavor: Juicy

Origin

: Mexico

Pod Size: 2"
Plant Height: 6+ ft.

Days to Harvest

: 110+ Days

Browse through our offerings of Medium Hot Pepper Seeds and Medium Hot Pepper Plants today!
Specifications:

Heat Level:

Plant size: 6+ ft.
Pod size: 2"
Origin: Peru
Species: Pubescens
SHU: 30,000-50,000
Click here for all of our tips and videos to grow your peppers!
Click here for plant care instructions
View full details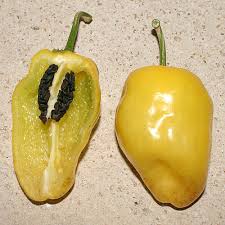 80% Germination
I purchased 7 varieties of pepper seeds.
All were germinated/grown under the same conditions.
80% of the yellow rocoto pepper seeds sprouted.
As for the other varieties:
Aji Amarillo 0 %
Aji Ominicolor 66%
Aji Gold 33%
Aji Fantasy 0%
Aji Dulce 33%
Rocoto Rojo 75%
I also planted aji Amarillo seeds from another seed provider and those seeds 100% germination.
I only bring this up to show I do not think the environment I germinated the seeds was the issue.
In short, I would recommend these seeds. I was impressed.
Great
I'm a first time client, the seeds Arrived quickly and as promised. I will order from them again and again in the near future.
Weak
Actually was poor germination and then very weak seedlings. I will try again.