Regular price
$ 2.99
Sale price
$ 1.99
Unit price
per
Sale
Coming Soon
Description:

Have you "wondered" to find tasty, brilliant peppers that are vigorous and thrive well in dry, hot climates? You came to the right place because the Yolo Wonder is a truly exceptional pepper!

An improved strain of the California Wonder, the Yolo Wonder pepper plants will grow up to 2 to 2-1/2 ft. tall, producing heavy yields of large, thick-skinned sweet peppers that grow 3-4 lobes and mature from green to red. This is a larger 4" bell pepper variety that's more resistant to the Tobacco Mosaic virus. This was also designed for New Mexico for its dry, hot climate, so for those who live in warmer climates, the Yolo Wonder pepper plant will fight well against hot conditions!

These peppers have mild flavors with thick skins that hold up really well for baking or stuffing and are delicious when eaten raw, on salads, or as a topping. You'll be satisfied growing the Yolo Wonder because it is easy to grow and performs well in your garden, patio, or in containers!

Species: Capsicum Annuum
Heat Level: 0 SHUs
Type: Sweet
Flavor: Sweet
Origin: USA
Pod Size: 4-5"
Plant Height: 2-2.5 ft.
Days to Harvest: 60+ Days

Grow amazing sweet-tasting peppers right in your very own garden with our Sweet Pepper Seeds and Sweet Pepper Plants!
Specifications:

Heat Level:

Plant size: 2-2.5 ft.
Pod size: 4-5"
Origin: USA
Species: Annuum
SHU: 0
Click here for all of our tips and videos to grow your peppers!
Click here for plant care instructions
View full details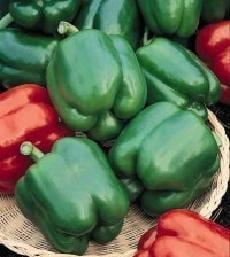 A new favorite
These peppers do great in the Texas heat. They were such heavy bearers that I had to add support for their branches. Great flavor, too.
I have no idea yet.
It is too early in my area to plant the seeds so I haven't opened them.
Poor germination
I purchased several varieties of peppers. Planted early Feb. with seed starting cells, humidity dome, and heating mat with controller set at 80f. Planted about 50 seeds and ended up with 2 plants. I ended up getting more seeds from local feed store and had about 50% germination in 2 weeks. I have been starting seeds for 35 years and this has been my worst experience. Don't think I will try your seeds again.
Thank you so much for taking the time to provide us with feedback. Our customer service team is happy to look into this issue and provide resolution. Please contact us by calling 1.888.660.2276 or by emailing customerservice@pepperjoe.com.