SKU: CarolinaReaperSeedling2Pack
Regular price
$ 0.00
Sale price
$ 19.99
Unit price
per
Sale
Sold Out For Season
Description:

In 2013, The Guinness Book of World Records declared the Carolina Reaper as the World's Hottest Pepper. Talk about some reputation! Our Carolina Reaper plants produce peppers with average heat levels of 1,641,000 SHUs, BUT individual peppers have been known to reach up to 2,200,000 SHUs - double ouch! The Carolina Reaper plant is relatively easy to grow that produces beautiful red peppers with rough bumpy skins and long stingers. For a few seconds, you'll taste tones of sweet fruitiness and undertones of chocolate and cherries…but then the blinding heat kicks in. You will never be bored with one of the world's hottest pepper as you will notice that each Reaper pepper has a unique taste, nutritional profile, pod shape, and plant growth. This pepper is a great value because a little goes a long way; a quarter pod will heat a full pot of chili or spaghetti sauce. The best part about dehydrating peppers is the ability to enjoy them year-round!

These Carolina Reaper Pepper Seedlings were carefully grown from seed in our greenhouse and are guaranteed to arrive alive and healthy.

Seedling Size: 2-6"
Species: Capsicum Chinense
Heat Level: 1,641,000-2,200,000 SHUs
Type: Super Hot

Origin: USA

 


Shipping Note:  Live plant orders will be shipped within 2 weeks after ordering, weather permitting. If you would like your plants to be shipped on a certain day, please indicate that in your order notes upon checkout.  

We cannot ship live plants to Texas and New Jersey due to the Department of Agriculture forbidding invasive species to come into their state by mail.

Want more Carolina Reaper Pepper Plants? Browse through more options and check out other varieties of Live Pepper Plants!

Shop for our Pepper Seeds instead! We carry a nice selection of Carolina Reaper Pepper Seeds and other favorite Super Hot Pepper Seed varieties!
Specifications:

Heat Level:

Plant size: 2-6 Inches
Origin: USA
Species: Chinense
SHU: 1,600,000 – 2,200,000
Shipping Notice

Please allow up to 2 weeks to process live plant orders before shipping. If you would like any adjustments to your ship date, please indicate your needs in order notes upon checkout.
Click here for all of our tips and videos to grow your peppers!
Click here for plant care instructions
View full details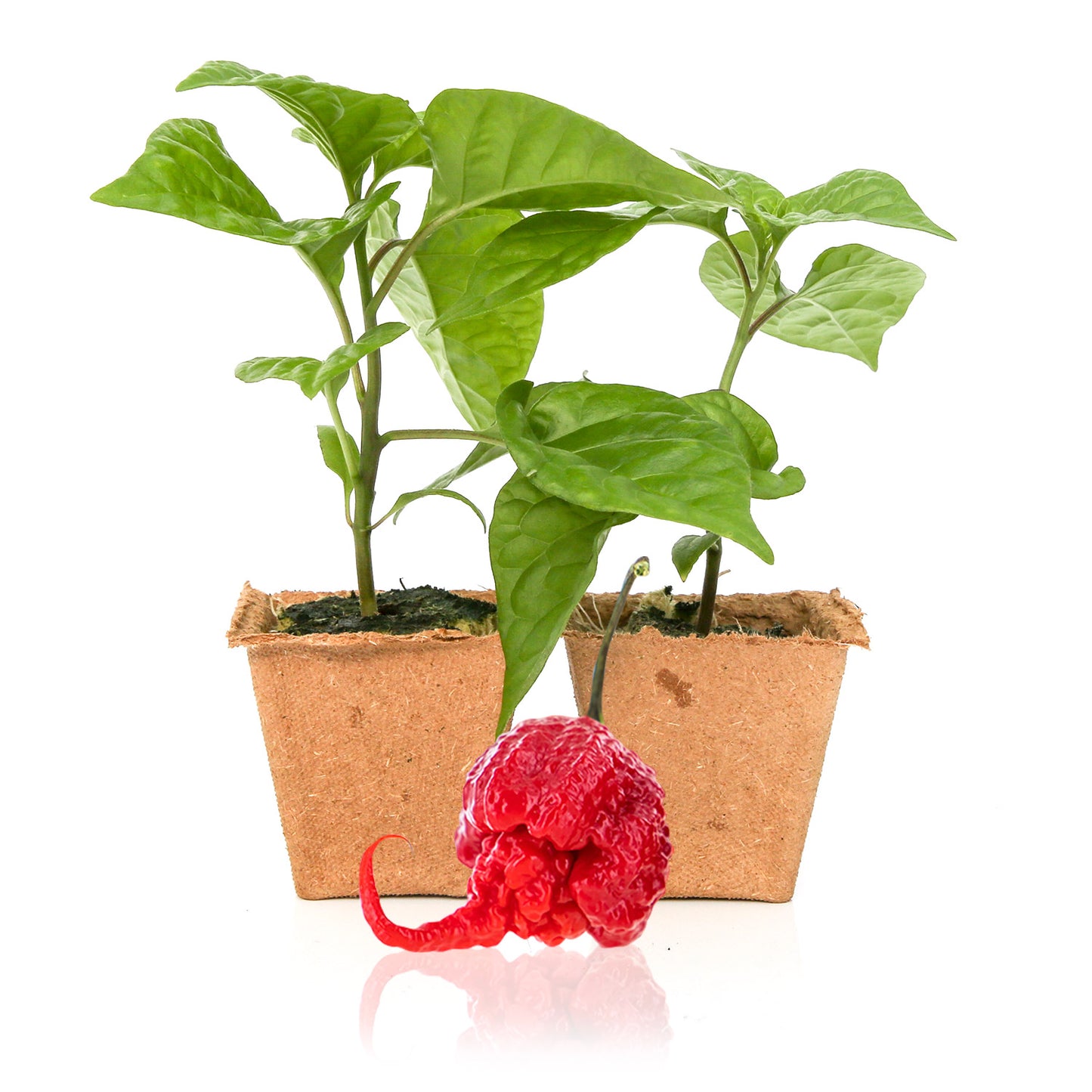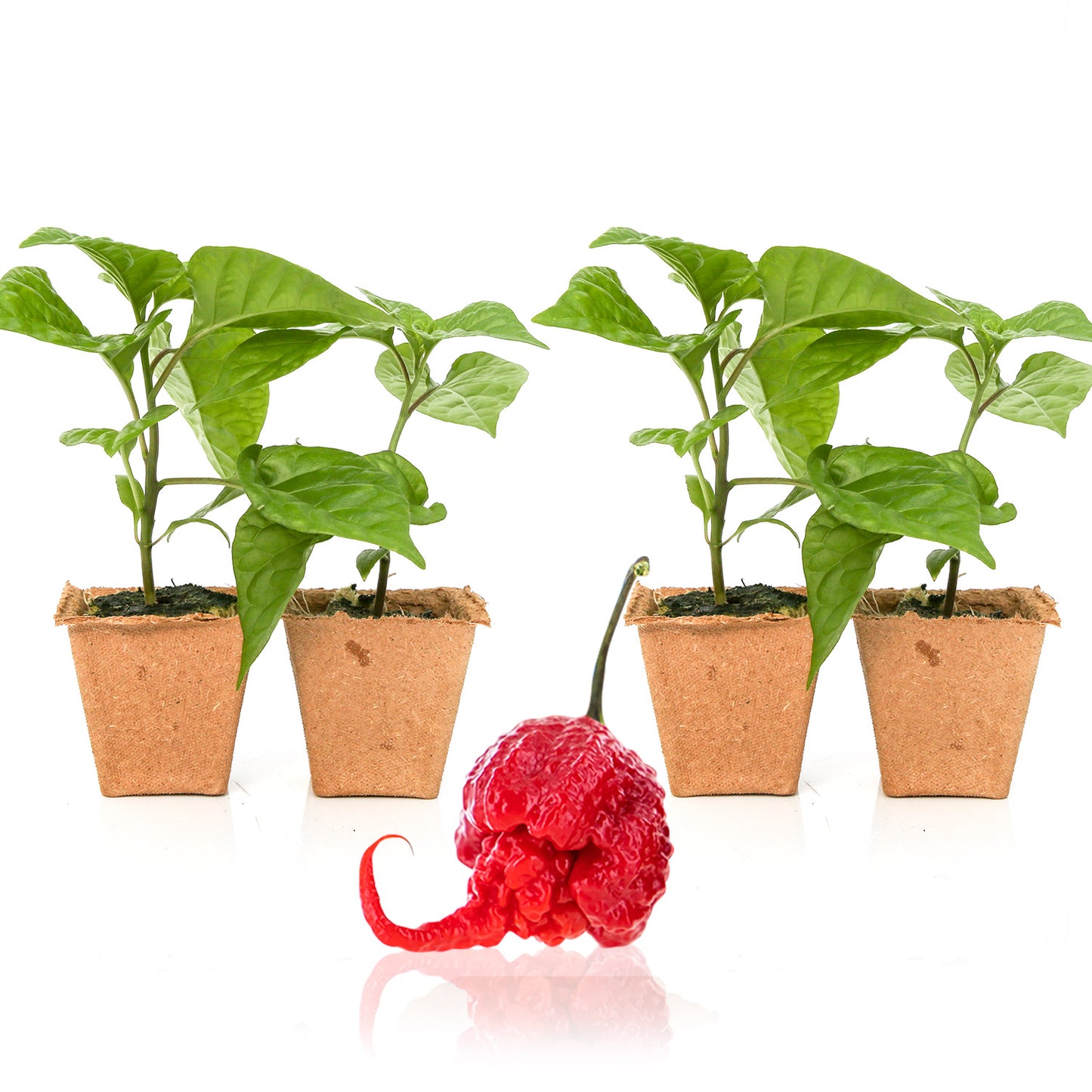 Healthy Reapers
The plants are doing very well. I still have them in pots. A little worried about a frost. Seem to be enjoying the pots just fine.
Carolina reapers
They are doing good. No peppers yet and just moved to green house.
Carolina reaper and ghost pepper live plants
Plants were affordable, they arrived in 3 days to Arizona!, and all but 1 ghost plant was as green and healthy as can be - 1 of the ghost ones got broken in shipment- so I still planted it but it didn't come back to life so I contacted them within the 24 hrs mark and there sending me another live ghost plant to replace the dead one !! I can say the ones that I transplanted are all doing well and I am growing indoors in a grow tent so it's the ideal environment for them :). Only thing I would say that they don't tell u is to remove the paper wrapping around the root ball before planting! I just want people to know before planting because it's a easy way to kill the plant and not know why …. Otherwise, 5 stars to this company and its customer service!!! I can't wait for the peppers to start to grow!!!