Regular price
$ 4.99
Sale price
$ 3.99
Unit price
per
Sale
Coming Soon
Description:

The Aji Dulce, AKA the Aji Cachucha, is quite a unique pepper. Native to the Caribbean, this strain came from grower Ed Fraser, with the help of Robert Hadad from Cornell University and friends in Puerto Rico, Ed could identify Line 7, clearly an authentic Puerto Rican Aji Dulce.

When growing an Aji Dulce, they reach about 1.5 ft. tall when they begin bearing fruit. They make for great container plants to grow bountiful 2" long peppers. The Aji Dulce ripens from lime green to red and has a habanero-like appearance that includes wrinkly skin and vibrant colors. These pepper plants yield better when started three weeks earlier than classic (C. annuum) peppers.

Like its shape, the Aji Dulce has the same aroma and flavor as habaneros. Its rich, tropical sweetness, smoky undertones, and mouth-watering zesty flavor make this pepper very addicting! Use Aji Dulce (Line 7) peppers fresh in salads, stir-fries, sofrito, and other Caribbean dishes. If you enjoy pickling, these peppers work great for that!

Species: Capsicum Chinense
Heat Level: 0-1,000 SHUs
Type: Sweet to Mild
Flavor: Sweet, Tropical, Smoky
Origin: Puerto Rico
Pod Size: 2-3"
Plant Height: 1.5"
Days to Harvest: 90-100 Days

Grow more of our Mild Pepper Seeds and be sure to browse through additional Aji Pepper Seed offerings!
Specifications:

Heat Level:

Plant size: 2-3"
Pod size: 1.5 ft.
Origin: Puerto Rico
Species: Chinense
SHU: 0-1,000
Click here for all of our tips and videos to grow your peppers!
Click here for plant care instructions
View full details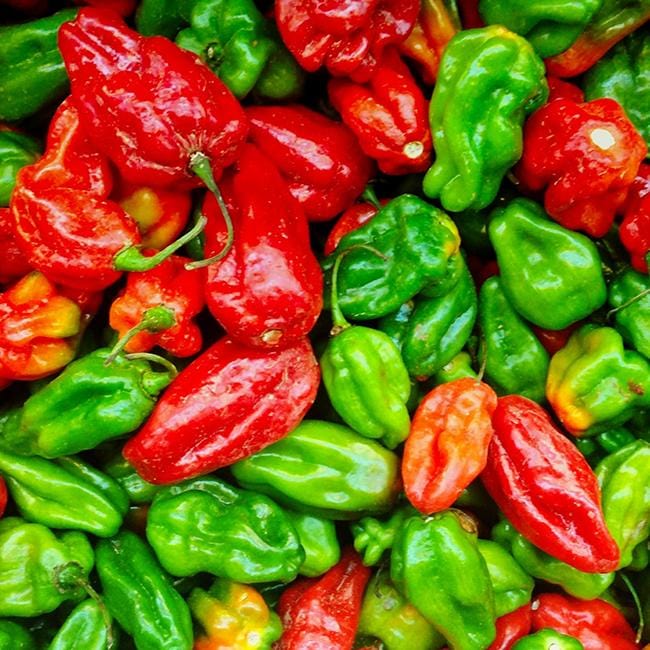 All Seeds Germinated
These seeds are great. Each one germinated and they all are doing well so far.
Aji Dulce seeds results.
10 out of 10 came up and am very pleased. Required heat and sunlight to germinate.
Pod size
Not 1.5 ft size pods as description says. 🤭