Regular price
$ 4.99
Sale price
$ 3.99
Unit price
per
Sale
Coming Soon
Description:

Looking for a pepper with great upfront heat and an extremely refreshing flavor? Try growing our Aji Gold Pepper Seeds! Most of the Aji varieties hail from Peru, and some come from Ecuador and Chile. Luckily for us, they managed to make their way out of Central America and into our gardens around the world!

Plant these seeds and watch them flourish into 3 ft. tall pepper plants that grow sturdy and strong! The Aji Gold not only brings these plant characteristics to the table, but it also yields a bountiful harvest! They produce (on average) 50-100 pods per plant, so be prepared for large harvests. Aji Gold pods ripen from green to their bright yellow color at maturity with a nice smooth texture.

Aji Gold peppers have decent heat (up to 30,000 SHUs) and a refreshing citrusy flavor that goes great with just about anything, including salads, soups, and many Spanish dishes. Get your hands on these delectable Aji Gold pepper seeds!

Species: Capsicum Baccatum
Heat Level: 15,000-30,000 SHUs
Type: Medium Hot
Flavor: Citrusy
Origin: Peru
Pod Size: 2-3"
Plant Height: 3 ft.
Days to Harvest: 80+ Days

Grow more Medium Hot Pepper Seeds and Medium Hot Pepper Plants in your garden today!
Specifications:

Heat Level:

Plant size: 3 ft.
Pod size: 2-3"
Origin: USA
Species: Baccatum
SHU: 15,000-30,000
Click here for all of our tips and videos to grow your peppers!
Click here for plant care instructions
View full details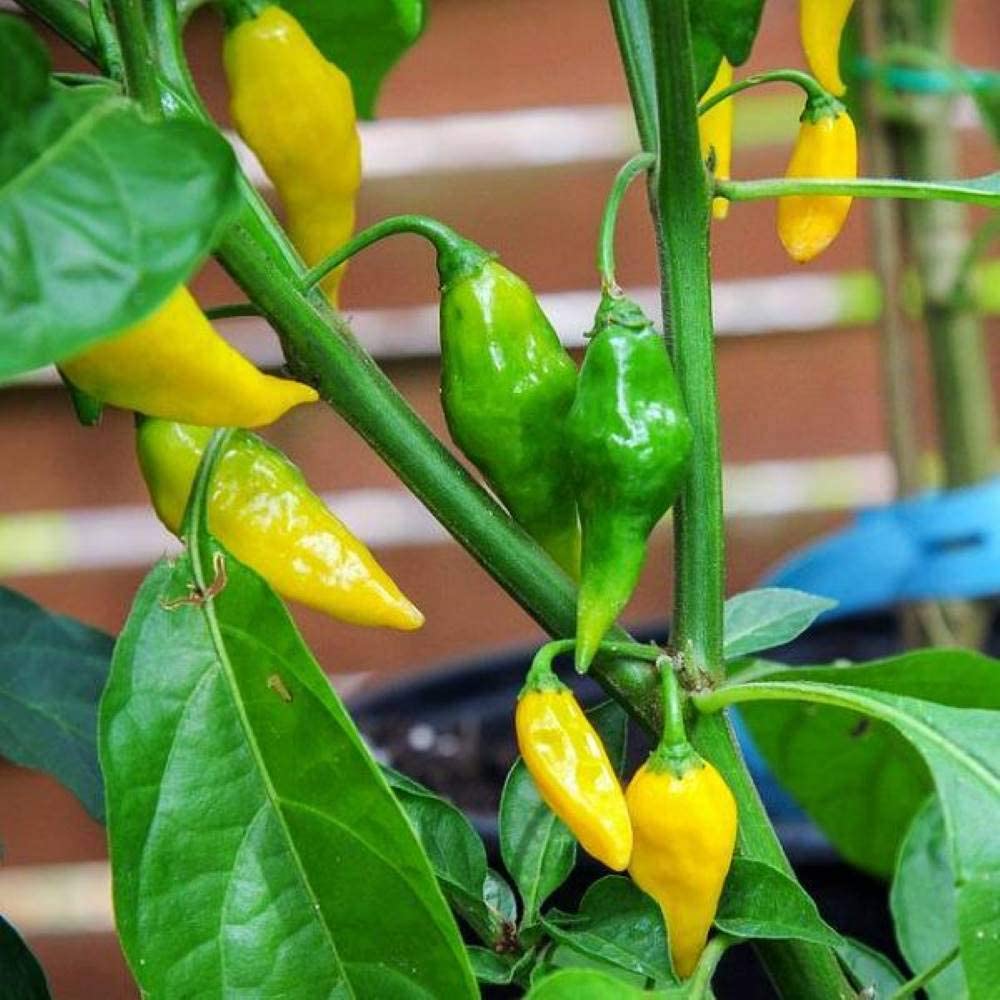 Great pepper seeds and really good germination
Great little peppers!
Bought seeds in late fall 2021 for the 2022 growing season and writing review near end of 2022 season. Germination rate was good. I only planted 3 seeds and all grew (kept 2 plants and gave one away). Planted both plants near each other in a slightly raised (mostly in ground) bed with about 6 or so hours of sun per day. They were some of the most productive peppers I grew this year! Both plants did well, grew about 3 feet tall and yielded hundreds of peppers (and still going)! Peppers range from about 1.5 to 2.5 inches long. They did not seem to take too long to ripen to a brilliant yellow color. They are appropriately categorized as a medium heat seed and I would say are slightly spicier than my cayennes. They have a somewhat floral flavor. We have used them in pico, have made hot sauce (pineapple/mango) and dried to be made into powder. Overall, very pleased with these and will be growing them again next year.
Aji Gold (Limon) Pepper Seeds