Regular price
$ 2.99
Sale price
$ 1.99
Unit price
per
Sale
Coming Soon
Description:

Anaheim Chili Peppers have been around for ages! These giant chiles are robust producers and a staple among many different cuisines with a refreshing and attractive flavor palette along with a spurt of heat.

These compact pepper plants grow to be 2 ft. tall and are a great addition to your garden or work just as nicely as a container plant for your porch or patio. These plants will produce high yields of these elongated pods that can reach lengths up to 7.5"! These green pods are chile-shaped with smooth shiny skin.

These mild peppers are slightly hotter than Jalapenos, but not by much (at most, these peppers will reach 4,000 SHUs). The flavor profile of Anaheim Chiles is what attracts a majority of growers to this strain. You'll enjoy sweet, tangy, and almost smoky flavors when you incorporate these pods into your cooking or add them to your salads, sandwiches, casseroles, soups, stews, and more!

Species: Capsicum Annuum
Heat Level: 3,000-4,000 SHUs
Type: Mild
Flavor: Sweet, Tangy, Smoky

Origin: New Mexico
Pod Size: 7.5"

Plant Height: 2 ft.
Days to Harvest: 80 Days

Grab more of our Mild Pepper Seeds today and check out our Mild Pepper Plants to jumpstart your growing season!
Specifications:

Heat Level:

Plant size: 2 ft.
Pod size: 7.5"
Origin: USA
Species: Annuum
SHU: 500-4,000
Click here for all of our tips and videos to grow your peppers!
Click here for plant care instructions
View full details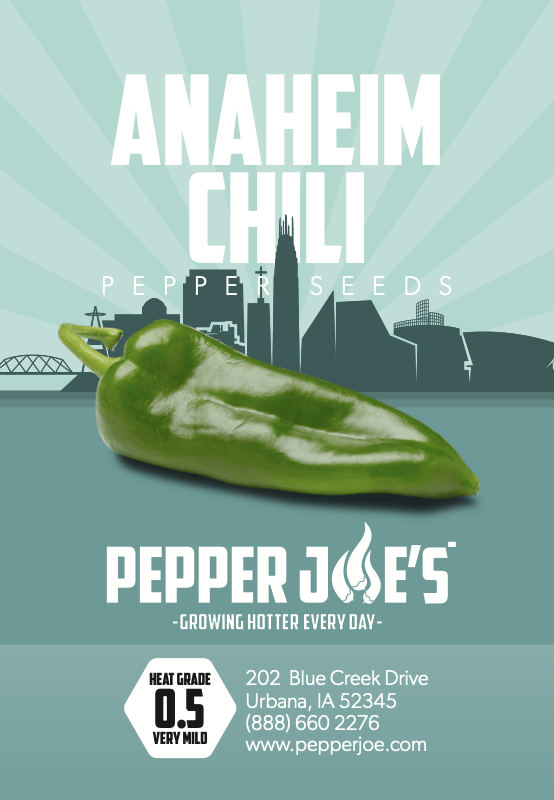 All seeds sprouted that I didn't mishandle.
So for so good. Sprouted easily. Haven't tried the chilis yet.
Anaheims
So far, so good. Really good to pickle. You guys would do good to emphasize flavor in addition to hotness. Anaheim, jalapeños, cascabellas unique flavors.
Just planted them a few days ago, will let you know how well they do Will send you pictures.