Regular price
$ 4.99
Sale price
$ 3.99
Unit price
per
Sale
Coming Soon
Description:

Also known as a Poblano pepper, the Ancho Gigantea is one of the more commonly used peppers in Mexico known to add a fantastic mild flavor to any cuisine!

This short plant will grow up to 2 ft. tall and produce many 4" heart-shaped peppers that will continue to grow if they are picked frequently. Some of these peppers grow twisted with shiny skin and a wrinkly texture. They change colors from dark green to red, but you can pick these peppers at either stage.

With a sweet and smoky flavor, and a mild heat reaching up to 3,000 SHUs, the Ancho Gigantea is a pepper you don't want to miss out on. When dark green, these peppers are used for stuffing and roasting, as well as for sauces and salsas. You can also let the Gigantea peppers ripen to red and be dried as ancho chiles, and those can be used to make sauces, soups, and meat seasoning.

Species: Capsicum Annuum
Heat Level: 1,000-3,000 SHUs
Type: Mild
Flavor: Sweet, Smoky
Origin: Mexico
Pod Size: 4"
Plant Height: 2 ft.
Days to Harvest: 90+ Days

Want more pepper seeds? Browse through other Mild Pepper Seeds and make sure to pick up some Growing Supplies to get your seeds off on the right track!
Specifications:

Heat Level:

Plant size: 2 ft.
Pod size: 4"
Origin: Mexico
Species: Annuum
SHU: 1,000-3,000
Click here for all of our tips and videos to grow your peppers!
Click here for plant care instructions
View full details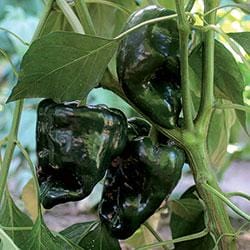 Ancho Gigantea Pepper Seeds
Do NOT know yet, some seeds have come up, but others have not. Small plants have not put on peppers yet. So, not sure where to put a ratings, but it is disappointing that not all seeds have come up. Will have to retry with remaining seeds.
Excited to plant these
We will be planting these next spring and are excited to see how they do
Fast growers
These ancho seeds came up quick and are growing strong and healthy