Regular price
$ 3.99
Sale price
$ 2.99
Unit price
per
Sale
Coming Soon
Description:

Enjoy growing Ancho Poblano peppers in the comfort of your own garden! This was a high request pepper from our customers, and now these mild pepper seeds are available for purchase!

These pepper plants reach a short height of 2.5 ft. and produce high yields of these heart-shaped chili peppers. Ancho Poblano pods can grow as long as 6" and have a thick, crunchy texture with smooth, shiny skin. You'll see these peppers mature early to their dark green color after a short 65 days.

Fun fact: Ancho Poblanos have dual meanings when it comes to using these mild-flavored pods. It's called Poblano when used fresh and green, and Ancho when dried. Use these peppers for their sweet, smoky, and earthy flavors to make chile rellenos, and other fresh foods. Ancho Poblano peppers are often dried and ground into an amazing chili powder to use on just about anything! What's more, these peppers pickle and freeze extremely well. Get your hands on a packet of seeds today!

Species: Capsicum Annuum
Heat Level: 1,000-1,500 SHUs
Type: Hot
Flavor: Sweet, Smoky, Earthy

Origin: Mexico
Pod Size: 4-6"

Plant Height: 2.5 ft.
Days to Harvest: 65 Days

Browse through more Pepper Seeds and our list of Live Pepper Plants!
Specifications:

Heat Level:

Plant size: 2.5 ft.
Pod size: 4-6"
Origin: Mexico
Species: Annuum
SHU: 1,000-1,500
Click here for all of our tips and videos to grow your peppers!
Click here for plant care instructions
View full details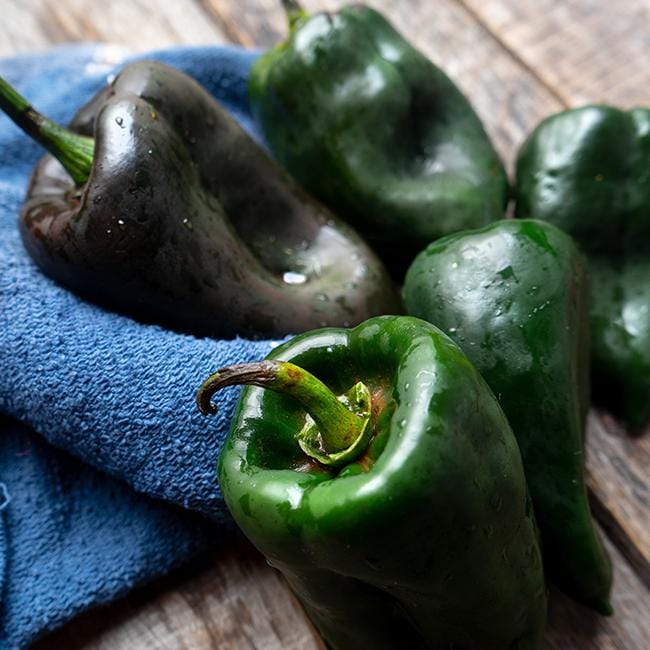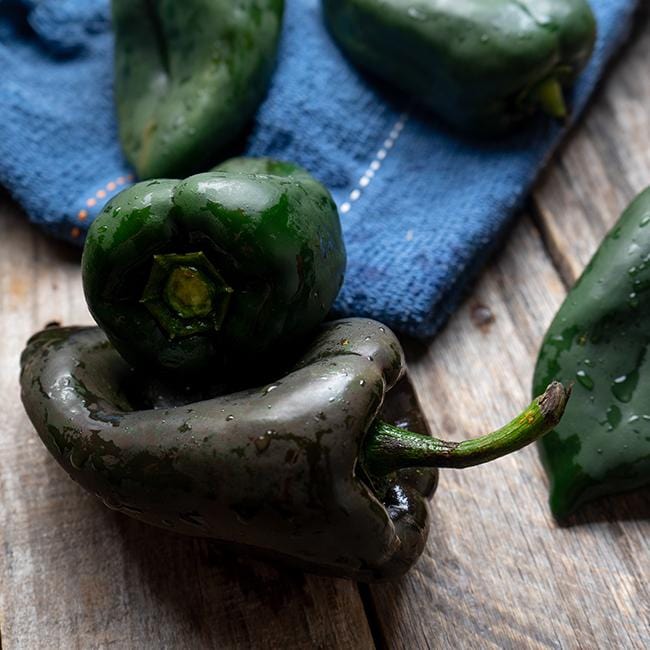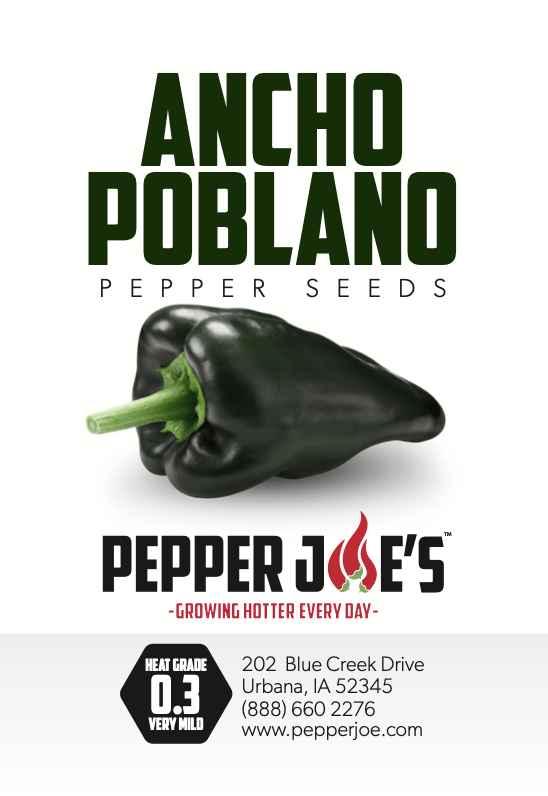 Great seeds!
The Pepper Joe's poblano seeds I ordered and planted sprouted and I have several healthy plants. I'm looking forward to seeing them bear fruit!
Very Pleased
It is now mid July in Wisconsin, and both my plants have a number of peppers growing. One has some giants already, and it's only mid summer. I also bought Guajillo and Chile de Arbol seeds, and they are doing equally well. Don't hesitate to order from Pepper Joe's! You won't be disappointed.
The healthiest!
Of all the various foods and brands of seeds I started this year, my Pepper Joe's poblano seeds were/are the best by far. The germination rate was 100%, they sprouted the fastest, they were the greenest and most robust baby plants even though all my plants had the same starting conditions, and now the plants have baby poblano peppers that are so healthy and gorgeous. The poblano pepper seeds are the only thing I bought from Pepper Joe's, but I will buy more products in the future (various seeds). Pepper Joe's seeds are so healthy! The only disappointment I had was that my poblano seeds came with a packet of 5 free "superhots" mystery seeds (which was exciting), but none of them germinated at all. Pout! But I can't complain! I have healthy poblanos growing. I'm happy! I wish I could attach pictures!