Regular price
$ 3.99
Sale price
$ 2.99
Unit price
per
Sale
Coming Soon
Description:

Also known as "Little Beak Peppers," "Sweaty Drops," or "Little Kiss," this unique little pepper from Brazil packs a lot of flavors! Like the Biquinho Red pepper, the Biquinho Yellow is quite popular in Brazil and Peru, and it is commonly called "Chupetinho" by the locals there.

This pepper is shaped like a 1" marble with a pointed end which biquinho is a Portuguese word that translates to little beak. The peppers dangle on sturdy, upright 2 ft. plants that are prolific with early harvests. Biquinho Yellow peppers mature from green to their warm yellow hue when it's time to harvest.

The rare pepper is crunchy, crisp, and juicy, and has Habanero-like flavors of tropical, citrus, fruity, and slightly smoky tones. It has a heat level of 500 to 1,000 SHUs which is below the average heat of a Jalapeño. These are great to eat raw, cooked, make as salads, and to add to cheese plates and hors d'oeuvres! You can also make a delicious appetizer by pickling them. In Brazil, Yellow Biquinho chiles are pickled in a mixture of vinegar, garlic, herbs, and a Brazilian liquor called Cachaca.

Fun Fact: In the United States, pickled Yellow Biquinho chiles are sold under the name "Sweaty Drops," and high-end restaurants like Momofuku dangly in New York City are using the pickled pods as a substitute for olives in their martinis!

Species: Capsicum Chinense
Heat Level: 500-1,000 SHUs
Type: Mild
Flavor: Tropical, Citrusy, Fruity, Smoky
Origin: Brazil
Pod Size: 1"
Plant Height: 2 ft.
Days to Harvest: 70+ Days

Seeking more exotic, uniquely shaped peppers? Check out our stunning Rare & Exotic Pepper Seeds!
Specifications:

Heat Level:

Plant size: 2 ft.
Pod size: 1"
Origin: Brazil
Species: Chinense
SHU: 500-1,000
Click here for all of our tips and videos to grow your peppers!
Click here for plant care instructions
View full details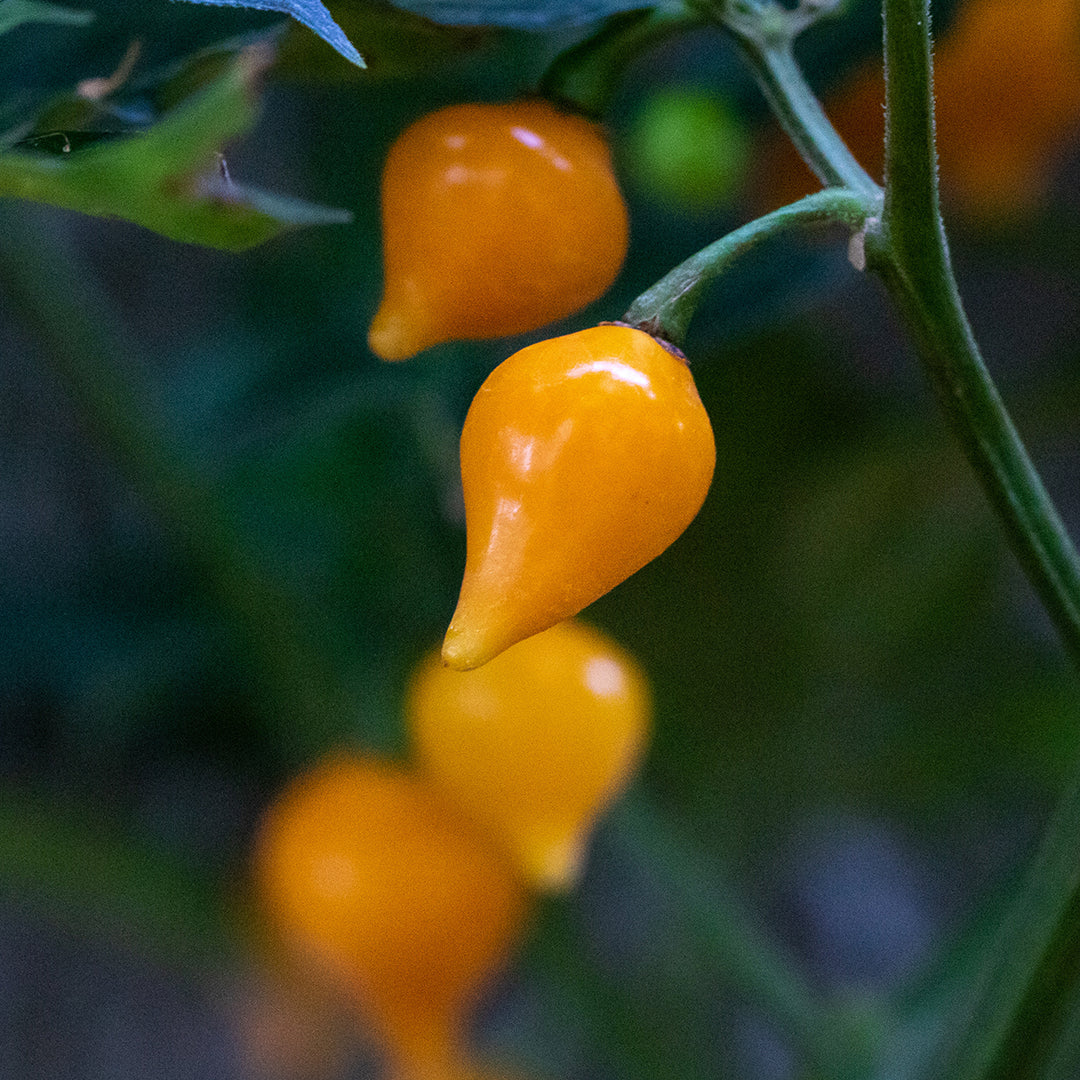 Yellow Sweety Drops
99% germination with these Pepper Joe's Yellow Biquinho seeds!
Same with the red variety! That's incredible, as these peppers usually have less than a 50% germination rate.
So far, the seedlings are very healthy, and strong.
I'll update after they harden off and go outside.
We love these mild, very sweet lil' guys. Their unique flavor profile makes the BEST smoked paprika... we also can them using a 'bread and butter' pickle brine recipe. Great for snacking!
I highly recommend the Biquinho pepper, most importantly, start by using Pepper Joe's seeds!
The plants grow like a bush, and do extremely well in pots. They are very prolific, and the bushes explode with flowers then fruit!
Try them! You can thank me later.
Easy to take care of. Don't over water... especially when loaded with fruit.
Grow in a nice rich pot of soil that you get by the bagbat the garden department. You don't have to... but I sprinkle a cup of rich, black, worm castings around the base and drip line of each plant. It makes a massive difference in early growth and development.
Yellow peppers
My husband planted them. Hope they grow well. So anxious to see
Love Using Pepper Joe for Seeds
I have gotten quality and correct seeds from Pepper Joe a few times now. I have been really excited to grow my own sweetie drop peppers and every time I order the seeds from somewhere else they are not the correct seeds. But so far so good with these ones! I have tried them indoors with fall quickly arriving, and they have been growing strong! Would highly recommend this site.