Regular price
$ 4.99
Sale price
$ 3.99
Unit price
per
Sale
Coming Soon
Description:

Blushing Beauty F1 peppers get their name from their changing of colors. With different hues of orange and red, this pepper is a showstopper as it gracefully matures. The best part - these peppers are both beautiful to look at and amazing to use in the kitchen!

The Blushing Beauty pepper plant is a highly disease-resistant plant, which helps lengthen the plant life for a higher yield of sweet peppers. These plants are great to grow on your patio, or greenhouse, and for general gardening use! The pods grow to 4 inches long with 4 lobes and have very smooth and crunchy skin. Watch as these pods start out ivory and change colors to orange, pink, light red, to a true red, scarlet color.

These peppers are large, blocky, apple-sized peppers with amazing sweet flavors that you can add to salads, sandwiches, and more. We also have the Chocolate Beauty pepper seeds if you prefer to grow a sweet, chocolatey pepper!

Species: Capsicum Annuum
Heat Level: 0 SHUs
Type: Sweet
Flavor: Sweet
Origin: Unknown
Pod Size: 4"
Plant Height: 1.5 ft.
Days to Harvest: 70+ Days

Enjoy sweet-tasting peppers? Explore our Sweet & Bell Pepper Seeds collection. We also grow Sweet Pepper Plants for those who want a head start in growing peppers.
Specifications:

Heat Level:

Plant size: 1.5 ft.
Pod size: 4"
Origin: Unknown
Species: Annuum
SHU: 0
Click here for all of our tips and videos to grow your peppers!
Click here for plant care instructions
View full details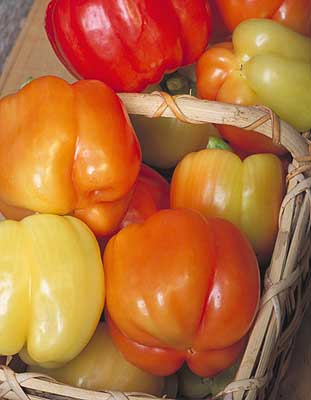 So far so good....
My seedling is strong and I will be transplanting it outside in the next week.
Everything germinated, great pepper
All the seeds I planted came up. Too soon to plant in garden but plants look healthy and sturdy. I have planted this variety, one of my favorites, for years & was thrilled to find the seeds again.
Seeds are good love the peppers