Regular price
$ 4.99
Sale price
$ 3.99
Unit price
per
Sale
Coming Soon
Description:

The Burning Bush F1 Pepper, also known as the Habanero Burning Bush or the Burning Bush Habanero, is a hybrid that looks very similar to the Chichzen Itza and has an immaculate fruity taste.

This pepper is one of the earliest maturing Habaneros that we carry in our store, which is said to mature 2-3 weeks earlier than most habanero varieties. These wrinkles, lantern-shaped, 3" long peppers change their colors into a flaming peach-orange when ripe. This is a beautiful plant for you to grow on your garden or patio!

The taste is what you would expect from a Habanero, which has a sweet floral taste with bitter and dark notes. Burning Bush peppers are great for cooking and roasting, and having these fresh on hand makes salsa or hot sauces easy and convenient to make!

***This cross is it's in first generation, pepper pods may vary

Species: Capsicum Chinense
Heat Level: 180,000 SHUs
Type: Hot
Flavor: Sweet, Floral, Bitter
Origin: Said to be originated in the USA
Pod Size: 3"
Plant Height: 2-3 ft.
Days to Harvest: 85+ Days

Check out our other Habanero Pepper Seeds and be sure to browse through our selection of Habanero Snacks & Spices to satisfy your "spicy" tooth!
Specifications:

Heat Level:

Plant size: 2-3 ft.
Pod size: 3"
Origin: USA
Species: Chinense
SHU: 180,000
Click here for all of our tips and videos to grow your peppers!
Click here for plant care instructions
View full details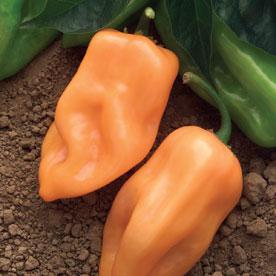 First and second try
Soooooo….it seems like everything ordered from here is quality. I do wish I had a bit more support as someone new to this. I mixed up all my seeds, had a gnat infestation and even accidentally threw some out trying to deal w gnats. I'm writing this because I think they are good company w easy website navigation but I think 10 plants survived out of 140 and I think most were the free kristian variety but I don't know if any of this variety survived.
Good seeds.
Almost all germinated in 8-10 days on my heat mat set at 90 deg. We'll see how they do out in the garden, but I'm optimistic since they did well last year. Thanks!
So far so good
I had a 100% germination rate from the seeds I purchased. They are still tiny right now, so hopefully they will have a good summer.
I couldn't reccomend pepper Joe's seeds more than I already do. I have never had problems germinating seeds from them!
Its nice being able to buy seeds that you know are guarenteed to grow, then the rest is up to you, haha
10/10 will buy again and the freebie seeds are always fun!