Regular price
$ 3.99
Sale price
$ 2.99
Unit price
per
Sale
Coming Soon
Description:

Also known as the yellow cayenne chile pepper or golden cayenne pepper, the Cayenne Golden is a more interesting and hotter version of the Red Cayenne pepper. If you are looking for a beautiful, outstanding pepper plant to grow golden peppers, this will be an amazing plant for you to grow.

Golden Cayenne pepper plants add variety and beauty to your garden or backward, growing up to 3 ft. tall and boasting pods with attractive shapes and colors. When compared to the Red Cayenne pepper, the golden Cayenne pepper has smoother skin and fewer wrinkles, has hotter heat, and grows longer (about 4-6 inches long).

The Golden Cayenne's flavor profile is a sweeter, tart, smoky flavor with intense, strong heat. If you wait until the pepper matures fully, you'll get the full, unforgettable heat! These peppers are great to use for Creole, Cajun, and Southern cooking and can be roasted, grilled, and used in hot sauces, jam, jellies, and salsas.

Species: Capsicum Annuum
Heat Level: 30,000-50,000 SHUs
Type: Medium Hot
Flavor: Sweet, Tart, Smoky
Origin: USA

Pod Size: 4-6"
Plant Height: 2-3 ft.
Days to Harvest: 80+ Days

Shop for more Cayenne Pepper Seeds! We also carry other varieties in our Hot Pepper Seed Collection!
Specifications:

Heat Level:

Plant size: 2-3 ft.
Pod size: 4-6"
Origin: USA
Species: Annuum
SHU: 30,000-50,000+
Click here for all of our tips and videos to grow your peppers!
Click here for plant care instructions
View full details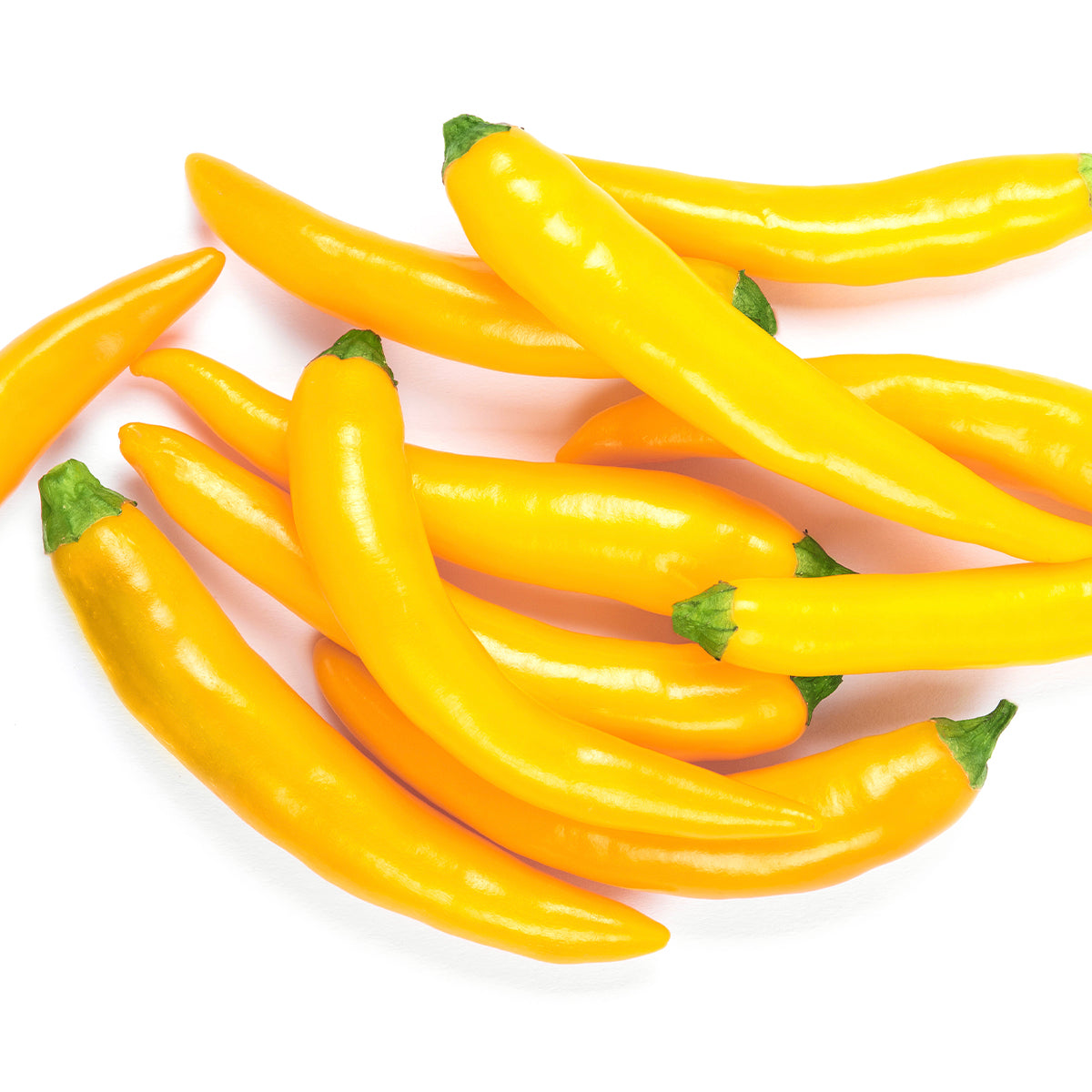 My New Favorite Pepper
Jalapenos used to be my favorite pepper, but a few years ago I began to crave more heat then jalapenos could deliver. I switched to cayenne's to get great flavour and better heat. These yellow cayennes give me everything I am looking for. They produce better then the red cayenne plants, taste great, and have slightly better heat. The best part is how they look after drying/grinding into a hot powder or turned into hot sauce. They also smell great. Too many times I have been disappointed with peppers of different colour. They look great on the plant, but either taste bitter or look awful as a hot sauce or spice, but not these yellow cayennes. I couldn't be happier.
wow
these are no joke should be in the super hot category when ripe and yellow these ate far hotter than the habeneros i grew last year very impressed
Quick Order Delivery
Order was delivered quickly, have not planted the seeds yet though. Look forward to some good peppers.