Regular price
$ 2.99
Sale price
$ 1.99
Unit price
per
Sale
Coming Soon
Description:

Also known as the Chablis Hybrid pepper, the Chablis is a very vigorous bell pepper variety as it stands up to tobacco mosaic virus and bacterial leaf spot effortlessly, which will help you have a healthy and bigger plant! Just make sure to support it as the plants are heavy.

This is a fantastic hybrid pepper plant that is robust and disease resistant. They will grow to 4" long with glossy skins and the typical bell pepper shape. Chablis peppers have a unique coloring pattern as they mature from green, gleaming ivory, and golden orange, to the brightest red-scarlet color. They turn green but will turn white quickly, so they are ready to be harvested at any stage after that. You can pick some ivory-colored peppers, let others mature to gold and orange, and keep a few pure red for extra flavors! We recommend you try this if you can keep your hands off them for that long! If you have a variety of different colored Chablis peppers, this will be excellent for aesthetic plating.

Thick flesh and amazingly sweet, these are bountiful peppers that are great for a variety of cooking! Along with that, it is like heaven when slicing the peppers because of how smooth it is to cut them. These are great for cooking, roasting, picking, and stuffing, and with salsas, salads, and sandwiches.

Species: Capsicum Annuum
Heat Level: 0 SHUs
Type: Sweet
Flavor: Sweet
Origin: Unknown
Pod Size: 4"
Plant Height: 1.5-2 ft.
Days to Harvest: 60+ Days

Add more Sweet Pepper Seeds to your growing list! Don't want seeds? Try growing our Live Pepper Plants instead!
Specifications:

Heat Level:

Plant size: 1.5-2 ft.
Pod size: 4"
Origin: Unknown
Species: Annuum
SHU: 0
Click here for all of our tips and videos to grow your peppers!
Click here for plant care instructions
View full details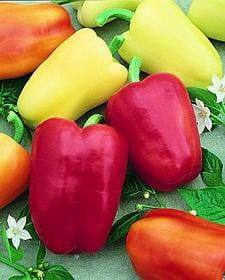 Horrible
Ordered 5 different types of peppers and in 65 days have only 2 out of 50 plants germinate. I used a heating pad, proper moisture and followed the instructions. I have grown peppers for 30 years and nothing like this has ever happened. response from Peppers Joes was simply to wait as it may take a while. I have waited and am unsatisfied. There are many other places like Johnny Seeds that have seeds that germinate!!