Regular price
$ 17.99
Sale price
$ 14.99
Unit price
per
Sale
Coming Soon
Description:

Behold, the combination you never saw coming! We experimented with some things in our kitchen, and we discovered the best duo ever to touch your cooking: Chocolate Trinidad x 7 Pot Douglah flakes and pepper powder. These pepper varieties are the most surprising combination as it creates a perfect balance of warm fragrant, earthy flavors and extreme lingering spice left on your tongue. To create the flakes and pepper powder, we harvested Chocolate Trinidad Scorpion and 7 Pot Douglah peppers at their freshest and ripest and crushed them into fiery dust through a traditional process so you can sit back and instantly enjoy their flavors and heat.

If you're curious about how hot this combination is, the 7 Pot Douglah has a heat level of 1,853,396 SHUs and the Chocolate Trinidad Moruga Scorpion's max heat level is 2,000,000 SHUs. With how incredibly hot this is, expect sudden heat to unapologetically attack your tongue. These spices will be great as an ingredient or finishing spice for a wide range of food, and to mix into your special hot sauces and marinades. Stock your spice rack with a unique bundle!

This collection includes:

Can't live without spicy food? Check out all the spicy food products we carry like beef jerky, hot sauces, spicy cheese, spicy snack sticks, and more!
Specifications:

Heat Level:
Click here for all of our tips and videos to grow your peppers!
Click here for plant care instructions
View full details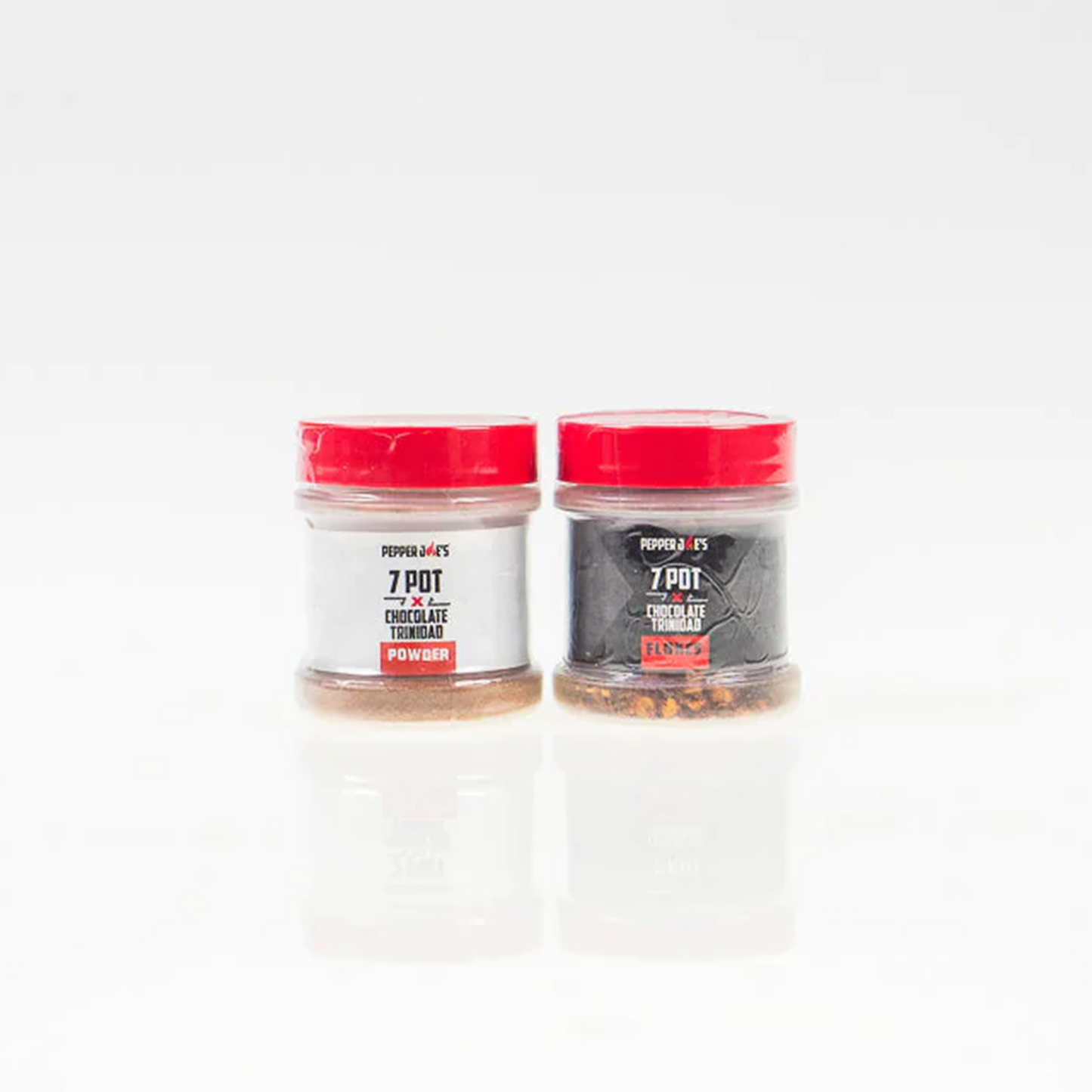 Trinidad X7 spice bundle
This bundle is a perfect way to make your own at home one chip challenge that beats the one chip challenge heat level wise. It definitely has a kick and a punch flavor-wise at the same time being some of the hottest pepper flakes and seasoning I've had so far