Regular price
$ 3.99
Sale price
$ 2.99
Unit price
per
Sale
Coming Soon
Description:

Also nicknamed Lady's Little Finger, the Dedo de Moca is a staple in Brazilian cuisine. It has a wonderful flavor that is perfect to use fresh, cooked, or dried, and you'll be glad to have this growing in your garden.

The Dedo de Moca pepper plant will grow to be tall and gangly that produce 2-3" long pepper pods. This is a plant that is super easy to grow, and its shape is identical to the Lemon Drop pepper. Watch these pods ripen from green to red color when it's time to harvest.

You can expect medium heat around 10,000-15,000 SHUs with a fruity, smoky flavor from this South American pepper. With its medium heat, it's not a very hot pepper, but the Dedo de Moca will have a punchy, stingy heat that hits all over your mouth and lingers for a while. Use the Dedo de Moca pepper to make a sauce or powder, or to use in rice, stew, chili, and curry! When in its dried format, it's known in Brazil as Pimenta-Calabresa.

Species: Capsicum Baccatum
Heat Level: 10,000-15,000+ SHUs
Type: Medium Hot
Flavor: Fruity, Smoky
Origin: Brazil
Pod Size: 2-3"
Plant Height: 2 ft.
Days to Harvest: 75-90+ Days


Bring the heat to your garden with our Medium Hot Pepper Seeds!

Looking to crank the heat? Grow your very own Super Hot Pepper Seeds and blow your taste buds away with incredible heat reaching over 2,000,000 SHUs!
Specifications:

Heat Level:

Plant size: 2 ft.
Pod size: 2-3"
Origin: Brazil
Species: Baccatum
SHU: 10,000-15,000
Click here for all of our tips and videos to grow your peppers!
Click here for plant care instructions
View full details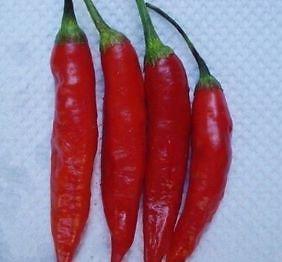 They DO NOT change colors
These might be? Dedo de mochas? I bought from you but they DO NOT change colors, they go from green to red period.......I bought them because of the color change description, thought they would look good for my video series I did this summer, but again I'm let down, poor me huh?, giving you my hard earned money and being let down by a wrong description again, I probably deserve it huh?....
haven't germinated
Purchased trinidad pimento seeds, aji dulce and dedo de moca. All have germinated but the Dedo de Moca. Don't know why. . . But maybe they need more time? Have been using a heating mat until of late when it got warm outside
Hello, hot peppers can be tricky to grow. Here is the process we follow and see 95% success rate across the board. They are very particular to soil temp requiring 80-85* and can take up to 6 weeks to germinate. I hope this helps! Please give our customer service team a call at 888-660-2276 for additional questions.
https://pepperjoe.com/pages/gardening-tips-starting-peppers-from-seed