Regular price
$ 5.99
Sale price
$ 4.99
Unit price
per
Sale
Coming Soon
Description:

Out of Dorset, England comes one of the hottest peppers in the world. The Dorset Naga is a story of two chili heads with a dream of super-hot perfection, where Joy and Michael Michaud of "Peppers by Post" bought a Naga Moricha plant in Dorset. They hand-selected fruity from the Naga Morich (from Bangladesh) and extracted seeds, eventually creating the Dorset Naga!

These pepper plants have been known to grow as high as 4 feet tall! At a typical 2-3 inches in length, Dorset Naga Orange ripens from green to orange and has very high product yields. Pods tend to look very wrinkly and have a typical pendant-like shape.

With recorded SHUs of over 1,500,000 (wow!), this guy is not far off from the Carolina Reaper. The orange variety is scorching hot but fruity, great for hot salsa, hot sauces, soups, or a super-hot chili powder. If you like heat, grab some of these seeds now!


Species: Capsicum Chinense
Heat Level: 1,000,000–1,500,000+ SHUs
Type: Super Hot
Flavor: Fruity, Hot
Origin: United Kingdom
Pod Size: 2-3"
Plant Height: 4 ft.
Days to Harvest: 100+ days

Crank up the heat in your garden with our Super Hot Pepper Seeds! Be sure to browse through our ever-expanding Pepper Seed Collection for more options.
Specifications:

Heat Level:

Plant size: 4 ft.
Pod size: 2-3"
Origin: United Kingdom
Species: Chinense
SHU: 1,000,000-1,500,000+
Click here for all of our tips and videos to grow your peppers!
Click here for plant care instructions
View full details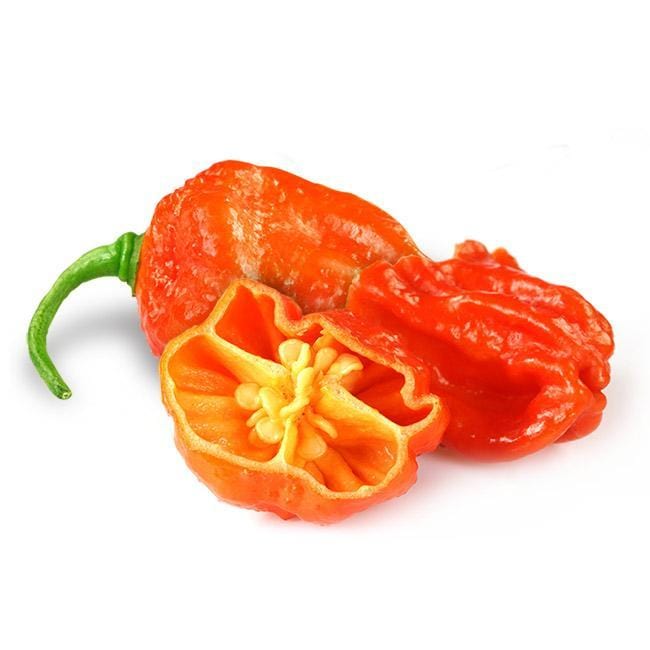 Dorset Naga Orange Pepper Seeds
Excellent crop
I planted all the Dorset naga seeds from 2 packets about 2 months ago. Healthy 2' plus plants, had close to 100% germination success rate. Harvested about a pound and a half of peppers from the first batch and see a second batch already flowering.
Fruity and spicy (!!!) as advertised. Used some in curries and used the bulk to make a spicy sauce.