Regular price
$ 2.99
Sale price
$ 1.99
Unit price
per
Sale
Coming Soon
Description:

A delicious and versatile pepper with mild spice, the Griller Pepper is an Anaheim-type variety that's excellent to use for any type of cooking!

Grow these peppers on 3 ft. tall compact plants that produce bounties of these long, slender pods. Make sure to keep an eye on these plants, as Griller Peppers can grow up to 7" long! They have the same shape and features as other Anaheim peppers - smooth skin, shiny texture, and conical shape that tapers off to a point. These peppers will ripen from green to red at maturity and will perform well in cool growing conditions - even better than other Anaheim peppers!

The Griller Pepper has delicious flavors of sweetness, tanginess, and even a hint of smokiness. They can be used to grill, roast, stuff, or eaten fresh and added into hot sauce.

Species: Capsicum Annuum
Heat Level: 1,000+ SHUs
Type: Mild
Flavor: Sweet, Tangy
Origin: Republic of Georgia
Pod Size: 7"
Plant Height: 3 ft.
Days to Harvest: 70+ Days

Want more mild peppers? Try growing some of our favorites with our Mild Pepper Seeds or Mild Pepper Plants!
Specifications:

Heat Level:

Plant size: 3 ft.
Pod size: 7"
Origin: Republic of Georgia
Species: Annuum
SHU: 1,000+
Click here for all of our tips and videos to grow your peppers!
Click here for plant care instructions
View full details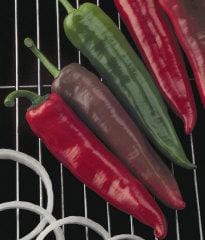 Pepper seeds
Growing nicely, everything germinated. Would recommend and will buy again.
Great Paprika Peppers
This is the second year I have bought "Griller" Paprika pepper seeds from Joe's. The germination rate is very good. I have yet to put this years seedlings in the garden, but I anticipate a super crop. After I cold smoked them, I dehydrated them and made some terrific Smoked Paprika. You can't go wrong with Pepper Joe's!
Germination is good.
I ordered three packs which yielded 31 seeds. To date, 28 have germinated and with 90%, I am super pleased with that number. I bought this variety to make Paprika. I anticipate a good crop! Thank you Pepper Joe!